Art & Exhibition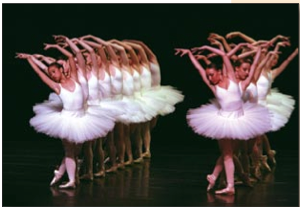 FEATURES FUTURE MICHIGAN STARS
Gay Paris
Widely regarded as one of the most rewarding educational opportunities for pre-professional dancers, ABT Summer Intensives are held in only five U.S. cities.  This is the 13th year that the program has been held in Detroit.  Students undergo a rigorous audition process to gain acceptance into the program, which accommodates only the most talented and dedicated students from all over the world. Dancers participate in a minimum of four classes daily, which include topics ranging from dance techniques to yoga, physical conditioning, nutrition, choreography and acting.  All courses are facilitated by the acclaimed teaching staff of American Ballet Theatre, and take place at the Margo V. Cohen Center for Dance at the Detroit Opera House and the Maggie Allesee Department of Dance at Wayne State University.
The rigorous program attracts dancers from all over the globe.  This year's dancers hail from Canada, Brazil, and from about 24 U.S. States.  The 2010 Detroit program will also include 16 Michigan dancers from Birmingham, Livonia, Bloomfield Hills, Northville, Grosse Pointe, Ypsilanti, Clawson, and Commerce Twp, among others.  At the summer intensive's completion, students participate in two professionally structured performances on the grand stage of the Detroit Opera House.  These performances include works from ABT's extensive repertoire, as well as pieces choreographed during the intensive.
"The final performance is always an exciting event," said Carol Halsted, Director of Dance for the Detroit Opera House. "Dance enthusiasts get a glimpse at up-and-coming, high-level dancers, many of whom will go on to perform professionally."
July 23, 2010 at 1 p.m. and 4 p.m. at the Detroit Opera House. Tickets are $15 for adults and $10 for children under the age of 15.  
About American Ballet Theatre
American Ballet Theatre is recognized as one of the world's great dance companies.  Unparalleled in size, scope and outreach, ABT is considered a living national treasure.  Founded in 1940, ABT set out to fulfill the mandate of artistic directors Lucia Chase and Oliver Smith; to develop a repertoire of the best ballets from the past and to encourage the creation of new works by gifted young choreographers. In its 65-year history, the company has succeeded greatly, and accomplished much more.
American Ballet Theatre has developed an expansive repertoire, perhaps unmatched in the history of ballet.  In addition to all of the great full-length ballets of the nineteenth century, the company has commissioned works by all of the great choreographic geniuses of the 20th century: George Balanchine, Antony Tudor, Jerome Robbins, Agnes de Mille and Twyla Tharp, among many others.  The company resume includes artistic direction by Mikhail Baryshnikov and Jane Hermann, as well as Kevin McKenzie.  The company has toured in all 50 states and more than 130 cities throughout 42 countries.