With colder climes moving into to the northern regions our skin tends to get a little dry. Our bodies lose hydration, which only makes matters worse. Thankfully, I've bumped into the following products that for me have been very helpful –  and I am very happy to share them with you!

MicrodermaMitts
DIY Turkish Exfoliation with MicrodermaMitt
Alright, ladies and gents, let's talk skin! Turkey, besides giving us breathtaking landscapes and mouthwatering kebabs, has blessed us with the Hammam, a traditional bath practice that's older than your grandma's secret chocolate chip cookie recipe. Now, the star of the Hammam is the exfoliating mitt, a tool that's like the magic eraser of the skincare world. Made traditionally from silk floss fibers, it's got the power to turn your skin from dull to wow in just a session. The best part? You can totally recreate this at home with just a mitt and water. Yep, no need for a fancy Turkish bathhouse or a plane ticket to Istanbul (but, both would be welcomed!).
Hammam Exfoliation 101
Imagine this: you're lounging in a steamy bathhouse, getting a nice soak and scrub, leaving your skin silky soft. Well, that's a Hammam for you! The scrubbing process, lovingly called 'kese,' involves using the exfoliating mitt to scrub-a-dub-dub those dead skin cells right off. You'll be amazed at how much gunk this mitt can take off compared to a standard washcloth. Plus, it's like a mini massage for your skin, boosting blood flow and making your skin glow.
The Glow-Up Benefits
Not only does it reveal skin that's fresh and dewy as a spring morning, but it also boosts circulation, cleanses your skin deep down, and lets your skincare products do their thing more effectively. And it's as eco-friendly as carrying your own tote bag to the grocery store. The mitts are reusable, and all you need is water!
Doing the Hammam Hustle
First, run yourself a warm bath or shower for several minutes. Think of it as your pre-glow-up pampering time. Once you're all soaked, it's time for the mitt magic! Dampen the mitt with warm water, then rub it up and down your body using long, firm strokes. Keep scrubbing away, moving side to side and up and down until you see those old, tired skin cells rolling away. Do this for each section of your body, but avoid your face (there are special mitts for the face). We're exfoliating, not sandpapering! Once you're glowing like a goddess, wash off with your usual soap to get rid of the excess skin cells and impurities. Pat yourself dry, and drench your skin in your favorite body oil and/or moisturizer.
Wrapping It Up
With just a mitt and some water, you can bring the Hammam experience right into your home. It's a simple, affordable, and super effective way to get that skin glow you've been dreaming of. Plus, you'll feel all fancy and cultured because you're using a centuries-old skincare practice from Turkey.
MicrodermaMitt is a family-owned company that has been in business since 2004. They take great pride in sharing their family's Turkish traditions with the world while offering a unique product. Unlike many other products on the market, MicrodermaMitts are not made in China. MicrodermaMitt is inspired by the ones used in Turkish Hammams (Baths), allowing you to experience the deep exfoliation that is part of the cherished Turkish bath ritual from the comfort of your own home.

Nebulyft 
Months ago, I picked up the nebulyft R1 Multipolart RF Anti-Aging Device and have used it regularly. The product came beautifully packaged and included the Nebulyft beauty device, two 1.7oz tubes of botanical soothing gel, and an easy to follow instruction booklet.
According to the manufacture, Nebulyft is "like having an aesthetician in your pocket – stimulates collagen regeneration and tightens skin contours". I recommend that you take a look at nebulyft's website for a detailed explanation of the science and technical information to see if the product's specifications are right for you. That is well beyond my ability to do for each reader. What I am able to do, however, is share my personal experience with this product.
The Process
Cleanse the face, then pat dry. Apply Nebulyft Botanical Soothing Gel to the RF head of the device, then start your daily treatment – Forehead. Right cheek. Left cheek. Upper lip. Chin. Neck.
Nebulyft Recommends a 10 minute session, starting with the lowest setting.   
My Experience 
I prefer saving skincare treatments for night time, when skin has optimum time for regeneration. However, one must fit their regimine into their life the best they can, so do what works best for you.
Nebulyft feels like a gentle, warm iron smoothing my skin; like a relaxing 10 minute home spa experience. After testing Nebulyft for 8 weeks, I noticed a subtle difference in my skin's texture; specifically, it felt more firm. However, I wasn't certain how much my skin had improved until I took a break from the treatment. I thought by not using Nebulyft, I might understand what I was missing. During my break, I continued my normal routine; cleansing, then following with a basic anti-aging moisture. Turns out, my skin was better when using Nebulyft.  So, I went back to the device. After 4 more weeks of treatment I realized how much better my skin appeared and felt. It was more hydrated, glowing, and firm. So, now I'm back to using the product and once again experiencing positive results. 
I'm with my two little sons all of the time. When I'm away on a trip without them I'll notice upon my return how much they seem to have changed. That is kind of what my time was like away from Nebulyft – I didn't realize just how great my skin was during the process, until I stepped away from the process.
Shall I quote Cinderella? "Don't know what you got till it's gone". 
We live, we learn.

FACTORFIVE Night Retinol Cream
TREATMENT WHILE YOU SLEEP: Combines the Power of Human Stem Cell Growth Factors with Retinol for Maximum Anti-Aging Benefits
FACTORFIVE is a leader in human stem cell skincare research and products. The night cream combines retinol and human stem cell factors in an innovative formula, working at the cellular level to calm inflammation, smooth, tighten, and promote youthful skin regeneration, while retinol improves the appearance of wrinkles and fine lines.
The Night Retinol Cream also contains hyaluronic acid to hydrate, smooth, and soften skin, ahiflower oil to moisturize and provide the skin with high levels of omega 3 and 6 essential fatty acids, and meadowfoam oil that seals in moisture and balances natural oil production.
Using a proprietary process, FACTORFIVE creates skincare products that promote cell renewal, boost the production of collagen and elastin, restore aging cells, and, ultimately, generate more youthful looking skin by working at the cellular level with an individual's own skin cell receptors.
FACTORFIVE's team of skincare scientists developed a process to generate growth factors, polypeptide complexes, and cytokines from human stem cells ethically harvested from adipose tissue (fat). Rather than treating the signs of aging only on the surface, FACTORFIVE products utilize the power of stem cell conditioned media to communicate directly with cells, elevating production of key building blocks for youthful skin that slow with age, such as collagen and elastin.
"There are so many night creams on the market available to consumers, however at FACTORFIVE Skincare we wanted to create a night cream that isn't available anywhere else and that delivers unparalleled results," said John Aylworth, founder and CEO of FACTORFIVE. "We've combined a high level of human stem cell growth factors with retinol to make the ultimate night cream that soothes, moisturizes, and repairs skin while you sleep."
FACTORFIVE's Night Retinol Cream contains no harsh ingredients such as parabens, mineral oil, sulfate detergents, phthalates, urea, DEA or TEA, and is never tested on animals. The FACTORFIVE Night Retinol Cream is silicone-free, and safe and effective for all skin types.
FACTORFIVE's Night Retinol Cream is available for purchase for $189.
My Experience
FACTORFIVE is an impressive night cream. I experienced an instant, noticeably softer, change in the texture of my skin right after the first use. After a couple months of nightly use my skin felt healthier, very much like it was repaired, firm underneath yet soft to the touch. The cream minimized fine lines, making them almost disappear, and softened deeper wrinkles.
Each morning, my skin felt like it had been through an overnight healing process. And, for a retinol cream, it was very gentle. I have sensitive skin and quite often I have to be really careful with retinol products because they can cause irritation. So, it's important to note that I had absolutely no irritation with this product.
The container allows you to push down on the top and only squirts a pea size amount. This keeps bacteria from our hands from contaminating the rest of the product, which can happen in a standard cream jar, unless you thoroughly wash your hands prior to applying. When I finished the product I opened the container to see if there was any cream left in the jar (which is typical of that sort of container) and to my surprise, there wasn't any bit left). So, no waste!  
_____________________________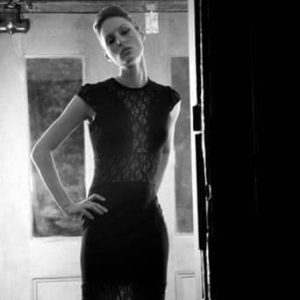 Jeanette Frost is a model, Style & Beauty writer/editor, and a lover of chocolate!