Napoleon Bonaparte once said that if the Earth were a single state, Istanbul would be its capital. Even now, more than 200 years after the famous French emperor, the largest city in Turkey attracts with its vibe, ancient history (2700 years!), breathtaking sights, and simply mouth-watering dishes. You should know that Turkish cuisine is very rich, and the street food culture is almost as rooted as in Thailand.
Hungry?
Let me take you for a walk to discover delicious street foods in Istanbul.
Döner kebab – the king of Turkish street food
Let's start with definitely the most popular Turkish street food – döner. For many tourists, this dish is simply a synonym for kebab. What a miss! Turkish cuisine knows a dozen types of kebabs, and döner is just one of them.
It is prepared on a vertical grill, on which meat is roasted, usually beef or mutton, but increasingly also poultry. The thinly sliced meat is served on a bun, pide, or wrapped with pita, accompanied by various vegetables and, often, garlic or tomato sauce.
It is super cheap, super tasty, and definitely worth to eat it more than once!
Try Dürümzade for what many consider the best traditional kebob in Instanbul City, Turgut Kebab Restaurant, which is open 24 hours and provides exceptional service, and Dönerci Şahin Usta (if, you don't mind waiting in a queue), located in Gülcemal kuyumculuk – a two minute walk from the Grand Bazaar – for Street Food at its best.
Balık ekmek – the fish sandwich
Balık ekmek, or fish sandwich, is a super popular and must-have street food in Istanbul. This uncomplicated snack is nothing more than a sandwich with grilled fish, chopped raw onion, lettuce, salt, spices, and lemon.
The tradition of selling freshly grilled fish served on a piece of bread on the shores of the Bosphorus and the Golden Horn has been known in Istanbul since the 19th century. In the past, fishermen were said to sell the snack directly on board their boats, thus earning extra money. Many well-known restaurants specializing in selling fish sandwiches date back to the times when they were located on modest fishing boats.
Although you can get balık ekmek in many places, I highly recommend you visit the street vendors around Galata Bridge. I ate there the best fish sandwich in my life!
Besides, it's a great excuse to visit this famous bridge and the nearby Galata Tower.
Midye dolma – stuffed mussels
Stuffed mussels are a popular dish in every town along the Black Sea coast. And as Istanbul is a seaside city, it is no exception!
Midye dolma (because that's its Turkish name) is a delicious snack, served in mussel shells and eaten with hands. It consists of a filling of mussels, rice, onion, salt, and lots of spices, finally sprinkled with fresh lemon juice. Although you can order stuffed mussels in restaurants – please don't! Buying midye dolma from street sellers who serve them from large trays and eating at the edge of the Marmara Sea is a way better idea.
It's interesting that you can buy stuffed mussels by the piece, but honestly, I have never seen anyone resist the temptation to buy another mussel.
You can easily find midye dolma in almost every corner of the city, especially in the famous districts of Istanbul such as Beyoğlu, Karaköy, Kadıköy, and Üsküdar.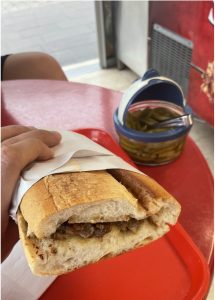 Kokoreç – you'll love it or hate it
All right, now you are ready to meat… apologize, meet probably the most controversial Turkish street food. Kokoreç is a very popular dish made from lamb intestines. It evokes extreme taste sensations: some people consider it a great delicacy, while others perceive Kokoreç as a total muck.
Kokoreç can be prepared in at least two ways. The first method, popular especially among street vendors, resembles the one used to prepare döner. The intestines are first very thoroughly cleaned, sliced, and marinated in a marinade of lemon, olive oil, oregano, salt, and pepper. Later, the cook places them on a spit and roasts them using charcoal.
The second way to prepare kokoreç is to mix shredded offal with tomatoes and green peppers. They are then fried in a large pan with red peppers and oregano. Everything is later constantly stirred during frying. The filling is then placed on a skewer, wrapped in gut to hold it together, and baked.
Baked kokoreç is served in several ways. The most common form is called yarım ekmek kokoreç, which is a stuffed sandwich. In this form, we can get it from street sellers.
I am extremely disappointed that I met kokoreç only on the penultimate day of my stay in Turkey. Since people are divided into those who either love or hate this dish, I definitely belong to the first group.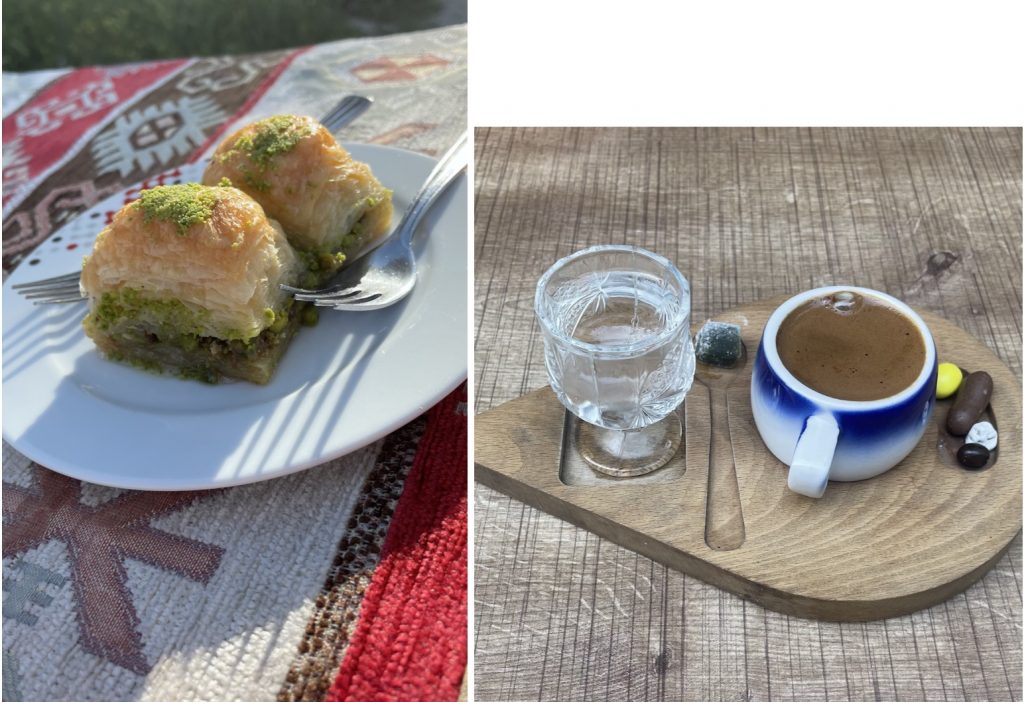 Tea/coffee and baklava – time for dessert
After all this savory Turkish street food, it's time to finish off your meal with a sweet treat. Türk kahvesi (Turkish coffee) and çay (tea) are popular hot drinks that can be found in almost every restaurant or café. For dessert, you must try the famous baklava.
This sweet pastry is made with layers of filo dough filled with chopped walnuts and covered in honey or syrup. Baklava has become a symbol of Turkish cuisine, so make sure you try it before leaving Istanbul. If you are feeling extra brave, don't forget to explore the other sweets that can be found in street markets and pastry shops. Be careful – they're super sweet!
_________________________________________________________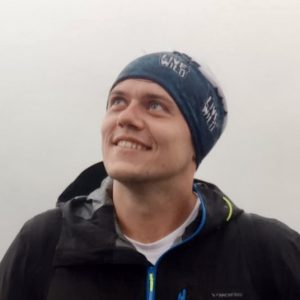 Michal is passionate about trail running and travel. He is a Travel Leader at Solisci Adventure Club and the Community Manager at Passport Photo Online.