By Jeanette Frost
It has been brought to my attention that some men, though not all, have a hard time choosing gifts for women. One way to show your lover you put forth the proper amount of time and thought is by filling her stocking with interesting items. If she doesn't have a stocking, buy her one. The tradition of the Christmas stocking brings back a bit of that holiday magic we experienced as kids. As the saying goes "Sometimes, it's the little things that matter most". For the stocking stuffer impaired, here are a few suggestions.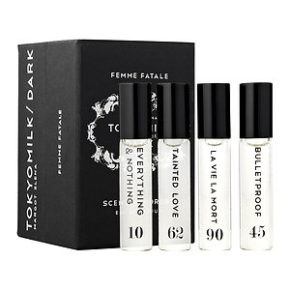 Perfume
If she wears a signature fragrance don't deviate. Fragrance is personal to each woman; what one loves another might detest. I recommend Sephora (a cosmetics shop found in most malls). They carry almost every designer you can think of, and offer testers for you to smell, gentlemen. Plus, the staff at Sephora is typically helpful, and able to guide gentlemen through the process.
When in doubt about your lover's preferred scent, I suggest opting for an attractive gift set that comes with a variety for her to choose from.
Try TokyoMilk Dark Femme Fatale Collection ($18) exclusively at Sephora. Find at Somerset Collection Troy and sephora.com
Hand Cream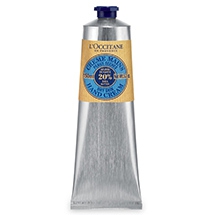 L'Occitane Shea Butter Hand Crème is simply the best hand cream ever. It's moisture packed containing 20% Shea butter, coconut oil, almond and honey extracts. Feels rich but not greasy.  1oz. tube $12 Find at Somerset Collection Troy and loccitane.com
Soaps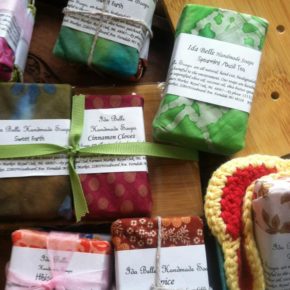 Picking out fine quality bath products tells her she deserves some relaxation time in the tub. Ida Belle Soaps are hand-cut, made from all natural ingredients and come wrapped in lovely fabric. Ida Belle has a large selection of scents to choose from, so you're bound to find something she'll love. $3-$7 each. Find at Rustbelt Market and idabellesoaps.com
Chocolate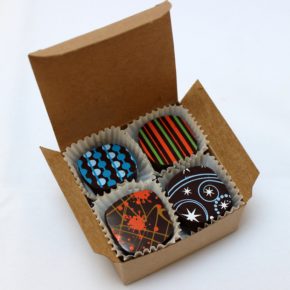 This needs no explanation. Particularly, if the chocolates come wrapped in a pretty box. Just get it and thank me later.
Bon Bon Bon opened July 2014 by chocolatier Alexandra Clark in Hamtramck, winning the love of both Martha Stewart and Vanity Fair! The Winter Collection of Bons sounds like a holiday dream with names like Gingerbread, Reindeer Food, Figgy Pudding, Pepper Mint, Pecan Pie, Sugar Cookie, Lump of Coal, Cornbread and Honey. Unfortunately, they do not ship. Lucky for us Detroiters, Bon Bon Bon has 2 retail locations in Hamtramck and Detroit. bonbonbon.com
Pete's Chocolate Company is a small batched chocolatier based in Detroit, started by Pete Steffy. Truffles are made fresh by hand using Belgian chocolate, locally sourced hormone-free dairy and natural ingredients. Pete's Classic Flavors Assortment 5 piece includes Dark Chocolate, Café Mocha (Dark), Cinnamon Cayenne (Dark), Cherry Pecan (Milk), Rosemary Sea Salt (Milk) $8 peteschocolate.com
Birmingham Chocolate sits west of downtown Birmingham. Head Chocolatier Doug Cale does a fine job of handcrafting a large assortment of truffles, caramels, toffees, fruit/nut clusters and barks, but it's the chocolate cremes that are the winner of this stocking's attention. Their Vanilla Creme is infused with all natural concentrates, molded with dark or milk chocolate couverture. birminghamchocolate.com
Lingerie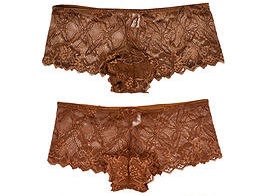 This is perhaps the only time I will tell you "raid her panty drawer"…to find out what size she is. When in doubt, go a size larger, that way if she has to exchange it she will feel better about herself asking for a smaller size. Nubian Skin Lace Boy Short from Busted Bra Shop in Detroit is sexy, elegant and the perfect style for all shapes of curve appeal. $26 at Busted Bra Shop bustedindetroit.com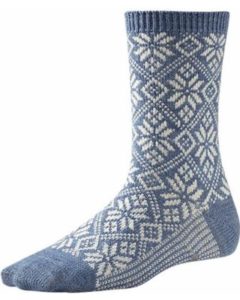 Warm Winter Socks
Unless you want to find your warm socks missing just when you need them, I suggest getting her a pair or two. Smartwool Women's Traditional Snowflake Sock in Blue Steel Heather. 86% Merino Wool cushioned crew sock. Find at Moosejaw Birmingham and Detroit. $23.95 moosejaw.com
Jeanette Frost is a professional makeup artist with a penchant for chocolate and warm socks. Find her on facebook for beauty tips, holiday finds, and pictures of her sock collection.