By Jeanette Frost
Over the past couple of years, the popularity of coconut oil has exploded. From culinary use to beauty regimens, everyone seems to be going coco-nutty. So what's the beauty fuss all about?
Coconut Oil helps protect skin from the aging effects of free radicals, and can help improve the appearance of skin with its anti-aging benefits. It contains medium chain triglycerides, which acts as a nourishing moisturizer that penetrates deep into skin, and prevents moisture loss. Coconut Oil's key ingredient, Lauric Acid, is a building block of proteins (or an amino acids) that possess powerful virus and bacteria destroying properties. Coconut oil contains the highest amount of Lauric Acid found in any substance on earth. It also contains Vitamins E & K, anti-oxidants, anti-inflammatory properties.
Recently, I spoke with Josie Feria (Director of Operations at Lapis Spa – Fontainebleau, Miami Beach) regarding Coconut Oil. Ms. Feria tells us how to utilize nature's greatest beauty product from head to toe – the best part is you don't have to look any further than the nearest grocery store. So, pick up a jar of Coconut Oil and follow Josie's 11 expert tips!
Intensive treatment for dry hair: work into wet hair, cover with a       shower cap and leave on for up to 30 minutes; rinse and shampoo as usual
Stimulate hair growth: massage into scalp
Fight frizz: use a small amount in your hair for instant control
Face: use as makeup remover, including eyes
Lips: use in place of lip balm
Cuticles: massage into cuticles to eliminate dryness and stimulate nail growth
Body moisturizer: use as you would a normal body lotion for overall treatment, focusing especially on dry elbows
Body scrub: mix with sea or rock salt and exfoliate (mix with sugar for sensitive skin)
Prevent stretch marks: apply to skin daily to avoid scarring during pregnancy
Soothing balm: apply to skin irritated by poison ivy, oak, sumac
Feet: rub on feet to hydrate and condition skin; fights athlete's foot and low level fungus
Notes: When searching for a coconut oil, choose one that is Virgin or Extra Virgin and Organic. This ensures you'll receive all the nourishing properties from fresh, nutrient packed, coconuts that are free from chemicals and pesticides. Unlike refined coconut oils, Virgin Coconut Oil is not hydrogenated, bleached, heavily processed or deodorized.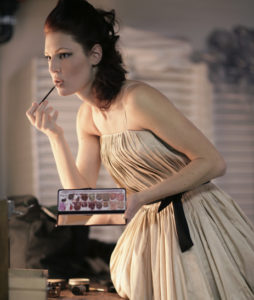 Jeanette Frost is a Professional Makeup Artist with a penchant for chocolate. For more beauty tips hit up jeanettefrost.com or find her on facebook