It's true – kids really do grow quickly. As a mother with two little ones, I am actively engaged in online children's clothing groups, resale shops, and family & friends clothing and toy exchanges. I've hit estate sales, garage and yard sales, and have as much as anyone utilized the hand-me-down approach to distribution. And, that's okay. Apart from saving money on items that will soon be outgrown the diverse combination provides opportunities to develop style.
Sometimes, however, I want to begin or round out a look by purchasing something new. And, when that happens I look for value. What does that mean? It means I'm seeking items that are worth the expense. The following are just a few of my latest finds.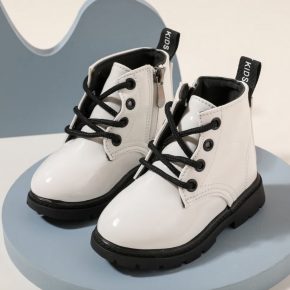 Pat-Pat
Specializing in cute clothing at an inexpensive price Pat-Pat offers a wide range of apparel for expecting moms through kids aged 11-12. Most items range from $1.99 to $15.99 The key when selecting these items is to look carefully at the Product Descriptions, which identify materials. If you choose appropriate materials for each garment you will find success.
Recently, I ordered about $300 in items including shoes, track suits, coats, jackets, sweaters, pants, and outerwear (winter jackets) and was pleased with the vast majority of gear. First, each item came individually wrapped in a plastic zipper bag. The presentation on par with companies shipping higher price point gear. And, the quality of most of these items is surprisingly good. Boots and shoes, for example, are built with solid soles – the uppers and linings constructed better than expected. And, my boys loved the styles. The same must be said for outerwear, sweaters, and hoodies. Very pleased with the quality of the garments, the colors, and fit. I also picked up a couple hip track suits for my 3 year old's budding DJ career, which have proven to be a hit on the playground. The only area that was disappointing were the pants. In my single experience they run large. But, even if I chose a size down the styles were baggy and too big on my little skinny britches of a 5 year old. No matter, we'll either return or save them for the next children's clothing exchange.
Again, if you choose appropriate materials for each garment you will find success. Some items on Pat-Pat I am sure are of better quality than others. But, if you invest some time in browsing their large site you will find style and quality delivered to your door at a price that's hard to beat – and, that's "value".
Another great online find is Little Bipsy, a modern collection of baby/toddler apparel. With most prices between $15.00-$50.00 per item, this children's in-house design and retailer offers a streamlined aesthetic for little ones who want to school and play in style. I picked up the pullover, jogger, and knit beanie in Black Cherry for my soon to be 6 year old's birthday (and, no, I can not believe he is already 6!). The items are 95% cotton, 5% spandex, and 100% soft and comfy. And, while I was a bit concerned the color might not translate from the website to real life, those concerns disappeared as soon as I opened the nice packaging – the Black Cherry is deep, rich, and a nice addition to my son's wardrobe. The size and fit of all three garments are spot on, with style equaling substance. As part of Little Bipsy's "Core Collection", this outfit works as a staple item for home, school, the playground, and those long trips to grandma's house. And, I have to say again, LB really nailed the Black Cherry. So much so, I'll be looking closely at picking up the same in Spiced Cider. Both are great autumn looks for Back-to-School through the New Year.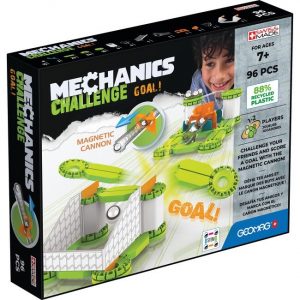 Geomag Mechanics Challenge Goal 96 pcs
Not all back-to-school items are clothing and supplies. Sometimes, we must also choose books and games that challenge our children's minds. Made with recycled plastic, the Geomag Mechanics Challenge Goal 96 pcs harnesses the invisible forces of magnetism and gravity through original and surprising means. Challenge your children, their friends, and yourself to see who can score more goals and knock down more pegs! The spheres inside the circuit are set in motion by an innovative magnetic cannon that uses the force of attraction of the accelerating magnet. A great choice for family game night.
This set contains magnetic rods, spheres, and plastic elements – all the essentials needed to build a magnetic cannon. Made of recycled plastic, Mechanics Gravity is the innovative evolution of the Geomag Mechanics line. The motion is provided by the invisible forces of Gravity and Magnetism, without using electricity or batteries. The play experience is based on these fundamental principles of physics. Mechanics Gravity is a STEM product that can truly stimulate curiosity and inspire to learn more about science.
And, we all LOVE science!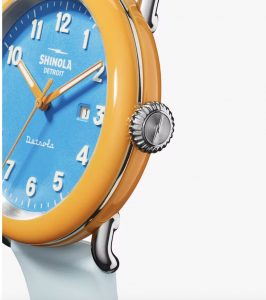 Detrola by Shinola
Wait a minute! How did a Shinola watch make it into a Back-to-School piece? Well, if there is one thing we learn from being a mother it's that we must keep track of time. Gone are the days of waking up at the crack of noon to almond croissants and mimosas (though, one should certainly schedule time for such occasions). For mothers, Time is always of the Essence. We must schedule getting up, making breakfast, getting the children to school, naps, playgrounds, play dates, snacks, soccer games, martial arts courses, dinner, family time, extended family time, field trips, work, personal health and hygeiene, vacations, holidays, etcetera – and, be ready and looking our best for our significant others. All of this takes an enormous amount of time. And, for me, one of the best solutions to remedy the problem – in style – is to wear my sporty timepiece from Shinola. What can I say, the Detrola is comfortable, light weight, feels well made, and explodes with bright pops of color. And, I'm tired of looking at a screen for the time when I can look at the face of a classic analogue, telling time in Old Skool fashion.
featured image | Max Fisher (pexels)