BOOK
Six: A Salute to Al Kaline
The Sparrow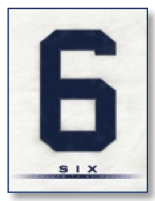 Nobody impacted the game of Tigers baseball to the degree that the legendary Al Kaline did. "Mr. Tiger" established himself as the face of the franchise during his 22 seasons with the Tigers and in 1980, became just the 10th player ever to be elected to the Baseb
Now Tigers fans can relive his outstanding career with the fourth book in Olympia Entertainment's Legends series: "Six: A Salute to Al Kaline." This unique collection of articles and never-before-seen photographs captures what Kaline has meant to the storied Tigers franchise, his teammates, a legion of loyal fans and the entire baseball world. Each book is individually numbered, making it a must-have Tigers collectible.all Hall of Fame during his first year of eligibility.
"Six: A Salute to Al Kaline" features more than 150-pages chronicling "Mr. Tiger's" illustrious baseball career, including photos from Kaline's personal collection. The book retails for $25 and is currently available at Joker Marchant Stadium and will be a
vailable at Comerica Park during the regular season.
Kaline's 22 seasons with the Tigers is matched only in longevity by the legendary Ty Cobb. He was selected to 18 all-star games, the most in Tigers franchise history, including 13 consecutive seasons (1955-67). The outfielder won 10 Gold Gloves in 11 years from 1957-67 and led American League outfielders in fielding percentage in 1966 and 1971.
He came back from a broken arm suffered earlier in the season to bat .379 against the St. Louis Cardinals during the 1968 World Series, leading the Tigers to their third Series title.
On September 24, 1974, Kaline recorded his 3,000th career hit, becoming just the 12th major league player to reach the milestone. He finished his career with 3,007 hits and remains as the only other Tigers player aside from Cobb to have amassed more than 3,000 hits.Kaline had his uniform No. 6 retiredby the Tigers on August 17, 1980, the first Tigers player to receive this honor. Following his outstanding playing career, he spent 26 seasons providing color commentary for Tigers television broadcasts. Kaline is currently serving in his ninth year, 58th with the organization, as a special assistant and advisor to Tigers senior management.