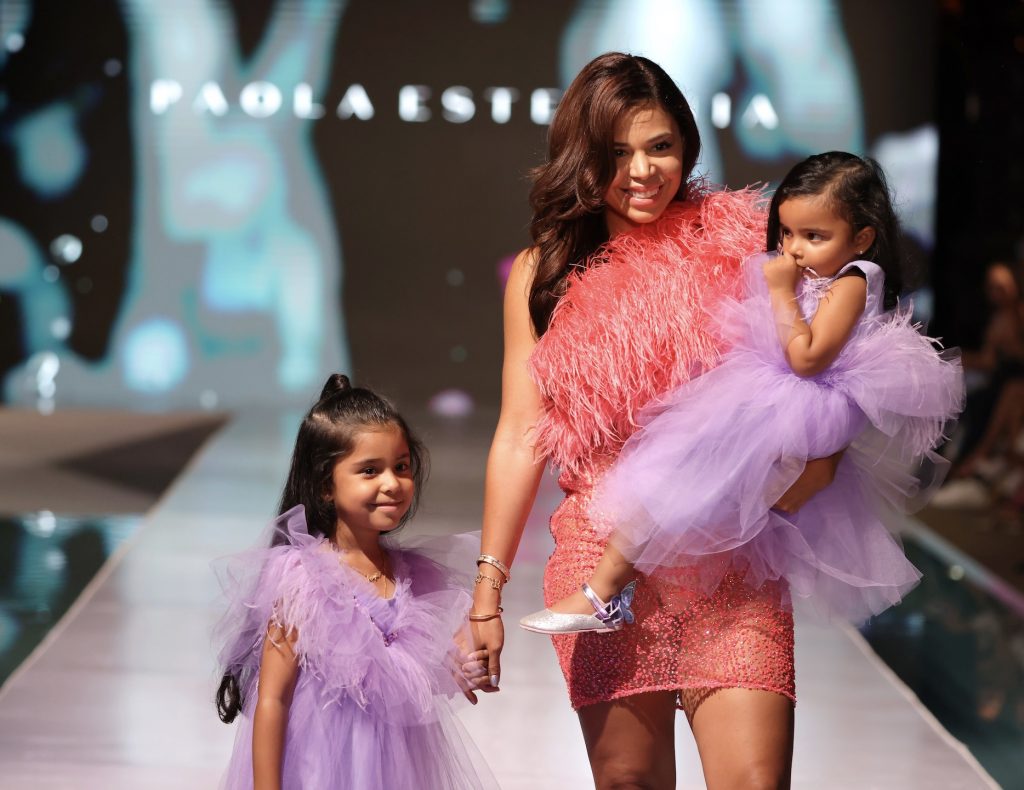 WHO | Paola Estefania
Killing it earlier this month at Miami Swim Week, The Shows, designer Paola Estefania has been soaking in the love by Media outlets around the globe.
In her show, the designer included glittery swimsuits, with waist-high side cuts, goddess-inspired chiffons, and billowy cover ups made to take the Daring Girl from day to night. In her Bio, Estefania says she caters to the needs and desires of the modern "International Woman" – one who enjoys distinctive and luxurious garments – and that fashion philosophy was made clear in Miami, South Beach.
Moving from Venezuela to Florida when she was a little girl, Paola launched her fashion career as an entrepreneur; founding Humble Hustler – A Los Angeles based streetwear brand. The Paola Estefania label is haute couture design (for those "International" women we mentioned) and is rooted in bold, sophisticated, feminine style.
If we understand correctly, Paola's presence at Miami Swim Week, The Shows, marked her 5th year as a fashion designer. Her intention was to "transform and elevate beach wear", utilizing a balance of  "feminism, sensuality, elegance, and grace."
Without question, we have to say, Mission Accomplished!
And, congratulations, on such a stunning runway presentation!
WHAT | Digital Labeling
The Secondary Materials and Recycled Textiles Association (SMART) joins 130 recycling, fashion, and footwear organizations around the globe in demanding legislative entities modernize textile labeling requirements. The move would advance sustainability, circularity, and authenticity solutions in the fashion and textile recycling industries. #CutTheTape benefits consumers by providing more product information using digital means.
THE PROBLEM: Each year, the annual production of label tape produces approximately 5.7 million miles (about 9.2m km) of tape; long enough to stretch from earth to moon and back 12 times. With current labeling requirements having not been updated since the 1960s, they are inconsistent and hinder efforts to trace the origins of materials to be more sustainable and support a circular economy.
THE SOLUTION: Digital technology solutions – such as QR code labels – would reduce labeling waste and eliminate at least 343,000 MT of emissions from industry supply chains, while providing consumers with more detailed and accurate product information. The data would also aid in the garment's lifecycle, by providing details about resale, repair, rental, upcycling, or recycling.
ACTION NEEDED: SMART urges government regulators to amend international, national, and local regulations to allow fully digital labeling solutions to be adopted. QR codes would make products more useful and valuable for longer periods in the circular economy, while unlocking new opportunities for resale, repair, rental, upcycling, or recycling.
SMART President, Steve Rees explained, "Greener e-labeling clears the way for transparency and accountability in the global textile recycling space. QR codes will empower consumers by providing more accessible information and key data that can strategically extend a garment's or item's lifecycle as it moves through the resilient reuse and recycle distribution chain."
SMART calls on legislative leaders to take immediate action to create stringent digital labeling guidelines, which will lead to more responsible outcomes, helping the world economy and the environment.
WEAR | Armitron's Wave Collection
Did you know that according to 
EarthDay.org
, approximately 8 million metric tons of plastic enter the oceans every year? Microplastics, present in various forms, have become an unwelcome guest in our waterways. According to the 
United Nations
, there are now more microplastics in the seas than stars in our galaxy. From rivers that wind through picturesque landscapes to the expansive depths of our oceans, microplastics pervade all water systems, silently wreaking havoc on marine life and potentially entering our food chain.
Tide Ocean SA
, is an environmentally-focused company that upcycles ocean-bound plastics to produce premium raw materials for sustainable products. 
#tide ocean material®
 is an award-winning material resource that comes in the form of 
granules
 for plastic injection, 
yarn
 for textile applications, and 
filament
 for 3D printing. #tide ocean material® can be applied to an endless variety of durable products; from watches to furniture, automotive parts to apparel, consumer electronics to carpets or sports floors and construction. In just two years, #tide has processed the equivalent of more than 25 million plastic bottles into reusable raw materials converted into high-quality products.
Armitron's WAVE Collection
is crafted using recycled ocean-bound plastic from #tide SA. Each watch in the collection represents a small step towards combating plastic pollution and creating a sustainable future. The vibrant coral and turquoise colors, inspired by marine life, serve as a powerful reminder of the beauty and biodiversity we must protect.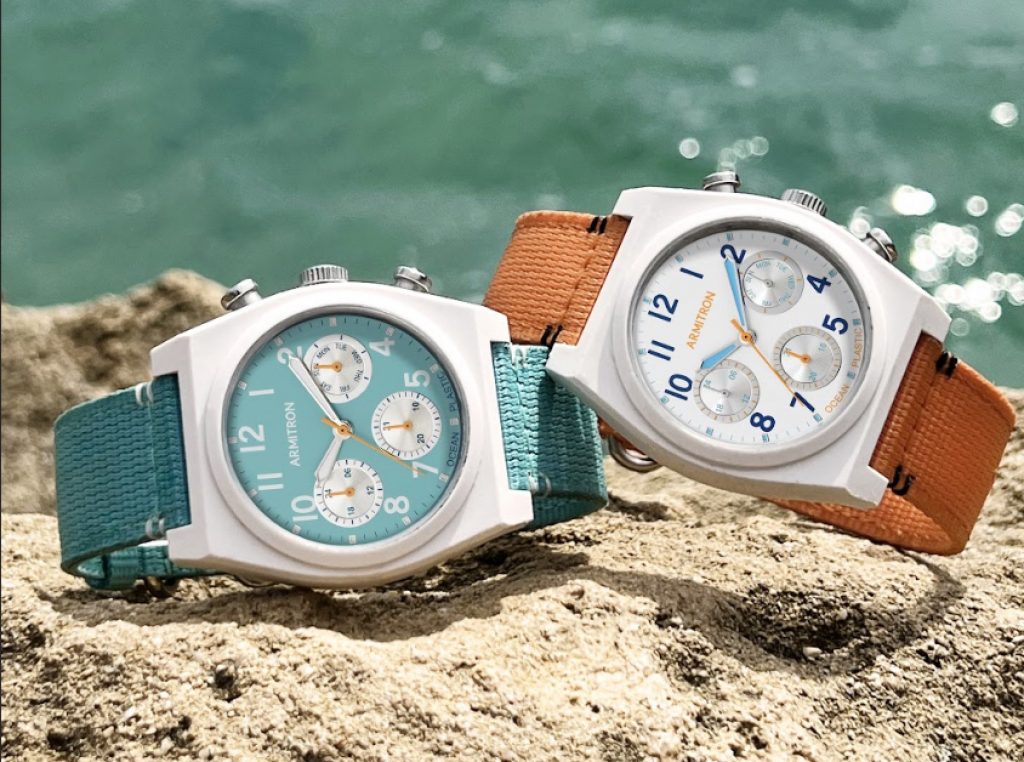 Inspired by marine life, the watch designs are available in vibrant coral and turquoise colors and deep, rich ocean hues. The
Wave Ocean Plastics Collection
is priced at
$95
, with each timepiece packaged in a box consciously designed from recycled fibers that include an all-natural organic cotton insert.
"We chose to partner with Tide Ocean SA because of their strong commitment to preserving our oceans and protecting our environment," states Bobbie Weichselbaum, CEO of E. Gluck Corporation. " Through the launch of our Ocean Plastic Collection, we aim to broaden awareness of plastic waste pollution and to champion the adoption of a circular economy." 
Armitron®, since 1975, has been known for making innovative and fashion-forward watches with quality materials and a coveted affordability factor.