__________________________________________________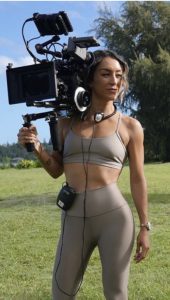 WHO :: Monica Medellin | filmmaker | Los Angeles
Innovative Latina creator, film and television producer and athlete/surfer Monica Medellin is taking Hollywood by storm as the architect and executive producer of the smash hit docu-series "Surf Girls Hawai'i," now streaming on Amazon Prime.
Medellin, who also created the series, follows the next generation of Native Hawaiian female surfers compete at elite levels to earn a coveted spot on the World Tour of professional Surfing. This 4-part series offers behind the scenes access as they train, navigate family responsibilities and battle against the highest-ranking surfers to get to the top of the podium.
Medellin worked alongside Reese Witherspoon's Hello Sunshine company, TOGETHXR, and the World Surf League to document Native Hawaiian surfers Moana Jones Wong, Ewe Wong, Maluhia Kinimaka, Pua DeSoto, and Brianna Cope.
A Los Angeles native, Monica grew up surfing and skateboarding and it's always been a passion of hers to marry her athletic prowess and ambition with her love of filmmaking. Monica has several sports projects already lined up—she travels the globe working tirelessly on a number of interesting projects highlighting minority athletes, with exciting A-listers on the horizon. Medellin also runs the production company, The Gnar Gnar Honeys. Medellin's belief in herself and passion for the project at hand shines through in everything she does.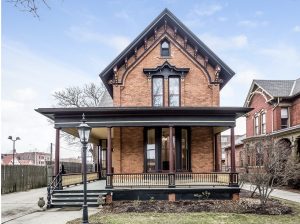 WHAT :: Historic Realty Detroit 
Specializing in luxury properties in the historic neighborhoods of downtown, Detroit, Historic Realty Detroit has worked with buyers and sellers who are interested in living in and preserving a better Detroit. From the Great Recession and through shows like Anthony Bourdain's Parts Unknown (episode Detroit) the world has witnessed the city navigate a series of social and economic conditions. What appears as decay to many, however, looks like opportunity to others. And, this Realty organization seems determined to connect the right people with the right properties.
Working with residential and commercial real estate, HDR purports to be fully committed to "forging a character and lifestyle which cannot be recreated in any other city". Good to hear. As many other realtors and builders would just as soon tear down Detroit architecture in place of strip malls and poor construction. Based in Detroit, currently with a team of about a dozen agents, HDR is famous for their efforts in areas like Boston-Edison, Indian Village, Palmer Park, and several other neighborhoods that define Detroit's fingerprint.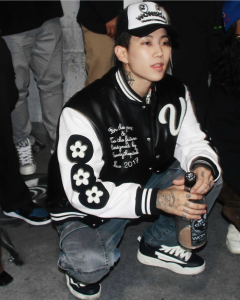 WEAR ::  Jay Park + VANDYTHEPINK
International icon Jay Park joined forces with the acclaimed streetwear brand VANDYTHEPINK to unveil an exclusive capsule collection to coincide with the U.S. launch of Jay Park's soju brand 'Won Soju'. This limited-edition release showcased a range of Won Soju-themed t-shirts in black, white, and blue hues, complemented by an exclusive trucker hat and varsity jacket reserved for friends and family. The collection made its official debut on September, 11th and sold out within moments.
Jay Park and Junghoon Son, the visionary behind VANDYTHEPINK, are both Korean Americans who each chart their unique path to make a profound mark in their respective fields. Vandy's audacious and distinctive designs harmoniously align with the bold and distinctive flavor of Won Soju, intertwining their spirited energies within this collection. The realization of this collaboration was a dream come true for Junghoon, and it might just be the inaugural chapter of an exciting series of partnerships between the two trailblazers.
Jay Park is considered as one of the most influential artists in the hip-hop and popular music scenes in South Korea, transcending the genres of hip-hop and R&B. He became the first-ever Asian to sign exclusively with JAY-Z's 'Roc Nation' in 2017, establishing himself as a globally acclaimed artist.
Alongside establishing AOMG, H1GHR MUSIC, WONSOJU, and MORE VISION, he demonstrates his value as a producer by releasing a diverse range of music, featuring for other artists, and mentoring on various domestic and international competitive music programs. Utilizing his accumulated skills and expertise, Park is also dedicated to contributing to the production of idol groups.