Nick Brancaleone
 Independently owned and operated, Jay Kadlitz, chops em' up freestyle with perfect precision. Jay and the boys greet with friendly "Hellos", while beats from The Clash and other big hits spin in the background. The shop pooch, "Roxy Music", is there to greet clients, while gnawing, tenderly, on his squeaky toy, slowly letting out a squuuuuuuueeeeek.
Red leather and white steel barber chairs line the bright green walls, where chops turn into displays of artwork. Just like the proper cuts grandpa use to wear, Jay clips retro and current styles including Fades, Flattops with fenders, Crew Cuts, Mohawks, and my new favorite "The Hoffa." Let Jay work a finishing touch on your cut, with a hot straight razor shave around the neck and ears known as the "Happy Ending".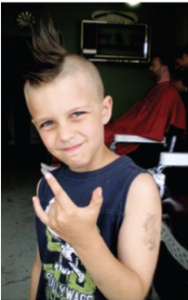 And, while the Chop Shop may be a boy's joint, gals are welcome too.
Custom cuts $15 bucks. Women $30 and up. Kids under 12 for $12 bucks, special seniors note, on Wednesdays a cut is $12. Those who prefer custom work, paintjobs, pin striping and other chemical services are $30 +. Special appointments are available.
Grease it to the side, flow it over, slick it back, either way… Chop'em and Rock 'em!
2980 12. Mile Rd. Berkley 48072 248. 546. 2273 M-F 10-6, S 9-4