By Joe Neussendorfer, Aff.M.ASCE, ESD
Imagine a modern-day Motor City filled with automobiles, but no gasoline. Sure, there remain alternative-powered vehicles, however most need fossil fuel.  Take that thought and apply it to alcohol, the "fuel" for Detroit's dining, sporting and other entertainment businesses.  A day without imbibing your favorite spirit would be a bad day indeed.  Well, that's the history of Detroit and Michigan's anti-alcohol campaigns.  The presence and absence of alcohol ranged from saloons being axed in Holly, Michigan (visit Battle Alley and the Holly Hotel for tales), to the emergence of Detroit's notorious "Purple Gang" during the last Prohibition.
In early Michigan, the Women's Christian Temperance Union (WCTU) marched, picketed and fought "evil alcohol."  Their crusade even extended in to the schools.  Kids of the day were exposed to plays and songs against alcohol use.  One of the popular songs was "A Temperance Battle Cry" and the lyrics went like this:
"We are a band of temperance boys / Our drink is pure cold water / No whiskey and no rum for us / No beer, no ale, no porter / See the temperance wave advancing / O'er the Southern strand / Sweeping out the licensed evil / From a rum-cursed land / Chorus / Local option boats are launching / Counties far and nigh / And the good ship Prohibition / Will reach us by-and-by."
As the Temperance Movement gained momentum, Michigan in 1916, adopted the Damon Act, which prohibited liquor effective in 1917, three years before national Prohibition.  In 1919, the Damon Act was declared unconstitutional, and in 1920, the Eighteenth Amendment to the United States Constitution was adopted (later ratified by the States).  For those Detroiters who still had the taste for alcohol, Canada became their best friend.  Canada continued to approve and license distilleries to make, distribute and export liquor.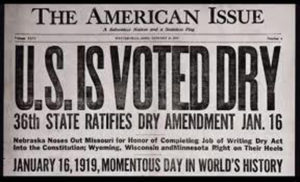 Prohibition created a unique business opportunity for Detroit's early "start-up" enterprises that saw money in getting the booze from Canada, across the Detroit River, and into the thirsty mouths of drinking Detroiters.  There were many individual "businessmen" who took up the liquor trade, but the most notorious of these was Detroit's "Purple Gang." They had a very lucrative tenure running liquor across the border, supplying Canadian whiskey, Old Log Cabin and other spirits to Detroiters and Americans in other major cities. They were also involved in other criminal activities.
So much has been written about the "Purple Gang", and space here does not allow for any lengthy historical dissertations. One outstanding primary source book is titled "Detroit's Infamous Purple Gang" authored by local crime historian Paul R. Kavieff, published by Arcadia Publishing in 2008.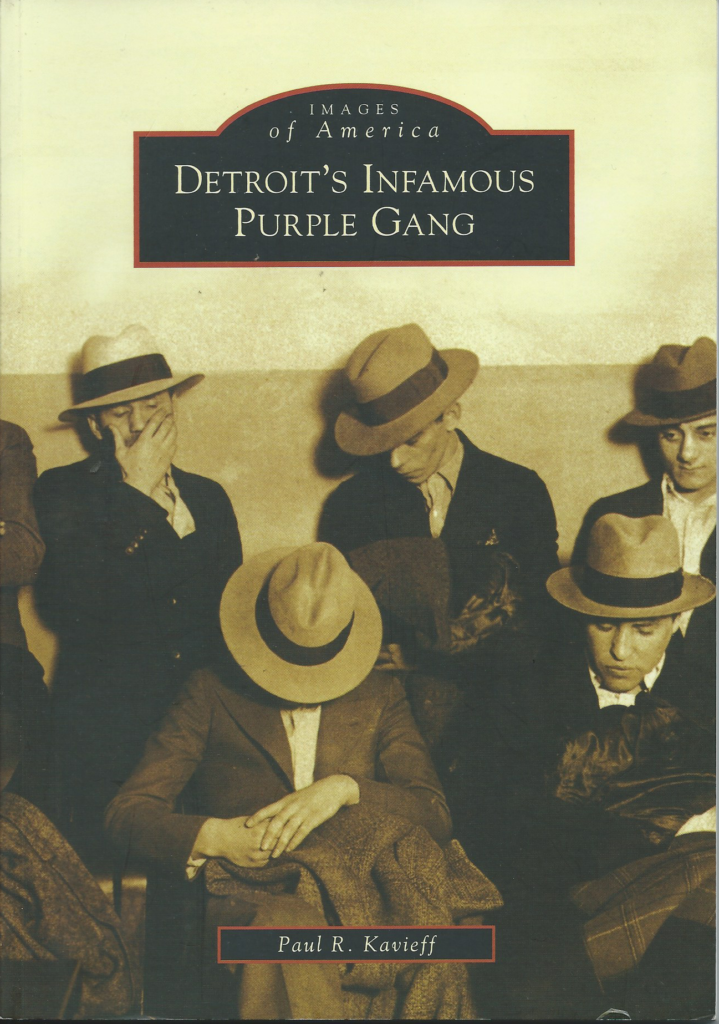 The 128-page work contains fascinating mug-shots, fingerprints and extensive descriptions of the gang members. According to author Kavieff, in Chapter One of his book, "The Purple Gang began as a juvenile street gang in the years preceding World War I. This group of approximately 18 to 20 young men terrorized the old Hastings Street neighborhood of Detroit's lower-east side."
So manufactured liquor flows in to Detroit.  All of the home-made, bath-tub gin and wine made by Detroiters in their homes is another story.  More on our Canadian friends.  There was a very popular ditty sung by Detroiters in Windsor who went over for a drink.  It went something like this:
"Four and twenty Yankees, feeling very dry / Went across the border to get a drink of rye / When the rye was opened, the Yanks began to sing / God Bless America, but God Save the King."
Let's close this article with a tall, cool one.  My choice is one of many hand-crafted beers.  There are so many to choose from.  As the old Detroit Polish Polka song goes, "In heaven there is no beer, that's why we drink it here." According to the most recent issue of the "Michigan Beer Guide," published by Rex & Mary Halfpenny ,"Michigan beer sales volume continues to rise, and the year 2014 broke all records for growth with more volume, more breweries, and most important market share." The publication reports that Michigan closed 2014 with 194 brewing licenses.
We all have a civic duty to improve Michigan's economic condition by imbibing more (responsibly) of our States fine beer and liquor offerings!
Further information about the Purple Gang book at: www.arcadiapublishing.com
(Joe Neussendorfer has been writing about Detroit and Michigan history for the past 40 years.  His website is: www.constructionanswerman.org.  His email address is: [email protected])