DETROIT ARTISTS MARKET
ANNUAL GARDEN PARTY & ART SALE
Thursday, June 13th, 2015, 4pm – 8pm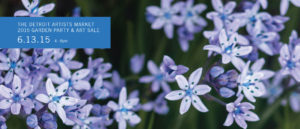 Gay Paris ~ The DAM annual Garden Party & Art Sale is a tradition dating back to the 1930s, when the Detroit Artists Market was founded. Featuring artworks by more than 125 established and emerging local artists, the Garden Party includes paintings, prints, photographs, sculpture, jewelry, glass, ceramics, fiber etcetera.
The Edsel & Eleanor Ford House is the former private residence of Henry and Clara Ford's only child, Edsel, his wife Eleanor and their children: Henry II, Benson, Josephine and William Clay. Since opening to the public in 1978, hundreds of thousands of guests have visited Edsel & Eleanor Ford House to marvel at the extraordinary home and collection of original antiques and art and to stroll the 87-acres of beautiful, lakefront grounds.
"The Detroit Artists Market is thrilled to bring the Garden Party and Art Sale to Grosse Pointe Shores, near where the original garden parties took place back in 1930's," said Dalia Reyes, programs manager, DAM.
Appetizers and sweets provided by Motor City Brewing Works, Mudgie's Authentic Artisan Deli, and Mid City Grill and Zumba Mexican Grille and KouZina Greek Street Food.
Detroit Artists Market | 313. 832. 8540
June 20th, 2015  |  6-9 pm
COCKTAILS IN THE GARDEN
$15.00 for members and $20.00 for non members
Come celebrate the beginning of summer at the Garden Party, located in the beautiful walled garden of the SC, with volunteers, led by Julie Sabit, who keep it blooming year to year.
Explore Blooms, Bugs, and Beasts (in the garden and the gallery), enjoy beautiful music by the Andy Perri Trio and nibble delicious finger foods from Caucus Club Catering. And what are cocktails in the garden without cocktails? Try a delicious lemon balm mojito and other tantalizing  summer drinks.