400 YEARS AFTER SHAKESPEARE                                            
Should Detroit Finally Build A Replica of the Globe Theatre On Its Riverfront?
By Joe Neussendorfer, Aff.M.ASCE, ESD
____
"O Detroit, Detroit, wherefore art thou Detroit?" With all due respect to Romeo and Juliet, what Detroit needs right now to inspire it is more William Shakespeare. In fact, years ago, then Wayne State University President and History Professor Thomas Bonner and civic leaders called for the construction of a replica of Mr. Shakespeare's Globe Theatre near the Detroit River.
While those enthusiastic plans never materialized, now may be the time to resurrect them, because on April 23, 2016 is the 400th anniversary of his death in 1616. With all attention focused on the Detroit Riverwalk, having a working replica of the Globe Theatre by the river would be a marvelous destination attraction and a wonderful educational asset and venue for our community. Your writer remembers seeing his very first Shakespearean play, "The Taming of the Shrew," at an old theater in Pontiac when he was a teenager.
Experiencing that play at an early age led me on a great intellectual and artistic journey of continuous book-reading, play-watching and writing. The other day, I was discussing Shakespeare's upcoming 400th anniversary with Mark Bowden, Director of the Burton Historical Collection at the Detroit Public Library, at the just-concluded Historical Society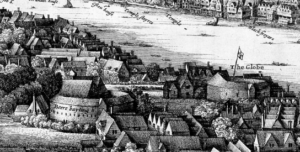 of Michigan's Local History Conference. Mark informed me that there is, indeed, a renewed interest in Shakespeare on the part of local scholars and schoolchildren.
Years ago, the University Musical Society (UMS) in Ann Arbor produced a very popular and memorable staging of "Love's Labour's Lost" one of Shakespeare's master plays, at the Power Center. The production was so profound that all activities associated with the event have been captured in a comprehensive Teacher's Guide. Detroit teachers and other Shakespearean fans can use their favorite internet search engine using the reference "UMS Teacher Resource Guide, Love's Labour's Lost" to obtain a copy.
Other resources regarding Shakespeare's 400th anniversary are available by visiting the Shakespeare Theatre Association in the United Kingdom website: www.stahome.org/2016/. Also, the World Shakespeare Congress 2016 website: www.wsc2016.info/.
Shakespeare fans may also be interested in attending the year-long 2016 Shakespearean Festival in Chicago. Information at: www.shakespeare400chicago.com. Detroiters may also be interested in travelling to Canada this summer for the Stratford Festival. Information at: www.stratfordfestival.ca/.
Readers can get in on the big worldwide 400 celebration by posting videos and seeing Shakespearean events by logging on to: www.firstfolio.folger.edu.
While the original Globe Theatre design has been fixed in time, there have been competitions to "reimagine" the Globe Theatre in terms of updated, modern architectural styles. In January 2007, the National Building Museum in Washington, D.C. produced a major exhibit titled "Reinventing the Globe; A Shakespearean Theatre for the 21st Century." For the exhibition, five architects were commissioned to design hypothetical Shakespearean theatres that would evoke the playwright's essence yet to be thoroughly modern. If Detroit seriously reconsiders the idea to construct a Globe Theatre near the Detroit River, architects and planners could use some of the ideas and resources at the museum. Its website is: www.nbm.org.
In closing, don't forget to raise a toast to the "Great Bard of Avon" on April 23, 2016. I think this "penny knave" is right in saying, "Detroit Loves You, William Shakespeare."
(Joe Neussendorfer has been writing histories of Detroit's engineering, architecture and construction professions over the past 40 years. His email address is: [email protected]