By Michael Yashinsky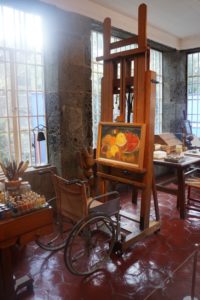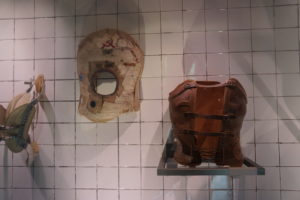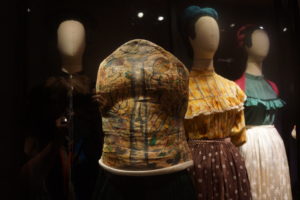 A stone's throw from where Michigan Opera Theatre's production of Frida is playing, its eponymous heroine painted a work that marked a new path for her, one of unusual symbols and unrelenting self-reflection—one that would lead to Frida being considered among the world's great artists.
The piece, Henry Ford Hospital, is familiar to Detroit audiences, whether or not they are familiar with the work of Frida Kahlo, and depicts the 1932 miscarriage she suffered there while her husband, Diego Rivera labored to complete the Detroit Industry murals at the Institute of Arts.
Henry Ford Hospital shows her weeping on a hospital bed, the smokestacks of the faraway River Rouge Plant rising starkly behind her, and her naked form connected by red thread to a collage of floating images, the emblems of her suffering and her survival: the baby that might have been, a snail curling from its shell, a bright purple orchid. Diego said of the work, "Never before had a woman put such agonized poetry on canvas as Frida did at this time in Detroit."
Agony and poetry – Frida united both in her extraordinary life, one characterized by the extremes of physical pain, bodily injury, and heartbreak; the other with the splendors of artistic creation, of indulgence in sensual pleasures, of romantic love.
MOT resident designer Monika Essen also unites them in her creation of sets, costumes, and props for Frida. On set, in images inspired by Frida's artwork, we see detached parts of the famous artist's body: her breast bound by an orthopedic corset, an eye, her lips.
"With these images, I'm breaking apart her persona just as she was broken," said Essen. "Then we also have organic elements that she surrounded herself with—beautiful, lush greenery, a butterfly. That butterfly was very important to me, because for Frida it was a symbol of rebirth."
Essen gained insight into the woman and her work while on a "pilgrimage" to Mexico City. She met Oaxacan embroiderers, who would provide some of the distinctive shawls and dresses worn in the opera, in the traditional style that Frida favored. She was greeted with excitement in the marketplace, where men and women professed to her an impassioned love of "their" Frida. And, she explored the Casa Azul [blue house], the Mexico City home where Frida came into the world, and left it, now a museum dedicated to her memory.
Seeing the home proved invaluable to Essen, who "photographed everything" and testified to the beauty that enveloped Frida. "That's one of the things I like most about her," said Essen. "The Casa Azul is so beautiful. Everything is vibrant, painted in yellows and blues and pinks and reds. In her bedroom, where she spent so much time, she had a mirror up above to help her paint, but she also decorated it, and had painted sayings and butterflies all over it."
As a result of a devastating bus accident Frida survived during adolescence, she had over her lifetime been fitted with countless body casts. "When she was stuck in bed she would not only paint canvases, but also her casts," said Essen.
Essen remembered this during a two-and-a-half plaster fitting with Frida star soprano, Catalina Cuervo, who underwent the procedure to be fitted with an orthopedic cast, which Essen would later paint in Frida's style. And the people applying the bandages? Medical professionals from Henry Ford Hospital. Frida's story has come home.
Michigan Opera Theatre's landmark co-production with the Macomb Center for the Performing Arts, Frida, will tour three metro-area venues throughout the month of March: March 7 & 8—The Macomb Center for the Performing Arts (Clinton Township); March 21 & 22—The Berman Center for the Performing Arts (West Bloomfield); March 28—Detroit Film Theatre at the DIA. Tickets available at michiganopera.org, at the Detroit Opera House box office, or by phone at 313-237-SING.