Or: How These Unforgettable Films Escaped The 'Marvel Crowd' – A four-part series on some of cinema's more important but lesser known movies (part 2)
By Cinephile Julian Boyance 
Directed by Kurt Wimmer
The film hits close to home being a longtime fan of Orwell's seminal 1984. Any dystopian film able to match the book's/film's unnerving tone is a must see. Director Kurt Wimmer openly and charmingly interjects Science Fiction influences and allusions abound to grand effect.
I discovered this during my all-things-Christian Bale kick after watching American Psycho (2000). I found the film DVD dumpster bin diving and was not disappointed.
As a cold, calculating Grammaton Cleric – like none ever seen – in a glum, futuristic world post-World War III, the film will be remembered as one of Christian Bale's more respected and intriguing performances. Our protagonist John Preston goes from government Golden Boy par excellence to a revolutionary hero of the underground in the span of moments.
The traitor-in-the midst/cat-and-mouse storyline is easily digested, despite its complexities, and adds a mental one-upmanship for audiences.
The film's clinical design, use of Berlin, and totally mind-bending Gun kata martial arts style will have any action fan watching with glee and giggling in delight at the John Woo-esque balletic splendor. 
Like most films on this list, the cast brings excellence to each role. Sean Bean even appears in this one, too.
The film's originality demands it as must viewing for those beholden to the Science-Fiction genre, particularly the chilling suppression and infringement of individual rights and censorship themes.
Lovers of reading from books that are physically held in-hand will connect with its banned-censored books and analog/olden days/bygone days nature of reading themes in this increasingly technologically driven world. 
No surprise in that most critics were unkind. This fact does not change how superb the film is.
Roger Ebert smartly identified the strongest note about the film:  "Equilibrium would be a mindless action picture, except that it has a mind. It doesn't do a lot of deep thinking, but unlike many futuristic combos of SF and f/x, it does make a statement."
http://godardfanforever.tumblr.com/post/137028523603/how-my-christian-bale-kick-led-me-to-the-genius-of
Directed by James Cox
Based upon a crime known as the Wonderland/Laurel Canyon Murders, this film is scary. Not in a horror film kind of scary, but in the way all truly horrific true crimes tales often are. Think Monster (2003). The story's hook is that the world's most famous male adult film star is somehow involved. The film's hook is the cast traverses the seedy L.A. drug world circa 1981 with aplomb. The cast is a joy to watch despite the terror.
While the real-life characters are cast with spot-on counterpoints, Josh Lucas catches the eye and it is always pleasurable and amusing to watch Eric Bogosian in overacting mode. Where are my Larry Cohen's Special Effects (1984) supporters?
Mix wasted high-ons with the supposed perfect criminal robbery plan and you have the type of gruesome outcome which rocked the city of Lost Angels and stayed in the Los Angeles media headlines for not only years but decades. And story-wise provides one of the more fascinating filmic case studies of unsolved crimes.
Told in a flashback style, which supplements the investigation cornerstone, the Cali milieu generates a laid-back vibe while the tense and moody tenor serves the right pitch. The film represents the truly nefarious side of Boogie Nights (1997).  Double feature the two together.
Notable is work from the ever reliable Cliff Martinez. A composer who has more extensive credits than I realized and who's scoring for directors Steven Soderbergh and Nicolas Winding Refn are dazzling accompaniments to two of cinema's most distinct voices.
Look for director James Cox's soon to be released Ansel Elgort-Emma Roberts, staring Kevin Spacy, Billionaire Boys Club (2017). 
Directed by Darren Stein                                              
For the 80s babies, did you love the smart and dark Heathers (1988) back-in-the-day? How about the most recent generation/Millennials, who didn't love Mean Girls (2004)?
Well Jawbreaker was influenced by the former and influenced the latter – both to grand effect.
High school cliques and popularity are eternal truths about those formidable years. Recent and past films have become increasingly enamored with this important theme/topic yet Jawbreakers is visually formidable, expertly cast, darkly funny (black comedy) and original enough to create an impressive viewing experience. In a simplified manner, the film seems to capture the elusive impression of the imperceptible 1990s.
Lively photography (Amy Vincent, ASC) services the light tale, where its frivolous acuity can be appreciated if receptive and perceptive. Now known as having attained cult film status, I did remember being impressed by the film upon its release. While the story is mostly whimsical and straightforward, the well-written dialogue, characterizations, casting (Rose McGowan, Rebecca Gayheart, Julie Benz, Judy Geer, Pam Grier, Carol Kane), and biting twists and turns elevate this common allegory – an ugly duckling turned swan with deadly results – into a feminine and penetrating take on the Teen/High School genre.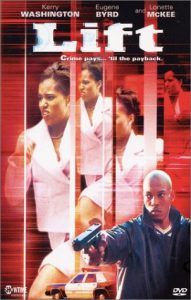 Directed by DeMane Davis and Khari Streeter    
There are like seven or eight films listed on imdb titled Lift.  Forget all of them because only one matters, this 2001 pearl which showed the cinematic world what an actress named Kerry Washington could show when provided the opportunity.
For those familiar with more unsavory types or subculture of clothing theft there was a term called "Boosters." These were people who boosted/stole high end clothing from merchandise stores through several methods, mostly shoplifting. The film's lift title is rooted in the word and practice.
Playing at 2001 Sundance Film Festival and nominated for 2 Independent Spirit Awards, I still have no idea how this film is not more known and discussed. Calling the film an Urban or Hood movie minimizes the true significance and merit of this work. The film is a character study into a little-known criminal subculture which came to the fore in the 1980s and beyond. 
Set in Boston, the stylish film features a distressed mother-daughter relationship which carries an authenticity probably felt by many female and even male viewers – a shared understanding to the sometime complex and dysfunctional relationships people experience with ones parents and/or family.
Highly intelligent and charismatic, Niecy (Washington) uses her inside track working at a luxury department store in a tumultuous attempt to not only advance her social circumstances, but also restore and heal the troubling and fragile relationship with her mother and grandmother and her own community. The psyche of Niecy's anxieties and own tragic internal flaws and external forces makes this a prime example of American independent cinema at its finest. The film being released at what I consider to be the end of the Indie Golden Age.
The film is a frequent case study within my mind – filmmakers with vibrant debut features, yet who never attained many feature credits afterward.
The Vanishing/Spoorloos (1988)
Directed by George Sluizer
Probably the most widely known critically and within film circles of the films discussed here. A film which truly brings back fond memories of a bygone era. An era when a foreign film was all the rage and would form a more sweeping influence within film circle discussions and even beyond.  I distinctly remember this equivalent sensation for Run Lola Run (1998) and Ran (1985) upon their release.
Today's multiplexes and the Marvel crowds have driven away the distribution power of arthouse/foreign film breakouts like this one in the United States, but films which continue to bring story or visual originality will continue to thrive and be discussed. The film was (and continues to be) as shocking for its criminality/forensic psychology reveal as it was for its Dutch roots [origination].
Tell No One (2006) and The Artist (2011) achieved some of this quality, but foreign films were more talked about and received more defined and superior distribution back then. [Where my Maple Theater circa the late 80s/early 90s people at?]
I re-evaluated the film recently to examine its ability to stand the proverbial "test of time." The film was also on my mind after recent thoughts about tour-de-force foreign films which have been remade, some by the original director as was the case with The Vanishing (1993), although mostly with varied results. [I see you Point of No Return (1993).]
The film is just as eerie and every bit as chilling as it was when first viewed in the late 1980s. Bottom line, the film very much stood up. A tale of an everyday man who truly is the devil in his alternate life. The film's tourist targets and public setting make the realism and psychology palpable.
A cold, calculating serial killer who is presented in such a calculating manner and narrative/visual/character panache that everyone was talking about this film. It surely got Hollywood calling its director promptly.
Forensic psychology and true-crime aficionados will even be affected by the detailed exposé in how evil can lurk in our midst. With hardly any graphic violence, The Vanishing is a film which haunts due to exploitative and conflicting voyeurism and depiction of character.
According to Sluizer in the documentary Sluizer Speaks (2014), after the film's release, Stanley Kubrick called in congratulation, saying that he had watched the film ten times and called it the most terrifying film he had ever seen.
Does one need a more glowing endorsement?
A philosopher with a camera, a Mont Blanc, and a laptop. Taught by the likes of Godard, Eisenstein, Welles, Scorsese and Lee, Julian Boyance is a filmmaker/blogger/film instructor hailing from Metro Detroit, whose cinematic journey traverses both academia, production, and beyond. Facebook administrator for the Nicolas Winding Refn Appreciation Society fan page, his social media footprint can be found here: Twitter/Instagram: @godardfan Youtube: Godardfan Tumblr: Godardfanforever