By Joe Neussendorfer, Aff.M.ASCE, ESD
Detroit-based Wayne State University (WSU), when you factor in its beginning roots, is 147 years old this year. From its current formal name, WSU is 52 years old. According to WSU history, its story begins in 1868 with the founding of the old Detroit Medical College, now the School of Medicine. In 1881, the Detroit Normal Training School was established, which is now the College of Education. The now-iconic Old Main Hall was built in 1895 as the Central High School, which began adding college classes in 1913. Old Main's architect was Malcomson & Higginbotham; Field, Hinchman & Smith. Those classes at Old Main evolved into the Detroit Junior College (offering a two-year general education program) in 1917, which became the College of the City of Detroit (with four-year degree programs) in 1923, and is now the College of Liberal Arts and Sciences.
In 1924, according to WSU history, the College of Pharmacy was organized. And six years later the first regular graduate courses were offered in liberal arts and education. Frank Cody became the first president in 1933, with the existing colleges united into a university organization, eventually named Wayne University in honor of General Anthony Wayne. Wayne University continued to grow, adding the School of Social Work, the Law School, and the School of Business Administration. In 1956, it was renamed Wayne State University. In 1963, Wayne State University was designated one of Michigan's three constitutionally established universities.
Your writer was able to discover, during extensive research about WSU's early beginnings, some early, relatively unknown stories about the original Detroit Medical College. Two distinct personalities emerged. The first was Dr. J. Henry Carstens, whose father was a merchant tailor who fled from Germany during 1848 or 1849, the time of the revolution there. When attending the old German-American Seminary in Detroit, Mr. Carstens walked nine miles a day from his parent's home to the Seminary to attain his advanced education. According to a history written by Dr. Walter Johnston Cree, Mr. Carstens clerked in various old Detroit drugstores and in 1869 he "matriculated" in the Detroit Medical College, the first matriculate and graduate the following year.
The second personality was Dr. Ernest L. Shurly, a well-known Detroit doctor of the day. He served as an officer in various old Detroit medical
societies and taught at the Detroit Medical College. He published a textbook on pulmonary diseases. He often was seen riding his horse-drawn buggy through the streets of old Detroit with his favorite dog that accompanied him on his rounds. One of the medical societies that he belonged to was the Wayne County Medical Society, that was located in the old David Whitney home at the corner of Woodward and Canfield Avenues.
Moving from the past to the present, your writer has many fond memories about WSU. Years ago he was hired to teach a Report Writing Course for Wayne State University to U.S. Postal worker managers in Detroit. And I remember attending programs with the late Ben Burns who was the journalism professor at WSU. Also, the time I co-authored a book chapter on Detroit housing with WSU's Vasily Kouskoulis for the International Society for Housing Science. Still keep in touch with Professor Mumtaz Usmen, FESD, who is in WSU's Civil Engineering Department. And, I would be remiss if I didn't mention two fine WSU presidents, David Adamany and Allan Gilmour. Great leadership, now under the director of current WSU President M. Roy Wilson.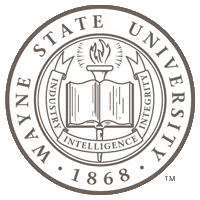 (Joe Neussendorfer is an Affiliate Member of the American Society of Civil Engineers, a 40-year Member of The Engineering Society of Detroit, Life Member of the Detroit Economic Club, and has been writing history of Michigan and Detroit's construction-engineering-architecture for the past 40 years. His website is: www.constructionanswerman.org)