By Julianna Counts & Nette Kovacs
Michigan is at its most beautiful during autumn. The trees explode with color and stand out against the gray skies. Farms are dotted with the bright orange of growing pumpkins. But most importantly, the cider mills are brimming with excitement. A yearly tradition for most Michigan families, people are willing to pack into cars and drive many miles just to bring home a gallon of fresh pressed cider and a bag full of delicious donuts. We here at the Metropolitan d'Etroit also take part in this apple-centric pilgrimage, and have compiled a list of some of our favorite spots. We hope that you'll take part in this wonderful Michigan tradition too.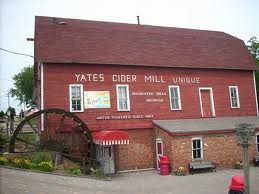 Warm donuts – cinnamon or plain – pasteurized cider, cider slush, apple crisp, pies, pocket pies, caramel apples, Dutch apple jam, apple butter, apple turnovers, apples for sale, fudge, ice cream and cotton candy. Top it off with a petting zoo, pony rides and a river walk and you have fun for the whole family. Note: Usually, the busiest of mills, especially during weekends, and look out for those bees!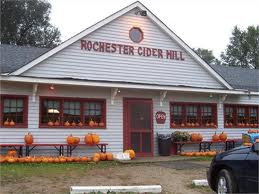 Donuts – plain, cinnamon, chocolate, and blueberry – non-pasteurized cider, pumpkins and apples. A small family run mill, perfect for a quick fix of autumn love.
A classic cider mill, Goodison feels a bit like an old General Store. Serving donuts – apple cider, plain, cinnamon, and blueberry – semi-pasteurized cider (technically non-pasteurized, though it goes through a UV light process, which kills all the "bad stuff" – if you believe "it" to be bad), cider slush, pies, breads, and other baked goods. Though, not exactly a 'fall' flavour, the blueberry donuts are particularly worth mentioning.
While this cider mill may lack atmosphere inside, the exterior happens to be one of the prettiest cider mills in the area. Conveniently nestled alongside Paint Creek trail, families can enjoy their apple goods while taking a pleasant stroll. Paint Creek offers up everything from hotdogs to milk shakes, cider, donuts, and an assortment of baked goods.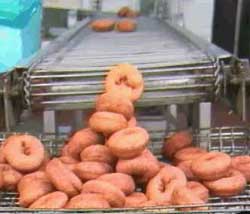 Built in 1837, located in the historic town of Franklin, the Franklin Cider Mill has character. Donuts come in only one flavor, Cinnamon Spice (or warm cinnamon goodness, as I like to call it). Unlike other cider donuts, Franklin mixes sugar and spice directly into the batter and always serves them warm. Franklin offers apples, pies, scones, breads, cakes, Hickory Farms meats and cheeses, jams, spreads, butters, honeys, candies, vegetables, and pumpkins. There is a stream which runs next to the mill where families, of both the human and duck variety, enjoy sweet apple treasures together. Note: Be aware of the bees!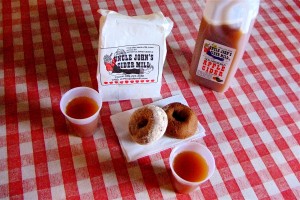 Acres of fun for the whole family, Uncle John's is more than a cider mill. Offering horse drawn wagon rides, train rides and a corn maze, plan on spending the better part of an afternoon. Uncle John's has a Pie Barn, filled with pies, baked goods and such, a winery, featuring hard cider and, of course, a Cider Mill. Serving Non-pasteurized cider, pumpkin, plain, cinnamon sugar, butter milk and cider donuts, caramel apples, coffee and hot cider, Uncle John's aims to please. Note: According to the help, warm donuts only served until noon. And, look out for MSU students nursing their hangovers!
EDITOR'S CHOICE:
Phillips Orchards & Cider Mill Gatehouse Market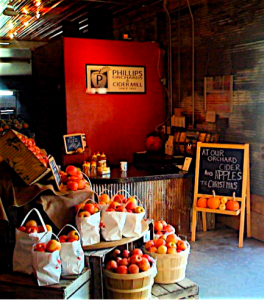 Located at the end of a country dirt road, Phillips Cider Mill crafts cider with a traditional rack and cloth press. Using 22 varieties of apples, Phillips cider is ever changing with the season, "never pasteurized", and they will custom blend cider to meet customers' needs. Serving warm cake, cinnamon sugar, donuts fresh from the oven, Phillips offers seasonal veggies, orchard honey, pure maple syrup, pumpkins, Indian corn and features a variety of fresh farmstead cheese from Dolce Vita Dairy. Apples sold by the bushel, peck, ½ peck, Phillips also offers American farm stools constructed from reclaimed barn wood.