The following artists are featured in the ScotiaBank CONTACT Photography Festival in Toronto Canada, which begins 01 May 2019 and runs the entire month.
CONTACT presents lens-based works by acclaimed and emerging artists, documentary photographers, and photojournalists from Canada and around the world. The curated program of Primary Exhibitions (collaborations with major museums, galleries, and artist-run centers), and Public Installations (site-specific public art projects), are the core of the Festival.
Carrie Mae Weems (Featured Imaged)
At Metro Hall, Weems' examination of power and cultural identity is highlighted in this unique installation comprising a selection of images from her series Slow Fade to Black (2010). Weems reclaims images of historically significant black women singers of the last century whose legacies appear to fade as time elapses. To reflect these artists' "slow fade to black," the reclaimed images have been obscured through blurring and the application of a tinted hue. The almost cinematic push and pull of fervent faces—many open with longing and passion—activates the site, at the heart of Toronto's entertainment district, and takes the viewer on a theatrical passage through its history.
Two works from Weems' 2016 series Scenes and Takes form a dramatic installation at the TIFF Bell Lightbox on King Street West that underscore the emergence of a shift in the cultural landscape. Presented at street level, life-sized scenes bring viewers into the cinematic world Weems explores, where her "muse" character inhabits the sets of contemporary television shows featuring black female leads and black writers and producers.
Weems' third installation Anointed (2018), a banner at 460 King Street, features an image of Mary J. Blige, who Weems photographed for W's Art Issue shortly after the singer's breakout performance in the film "Mudbound". The artists teamed up in a landmark 1920s-era bank building in Brooklyn, NY, making pictures that reference Weems' The Kitchen Table Series (1990) and her Slow Fade to Black series, and Blige's reign as a masterful storyteller and Grammy award-winner.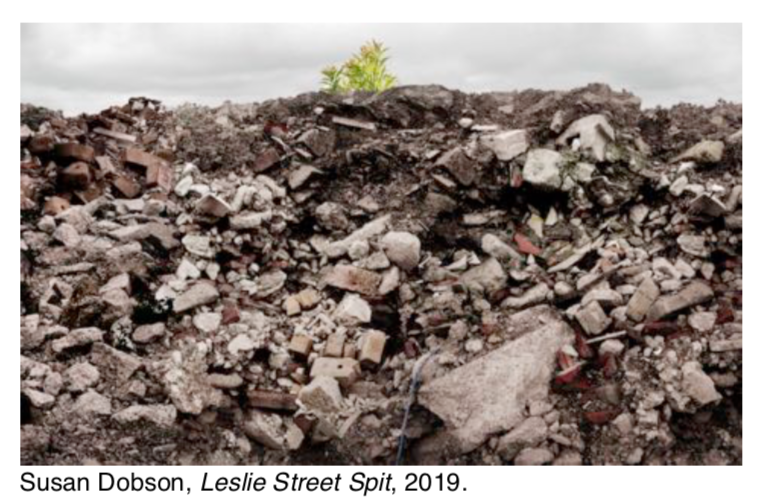 Featuring a cross-section of the earth's strata, Susan Dobson's photographic mural reveals layers of buried construction debris. Derived from photographs captured at the Leslie Street Spit, a manufactured peninsula and wilderness reserve built entirely from Toronto's clean construction waste, a mural on the outside of the Daniels Building is complemented by a number of Dobson's photographs being shown inside the building. These studio shots of artifacts retrieved from the Spit, mounted on custom-built supports, are positioned in public space in dialogue with the surrounding architecture and community. Invoking memories of the building's history and recent renovation, Back/Fill invites conversations about the demolition, preservation, and construction of the built environment.