Formerly Vogue UK's creative director, Jaime Perlman is more recently the founder and creative director of More or Less magazine. She was inspired to create an of-the-moment publication to advocate for a modern fashion industry built upon planet-conscious creativity over cost and consumption.
"I wanted to create a platform that celebrated fashion that was a bit more personal – something that was inclusive and celebrated the style of ordinary people and focused on designers who made sustainability a priority," says Jaime.
To embody that ethos, Jaime teamed up with four emerging designers to reimagine the process of designing, creating, and showing garments. The initiative, Augmented Atelier, is an ambitious design premise and an alternate take on fashion. It offers new tools for waste-free collaborative design showcasing new applications of virtual-only garments to a remote, global audience.
"It's really about using technology as a form of imagination and how that reacts with the real world in a physical space," Jaime said. "It's about pushing the boundaries of what fashion can mean."
Designers Bethany Williams, Phoebe English, Fredrik Tjaerandsen, and Rottingdean Bazaar each have their own style and process. So, when More or Less challenged them with transforming their creative process by crafting digital garments, each artist took on a unique angle that encapsulated their visionary approach to fashion.
"Our inspiration has come from a project and material I have developed with the community project San Patrignano in Rimini, Italy – an education and rehabilitation program for people with drug and alcohol dependency that teaches traditional Italian craft and a sense of community," said Bethany Williams , who founded her menswear brand in 2017. 
Bethany's program is known for producing high quality and traditional crafts such as furniture making, weaving, leather products, and many others. Within each collection, new materials are developed by creating bespoke hand-woven textiles from a range of recycled materials such as dead-stock yarns, plastic or paper waste, and tenting material.
"I was just really excited about it [Augmented Atelier] because, as someone who's trying to learn about waste, the idea of being able to create garments that aren't creating waste could be so impactful," Bethany said.
To create the digital garments, the designers and their teams applied digital processes in order to transform their existing design practices, and then brought their new garments to life in physical space using Microsoft Azure Spatial Anchors and Cloud computing. The Spatial Anchors bring the digital garments into the real world and allow multiple people to interact with the garment in the same position in real time. It's a 360 view that shows the real volume, fabric texture, and even motion of the physical garment, striving to provide a deeper experience than a 2D or 3D rendering, with a much faster, and less wasteful development and iteration process than creating traditional fabric samples.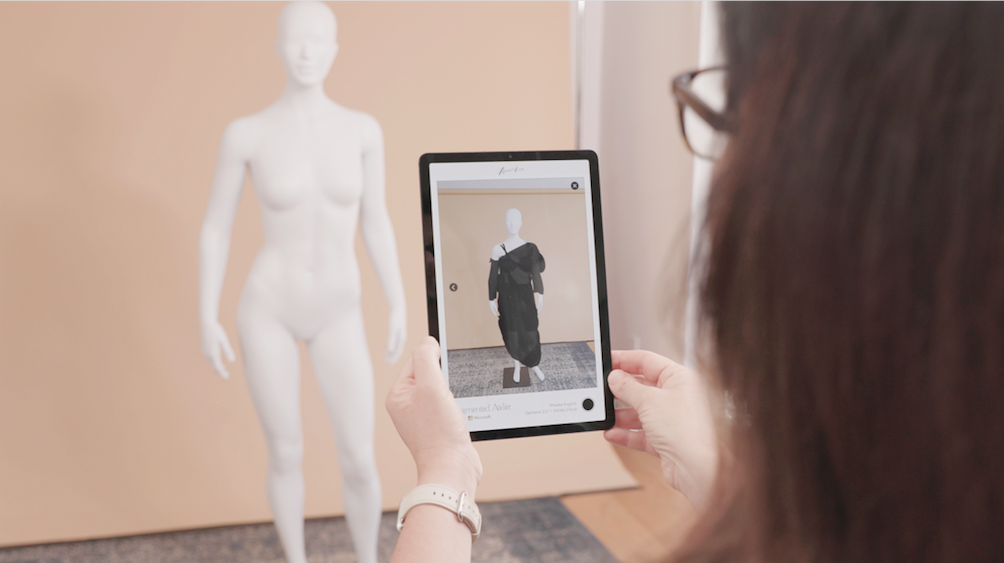 "I was surprised by how much the day to day process in the studio could benefit from technology like this," said Fredrik Tjærandsen, visual artist and designer from Bodø, Norway. "It helps with exploring new ideas and saving costs and working more sustainably. The idea of a garment changes once you sort of understand the full scope of what this technology can do."
In 2019, Tjærandsen presented his collection 'Moments Of Clarity' to win the L'Oréal Professionnel Young Talent Award, and won the Nova Award 2019 for design. His approach to fashion focuses on performance, motion and the body in relation to the space around it, and his unique garments all have sculptural elements, with dynamic movement. Fredrik's design process is artistic, intuitive, and emotional: he is drawn to working with visuals that captivate his emotions or feelings in that moment. 
"Working on this project, seeing how my work was interpreted virtually shows there are more connected and creative ways to communicate online beyond meaningless Instagram posts,"  said Tjærandsen. "I would like to push the boundaries in digital communication for a more hopeful and positive interaction online.
Each designer followed their own process initially, developing ideas and sketches to create an original design concept. They worked with a technical production team to create the digital garments, from wireframe, to grayscale modelling, to final textures and lighting. Like any other garment, there were rounds of approvals, samples, test materials, and fit adjustments.
Artists James Theseus Buck and Luke Brooks formed Rottingdean Bazaar in 2015 with a collection of conceptual fashion ready-to-wear, accessories and art objects. For this project they designed short animations for the body involving existing digital objects like a trash can desktop icon, which were then reconstructed in three dimensions.
"We thought about filters, costumes and what a D.I.Y. outfit or adornment might be like in a digital-meets-real space," said the duo. "It was interesting to think about the broadness of digital fashion and how it is not confined by traditional garment forms or ways of experiencing."
Then, each digital garment was brought to life in Azure Cloud. Finally, the garment was shared with multiple team members in a bespoke app. The app recognizes a fit mannequin and maps the garment onto it in real time, so users can engage with it in their physical space, all at the same time.
"When you're working on a mannequin, you often have the limitation of the size of the mannequin. When you're working with technology like this, you can easily swap between different sizes, shapes, and heights of bodies during the design development." said Phoebe English, who keeps her design operation small and local.
Most of Phoebe's pieces are made in England, and in fact all of the production takes place in London, meaning the distance from sourcing materials to designing and creating the garments, is minimized to an approximate 10-15 mile radius – the entire business operates from one studio in South London. She rejects "fast" fashion and champions sustainability from her fashion designs to her business decisions. Focusing on structure and textile engineering Phoebe employs a straightforward, natural, and utilitarian edge to her androgynous designs.
"At the moment, designers in general have very little regard for where a fabric comes from and where the final garment ends up," Phoebe says. "I hope the future of fashion takes into consideration the beginning, middle, and end of the design to a greater degree as part of our general practice —and begin to loop these things up into a more circular and less environmentally damaging industry."
While the Augmented Atelier was a first of its kind prototype, it's also a flag in the ground for the industry. The ambition is to pose a radical new approach to fashion that could show a path towards new, more eco-friendly possibilities across the entire industry.
Or, as Jaime Perlman puts it, in practical terms, "It opens up sustainable possibilities, from a perspective of designing with less waste, because you can conceptualize a garment from the outset digitally without actually using material—without creating a sample in a factory."
Feature image | More or Less Magazine