BOOK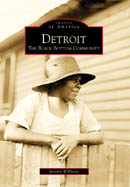 Black Bottom was located on Detroit's lower east side and bounded by Gratiot Avenue, Brush Street, Vernor Highway and the Grand Trunk railroad tracks. The community emerged between 1914 and 1951 out of a need for black migrants to find a place for themselves.  Racism and housing discrimination in the South forced many blacks to migrate to the North.  Many sought employment in Detroit's burgeoning industrial metropolis.  Black Bottom became a social, cultural, and economic center of struggle and triumph.  The community began to decline in 1941 when Mayor Edward Jeffries marked the area for demolition and urban renewal.
Williams, a local historian, combines research with archived photographs for an insightful look at Black Bottom's early beginnings, its racial transformation, the building of a socioeconomic ally solvent community through various processes of institution building and networking, and its ultimate demise and dislocation of its residents.
The cost of the event, which takes place on Wednesday, May 12, at The Detroit Historical Museum, is free for Detroit Historical Society members and $10 for the public.
For more information please call (313) 833-1801 or visit www.detroithistorical.org.