For centuries, humans have practiced yoga, including many of today's celebrities, Christy Turlington, Gwyneth Paltrow, Julianne Moore, Depeche Mode's Dave Gahan, Gisele, Sting, and even Iron Man [Robert Downey Jr.] himself. Two years in, and I'm practically addicted.
While there have been many studies pointing to all the wonders and health benefits of yoga (google it), I prefer giving my personal account, because it's so meaningful to me. Yoga has brought peace and calm to my life, while greatly reducing stress and tension. Yoga has also eliminated my back pain, which once plagued me from complications through Scoliosis (a curved spine). I've also built incredible strength, flexibility and muscle tone, which I've never before experienced.
Plus, yoga is fun!
There are plenty of apps, YouTube videos, DVDs and books for beginners to get familiar with common yoga postures. However, this cannot compare to the benefits one receives from actually being in a yoga studio. The personalized attention and guidance a yoga instructor provides is beyond valuable. For one, you are less likely to injure yourself when a pro is correcting the way you hold a posture. But, being in a relaxed studio space also allows for time to yourself without the distractions that occur at home. For me, Yoga is a one hour escape 3-4 days per week.
Metropolitan Yoga Studios
Deyoga Room – Warm, inviting, intimate. There's something very special about the love and energy this studio gives. Classes offered: Ashtanga, Hatha, Slow Flow, Vinyasa Flow, Vinyasa Core, Yinyasa and Yoga Blend. 1705 Austin Dr. Troy   248-817-5243 deyogaroom.com
Shine On Yoga – A fun and friendly atmosphere, much like the town in which it resides. Classes offered: Meditation, Medium Flow, Medium Flow with Posture Playtime, Restore & Relax, Slow Flow and Yin. 22751 Woodward Ave. Ferndale   248-544-0044 shineonyoga.net
Citizen Yoga – Offers Ashtanga, Back to Basics, Blend, Prenatal, Restore & Relax, Slow Burn and Vinyasa. For those with little ones, Citizen offers affordable babysitting while you're in class. 1224 Library Detroit 313-502-5450 & 500 S. Washington Ave. Royal Oak 248-268-2160   citizenyogastudio.com
Yoga Gear
For a while, one of my yoga instructors had been raving about their Jade mat. Finally, I had to ask what was so great (assuming most mats are the same)? My instructor allowed me to use hers that evening. The Jade Yoga Mat improved my practice immediately. Soon, I ordered my own.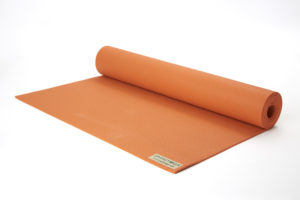 The mat doesn't bunch up while moving, and provides for better grip so that I'm not slipping, even while sweating. It's thick enough to give comfort yet firm enough to allow for better balance, and I feel increased stability as a result.
Jade Yoga Company is a family owned business; all of their mats are made in the US from natural rubber (a renewable resource) and contain no PVC's, making this the first green and non toxic yoga mat. The rubber trees they tap from are located here in the US. In addition, for every mat that is sold, Jade Yoga plants a tree, through their partnership with Trees for the Future. Today, the company has surpassed planting over one million trees!! JadeYoga.com
Jeanette frost is a professional makeup artist and Yoga enthusiast. Find her on facebook for beauty tips and secret ancient yoga poses.