Between cleanser and moisturizer comes serumdipity. After cleansing, apply a few drops or pumps of your serum of choice, allow a few minutes for your skin to absorb, then apply moisturizer. Facial serums are daily or often night and day treatments that fight skin conditions, including aging.
Over the past few months I have experimented with several brands. And, my recent TOP 3 favorite anti-aging serums are: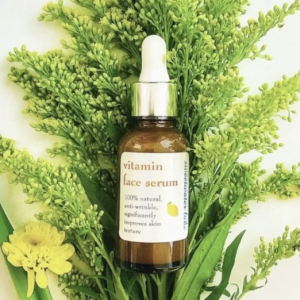 Vitamin Face Serum by Sweetwater Labs 
Contains vitamin C ester (a powerful molecule that fights against skin aging). This ingredient can be absorbed into skin much easier than ascorbic acid and skin reaps more benefits from the vitamin C. Ingredients: Hyaluronic acid (is a moisture binding ingredient which the body loses as we age), vitamin C, squalane (antioxidant that seals moisture and helps with acne and ezcema) pure aloe, jojobo oil, vitamin E (for anti-aging and antioxidant properties), propolis for healing, lavender oil to calm skin and leucidal (a natural preservative to extend life of organic products).
Benefits
*100% natural *Hydrating *Packed with antioxidants *Improves texture of skin *Anti-wrinkle *Healing post sun treatment.
After using Vitamin Face Serum for a few weeks my skin was left looking and feeling more radiant and healthy. Its extremely gentle, unusual for a product so high in vitamin C, which made me love it even more. I can attest to the healing post sun treatment qualities. After a long day outdoors, I had a stinging sunburn forming on my face, but this product soothed it right away and nipped that burn in the bud. 
$45-$80 sweetwaterlabsnyc.com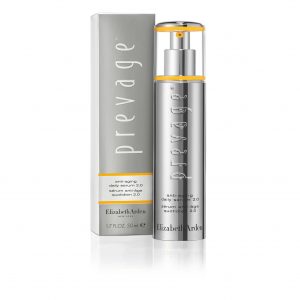 Prevage Anti-Aging Daily Serum 2.0 by Elizabeth Arden
Helps visibly reverse aging signs and protect against environmental damage for younger-looking skin. This age-defying serum works instantly and over time. Studies show 100% experienced a clinical improvement in radiance, clarity, texture, photo damage, skin tone and overall look of skin. 98% saw improvement in appearance of skin in 2 weeks. 95% saw more refined texture in 2 weeks. 93% saw more youthful looking skin in 2 weeks. 91% saw more radiance in 2 weeks.
In my personal experience, Prevage is an impressive serum. Immediately it left my skin feeling and looking more supple and youthful. After a few weeks, my fine lines and wrinkles were less noticeable. And, isn't that really what a girl wants?
Benefits 
Firms & improves elasticity. Evens tone & texture. Improves dark spots & brightens. Reduces lines & wrinkles. Refines pores & clarifies                                                                                    
Key Ingredients
Idebenone (according to Elizabeth Arden, the single most powerful antioxidant). Vitamin C. Vitamin E. Peptide Blend. Ginger Extract. THPE. Hibiscus Seed. Clary Sage. Peony Petal Extract. Bushclover Flower Extract. Indian Cassia Flower Extract
$110-$169 elizabetharden.com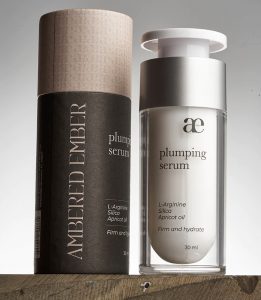 Ambered Ember Plumping Serum 
Firms and hydrates skin. This vegan-friendly formula contains silica, which helps to bind degenerating tissue layers associated with aging and apricot oil, which hydrates. L-Arginine boosts circulation and amplifies hydrating and firming properties.
This serum helps to promote both immediate and long-term regenerative benefits, for a more radiant complexion.
Upon first application, I noticed a significant difference in texture, leaving my skin feeling silky. With continued use, my skin has seemed more firm and glows. In fact, my husband has been commenting on my very youthful complexion.
Benefits
*Clean ingredients *Gluten and cruelty free *Great for all skin types *And, I love the packaging!
$38 amberedember.com