The past few months have witnessed my dedication to daily 10 minute, high impact, strength training and Yoga sessions. While I'm not yet where I want to be I am stronger, tighter, and more fit than I have been in some time. My instructor is Pamela Reif . Her services are free of charge on YouTube and will definitely leave a Beauty Mark!
I'm also making healthy, clean meals at home, taking vitamins, minerals, and drinking plenty of water (with lemon). And, though there is an abundance of concerns in the world I am allowing myself time to laugh, and to feel good about family and friends. So, the last thing I want is to use face and body products that do not represent the efforts I have put in. This spring, is dedicated to clean living.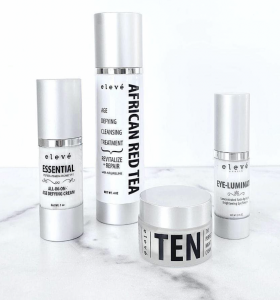 Elevé Cosmetics
Create a look that glows with the clean, modern, stylish, and long-wearing line that's packed full of antioxidants, peptides, and active anti-aging ingredients that heal, repair, and protect your face. I've been using the African Red Tea Age Defying Cleansing Treatment and the Organic Golden Beauty Oil through most of this year and have been very pleased with the results.
Elevé anti-aging biotechnology has produced for me a more youthful, vibrant appearance. Both products are delicate and gentle on my skin. They feel nourishing and leave me looking more healthy, with a natural glow. In fact, the Organic Beauty Oil produced impressive results almost immediately, my skin feeling fully rejuvenated. The Vitamin Sea sunscreen is not as much to my liking, however. While the product did protect from sun exposure, I felt it to be just a bit irritating for my skin type. 
I used the African Red Tea Botanical Cleansing Treatment both morning and night. It produced a delicate foam, while I massaged my face, which is said to stimulate blood flow and oxygenate the skin. I also use the Organic Golden Beauty Oil twice per day, applying a few drops to face, neck, and décolleté. Again, I found both products to soften and condition my skin and feel comfortable recommending.
Products are made in a lab in Vermont. Prices vary based on packages.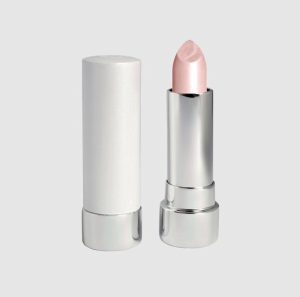 The Beauty Tailor makes it possible to create shades that either match your skin tone or give you confidence to have fun and step outside of your lane. On the website, guests can choose their lipstick color, base (crème, matte, vegan organic), flavor and essence. I chose the following:
 Elissa, a lipstick with a muted, sheer, slightly frosted finish, reminded me of Mod looks from 'Swinging London'. It's a high frost, pale, pinkish, nude that feels youthful and spring like. Vegan organic and lots of fun! 
Next, I went with a matte finish, Victoria. The Beauty tailor says it's a natural, deep shade of pink (that on my lips pulled a bit brighter). Still, a lovely shade for spring or summer! Unlike a lot of mattes, this lipstick has a creamy feel, which doesn't dry-out my lips. Very nice! Want less intensity, Victoria also makes a great stain. Simply blot off a layer with tissue. Nice pinky pop!
Finally, I ordered Paris, – a high frost, passionfruit, pink nude, with a crème finish – that I planned to weaponize against my husband. Unfortunately, I was only able to try it on once before the other man in my life, my 2 year old son, used the product to paint our bathroom – tub, cabinet, and all. While he was literally caught "Pink handed", wearing a Joker-like face, my husband was not convinced of his guilt.
C'est la vie.
Lipsticks $30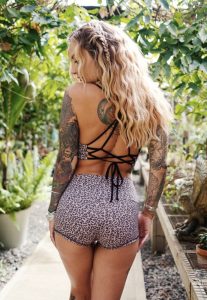 Indigo Wild Clothing
After putting in the time with Pamela Reif,- especially her Bombastic Booty workout – I thought it might be nice to add a piece of swimwear that speaks to the derrière. Indigo Wild Swimwear's current collection is handmade with BioDegradable Fabrics, for a clean, fresh environment.
Love the Kylie Bottoms. The fabric is very soft and surprisingly durable. This Boy Short is super sexy, hugging and celebrating curves, and may be the most comfortable swimwear I've worn in years. And, I bought it in leopard because, meow! Unfortunately, the top didn't work for me. But, I'm smaller chested, so there's that. This one is made to flaunt larger busts.
By the way, the biodegradable textiles will not dissolve in the pool, but will eventually break down and blend back into the environment, without leaving a trace of unnatural substances. 
Kylie Bottoms $90
________________________________________
Jeanette Frost is a professional makeup artist with a penchant for chocolate. Find her on facebook for beauty tips or the recipe for her chocolate torte (which, she tells this publication she will not divulge).
Featured Image | Indigo Wild Clothing