Cultivating one's essence takes time, perhaps even decades. In our youth, it is easy to be distracted by the many fads. A book full of advice on fashion, lifestyle and attitude I find helpful, How To Be Parisian Wherever You Are by Anne Berest, Audrey Diwan, Caroline de Maigret and Sophie Mas suggests to "Find 'your' perfume before you turn thirty. Wear it for the next thirty years".
I was fortunate to discover my signature fragrance in my early 20's and have instinctively stuck with it throughout the years. Though, I have tried other scents for a change of pace, my beloved that I always return to is Coco Mademoiselle.  
Coco Mademoiselle is youthful, with fruity notes of orange, yet timeless with floral notes of jasmine and rose. Seductive tones of amber and vetiver leaves an irresistible finish that remains playfully in the air when you away ~ Eau de Parfum Spray $90-$228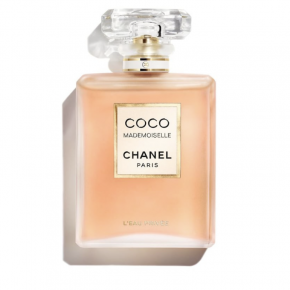 "No elegance is possible without perfume. It is the unseen, unforgettable, ultimate accessory." ~ Coco Chanel
To evoke summer and for a bit of a getaway from my beloved Mademoiselle, I've been enjoying a couple of new fragrances:
Salt Air by Skylar is summer in a bottle – airy, light and breezy, with soft floral notes and touches of warm vanilla and driftwood. Such a fresh scent for beach and poolside excursions. Sometimes, I just open the bottle, close my eyes, and inhale for a transcendent experience – 1.7 fl oz/50 ml – $85
Bliss Flower Infused Perfume by Sweetwater Labs is a fragrant bouquet of rose geranium, jasmine, neroli and white lotus, with undertones of vetiver. A romantic scent for date night or cafe meetup. Also has a relaxing quality, perhaps from the vetiver oil which I appreciated during yoga. Best of all, it is 100% natural and therefore Aromatherapeutic, with impressive staying power for a non-synthetic fragrance – 10ml $30
 "Long after one has forgotten what a woman wore, the memory of her perfume lingers." ~ Christian Dior
Scent memory truly is everything when choosing a perfume. My grandmother in-law, Grandma Jean, was described as Zsa Zsa Gabor meets the Queen of England. Despite her impoverished childhood, growing up during the Depression in southwest Detroit, she developed a glamorous, regal air. And, her perfume of choice Azuree by Este Lauder certainly played a key role in the cultivation of her essence.
My maternal grandmother, Grams, gives the best hugs; and, her perfume, which reminds me of love and beauty, always stays with me for a while after I've left. Grams wears Angel by Thierry Mugler and it is a gorgeous fragrance.
Toodles.
_________________________________________________
Interior Image | Monica Turlui  Featured Image | Mart Productions