It's time to slough off old winter skin and move into spring training. All skin deserves a good spring clean up. Harsh winter weather makes our skin dry, dull, and flaky. So, this month we have a bubbly mask to pull our impurities, a lovely body scrub, and a series of Bulgarian products for a beautiful finish.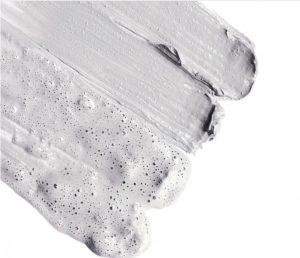 Blithe is a company that believes in quality over quantity, with the goal of providing efficiency and meaningfulness for those "Me Time" moments that are high in demand but short on supply. Blithe's  Bubbling Splash Mask is an Indian Glacial Mud Mask / Cleansing Foam used for pore clarifying and tightening. It is made from Alaskan glacial water and colloidal clay from Canada. It also contains Aloe Vera and Avocado extracts to help smooth the skin. And, when it's on your face it looks similar to the photo accompanying this text. I leave an even coat as a mud on my face for 5 minutes. The product begins to foam on its own and I simply rinse it off with warm water. I have been using this product once per week and have gone through half a bottle. I'm pleased with the results and will look into other products by Blithe. Vegan, cruelty free, hypoallergenic, and gluten free.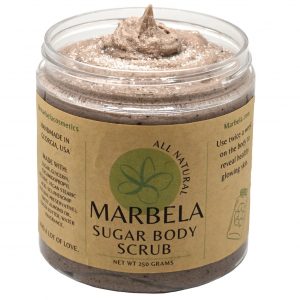 Marbela 
Handmade in Georgia, USA, this product was put on our radar by friends in the South. Marbela Sugar Body Scrub smells like coffee and pecans, which is a good thing, if you like those scents (and, I do). It gently polishes the body and exfoliates dead skin revealing new, youthful skin just in time for swimwear season. The oils are nourishing but not heavy. I use this product twice a week, as directed; mostly on my legs and feet (but one should probably use it on their elbows and arms) and can say that it has performed as advertised. My skin is soft. After exfoliating, I move into my bath time shave. Lately, I've been thinking what fun it would be to see video of our beauty routines – Oh, if they only knew. Anyway, wonderful product. Might look into Marbela's Sugar Peach Mango and Lemon scrubs for summertime. I'll sure to let you know!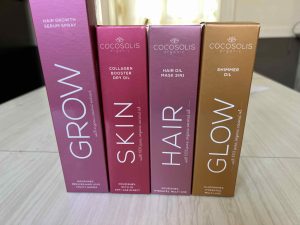 COCOSOLIS is a new trendy and premium brand in natural, Vegan and organic cosmetics that I've been interested in, so I asked our editor if we could score some product. Made in Bulgaria, a country known for its use of high-quality essential oils, COCOSOLIS stands by the quality and the pureness of their lines; with a self-proclaimed emphasis on caring for people and nature.
Always natural ingredients and created with only high-quality, organic, cold-pressed oils, COCOSOLIS is a natural source of vitamins and minerals, using bio-active ingredients and antioxidants. It claims to be gentle to the skin and after use I can say that was indeed my findings. COCOSOLIS products are Paraben, colorings, minerals and synthetic oils FREE, with No animal testing!
GROW: This Hair Growth Serum Spray, with organic coconut extract, has a bit of a fruit burst aroma when applying to the scalp. Directions say to shake well before use, apply to damp or dry hair, two or three times per week, for noticeably thicker, stronger, supple hair – difference in just three weeks. Having followed the instructions, I am not sure I can confirm those claims. But, that may be due to the fact that I did not independently test GROW. What I can say, after using GROW and HAIR in combination for three weeks, is that I am happy with the overall results; my hair is certainly healthier, stronger, and more luxurious. And, I am going to have to blame one or both of those bottles.
HAIR: When used in combination with GROW, has certainly made my hair soft, shiny, and less frizzy. HAIR has restored softness and moisture, allowing me to comb through my long mane with ease. Split ends are gone. And, I love the light scent of coconut that appears throughout the day. Forget about spring, my hair smells like summer.
GLOW: A custom blend, dry oil, that smells just like a buttery sugar cookie, GLOW provides a beautiful golden shimmer to the skin. Should work on every skin tone. I use it to highlight my collar bones, shoulders, and legs. And, as I simply will not go out of the house without a shimmer oil on my legs, GLOW has proven to be perfect for the job. Love this product!
SKIN: Collagen Booster Dry Oil, w/ 100% pure organic coconut oil, did not seem to provide enough moister. Then, I remembered, it is not a "moisturizer" but a Dry Oil – which, did absorb quickly, leaving a nice sheen to my skin. In fairness, to the product and our readers, I was also not able to determine if SKIN boosts collagen. But, that may be due to the short duration I have been experimenting. What it has done, however, is work as a gentle finish for face and body, leaving my skin with a natural, fresh, glow. Who wouldn't be thrilled with that? So, my process is to apply SKIN over face and body, with pops of GLOW in those places I wish to feature. Ingredients include goji berry, pomegranate, passionfruit, rosehip, coconut, cocoa, olive, and Vitamin E. And, SKIN comes with a "Superfruity" scent that reminds me of Watermelon cocktails!
Feature Image | Angela Roma