BONNIE BROOK DISC GOLF
X-treme Sports Journalist Brau Zanderson Finds Bonnie Brook's Sweet Spot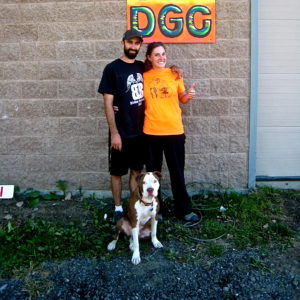 Dudes, it's impossible to miss the Rouge River as it winds through Bonnie Brook Disc Golf Course. Ask the disc golfers. But, it's worth trying on this lovely piece of woodlands. Located on the southeast corner of 8 Mile and Telegraph, the DGC is built on the remnants of Bonnie Brook Golf Course, which closed in, like, 2001.
Conceived and designed by Ted Stoebling, 2012 National Amateur Champion, and his partner Lydia Novitsky, Bonnie Brook DGC has 20 holes; and a little something for everyone. With elevation changes of like 150 feet, there are some spectacular views, unusual for "city" courses.
The course utilizes all its assets taking you around ponds, across wooden bridges and, like, under massive old trees as it traverses the site. Here and there is a hint of a former green or fairway, which some of the disc golfers remember from past decades, but no one seems to, like, miss the old "stick" golf course, as they are too busy mastering Tomahawk and Scooby Shots.
Built just this summer by Ted, Lydia and some very dedicated and super cool friends, the pair knows just how much the river comes into play on the site. First, they had to re-discover the site, which had become overgrown with invasive species, and littered with plastic trash blown in over the 13 years the course had been closed. Gnarly. Then, like, all the rainfall this year complicated things, especially the great flood of August 2014, which left its mark on BBDGC by covering much of the site with over, like 5 feet of water; just one more example of how climate change effects us all, dudes.
Although, the site handled that major flood event in, like, only a matter days, the human work took a bit longer to recover, which delayed the DGC opening until mid-September.
"Understanding the river's habits and respecting the water will continue to influence how the course is run and developed, " says Ted. "It will take a little time to truly polish this old gem."
But, in Lydia and Ted's hands it seems to be well on its way to a brilliant new life. Bonnie Brook Disc Golf Course is a sweet spot not only for Disc Golfers but, like, for the whole city. Rock on Ted and Lydia!
8 mile & Telegraph | Detroit | Find Bonnie Brook Disc Golf on facebook