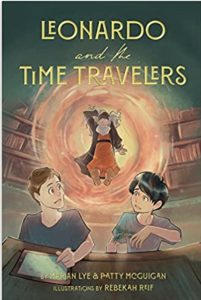 What would you do if one of the most famous artists in the world landed on your doorstep? In Leonardo and the Time Travelers, cousins Jack and Nick are in Silicon Valley for a summer technology class, when they discover a secret time travel app on an old iPad. Upon using the app, they bring back the world's first-time traveler, artist, engineer and scientist, Leonardo da Vinci, and adventure ensues!
This fun and entertaining book takes children on the adventure of a lifetime.  Joined by Jack's sister Poppy, they solve problems, meet other time travelers, and have a summer they will never forget.
Leonardo, affectionately nicknamed "Nardi" by the kids, is shocked by his new surroundings but as a man who loves to learn, he is highly curious about the technology he discovers everywhere throughout the house. He just can't resist the urge to play with things. And Jack's feisty and artistic sister, Poppy, isn't shy about sharing her artwork with the man who painted The Last Supper.
As "Nardi" tangles with today's technology and traveling incognito, he and the kids bring other time travelers back from the past while facing up to challenges of their own. Nardi learns to ride a bike, makes a special drawing to tuck into a time capsule at Stanford, compares notes with the kids on delicious gelato, creates a bubble bath blizzard and gets stuck on top of the house when inspecting the solar panels!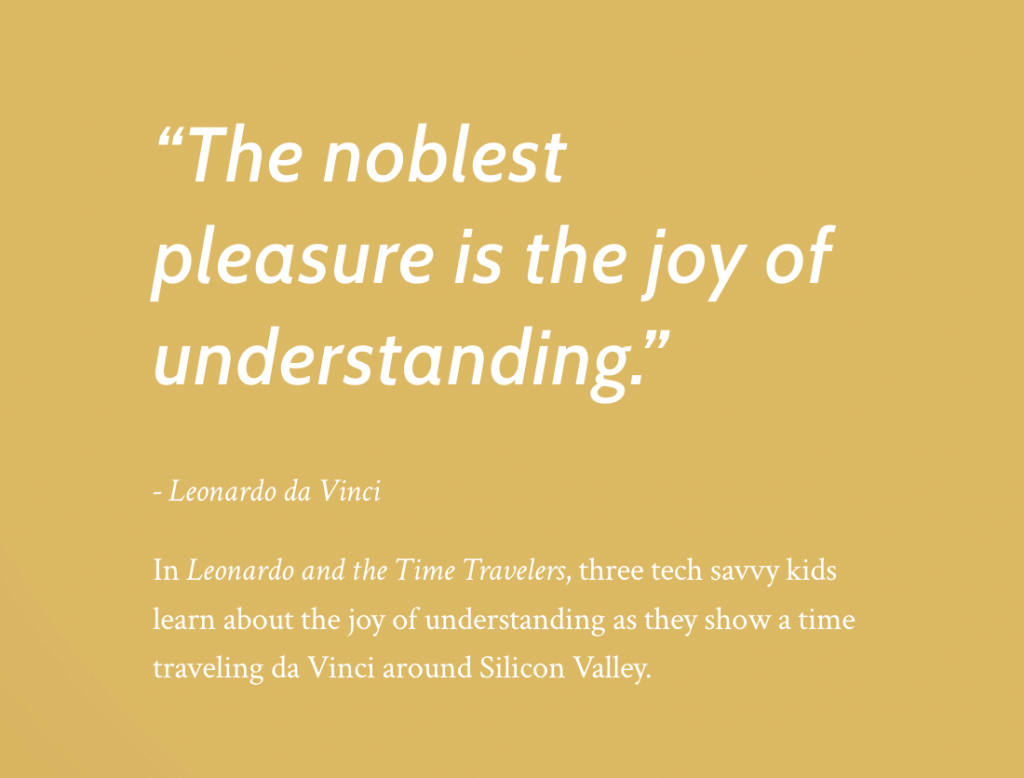 As the summer ends, the kids celebrate their accomplishments with a surprise trip to the Magic Kingdom, and a tour led by none other than time traveler Walt Disney himself! Nardi upstages everyone in his final fling before heading back into history – but he leaves an enormous imprint on Jack, Nick and Poppy, his creative compatriots and proteges.
Leonardo and the Time Travelers is the product of a unique collaboration of five women from around the world who joined together to create a children's book about learning and time travel during the pandemic.
In 2020, two grandmothers across the pond from each other decided to do something positive during the lockdown: to write a book inspired by their grandchildren. Marian Lye and Patty McGuigan share a set of lively grandkids, who were to be the heroes of a Silicon Valley adventure. But they needed an illustrator. Rebekah Reif, just turning 21 and graduating, joined the creative team. Next was Maria Mayer Feng, an incredible creative director in New York and then Kate Ryan, an editor who lives in Hawaii and understood the writers' vision.  The Circle of Five was established: women of all different ages, from Hawaii to England coming together to create Leonardo and the Time Travelers.
"The pandemic has brought many changes to our world. We were determined to produce something positive out of this time," says author Patty McGuigan. "The five of us put our creativity to work and created this fun and inspiring story."
This fall introduce kids to the genius of Leonardo Da Vinci and join him, Jack, Nick and Poppy on an adventurous journey and discover the answer to the big question – how to get their time travelers back home?