HOW DID WE GET HERE? What do we do now?
Mark Peterson's sometimes excruciating close-up photographs of the most polarized and bizarre presidential race in American history tell the story in deepest, darkest black-and-white. A Time magazine 'Best Photobook of 2016,' a critic's pick at The New Yorker and Huffington Post, and certainly one of the best photographic records of an election cycle, ever, Mark Peterson: Political Theatre presents "the drama and comedy, the transparent fakery and moments of accidental authenticity, and the abject chaos that has transfixed and often mortified anyone paying attention," in the words of John Heilemann.
"Peterson has given us an indispensable record of an election at once more raw, divisive and shot through with a sense of desperation—and perhaps, for good or ill, more lastingly consequential—than any in our lifetime," John Heilemann writes in Mark Peterson's mesmerizing 2016 election season photobook, Political Theatre: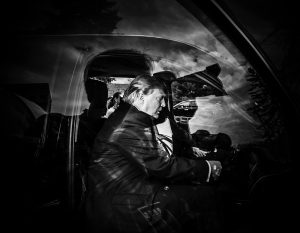 "Donald J. Trump. The rise to political prominence and power of the billionaire real-estate mogul, reality-TV star and self-branding virtuoso was not only a development unforeseen but deemed beyond the realm of possibility by virtually every Establishment politician, analyst and pundit. By any conventional metric, Trump was plainly unqualified to be president; he possessed neither the resume, the knowledge of domestic and foreign policy, nor the temperament ordinarily required to occupy the Oval Office. His suitability even to be the Republican nominee was just as dubious. He held an array of positions at odds with the party's long-held orthodoxies; indeed, for most of his life, he had been a member of the Democratic Party. Once Trump launched his campaign, these strikes against him were magnified by his outlandish behavior: a seemingly endless string of political and personal provocations and offenses; policy proposals that ranged from the obviously implausible (building a giant wall along the Mexican border, financed by Mexico) to the clearly unconstitutional (banning all Muslims from entering the United States); his routine and gleeful incitement of violence at his rallies; and a consistent and overt appeal to the racist, nativist, xenophobic elements within the Republican Party," says Heilemann.
Today this "surreality" becomes reality.
Photograph is reproduced from Mark Peterson: Political Theatre and © Mark Peterson/Redux.