Camaraderie on the World Stage: Dear Barack Traces Extraordinary Political Alliance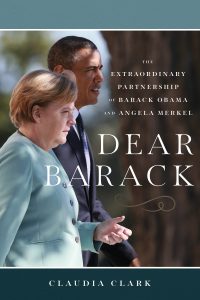 United by a belief that democracy could uplift the world, former U.S. President Barack Obama and former German Chancellor Angela Merkel formed a friendship that transcended their disparate political views, connecting in a way that enabled them to navigate their countries through some of the most challenging events of the 21st century. While most political pundits knew about the partnership these two created, few knew the full story — until now.
"Their relationship was by no means linear," said author and activist Claudia Clark. "They had their differences. The important thing is that despite their differences, they came out on top. They came out stronger because they had enough respect for one another."
In Clark's new book, Dear Barack: The Extraordinary Partnership of Barack Obama and Angela Merkel, she gives readers an inside look at one of the great political friendships of the modern world, as told through key moments that shaped the 21st century.
Obama was a left-leaning Democrat, Merkel a member of Germany's far-right Christian Democratic Union, yet together, they found a way to help heal the fractures that existed between the U.S. and Europe at that time.
Dear Barack is a thoroughly researched exploration of the parallel trajectories that led to Obama and Merkel meeting on the world stage, and the trials — both personal and political — that they confronted in office. In the leaders' own words, the book details such events as Merkel's historic acceptance of the Presidential Medal of Freedom, Russia's annexation of Crimea, and the 2013 NSA spying scandal, demonstrating the highs and lows of this extraordinary alliance.
A story of camaraderie at a global scale, Dear Barack is a "fit-all" in terms of politics and shows that it is possible for political adversaries to establish bonds of respect — and even friendship — in the service of the free world.
Claudia Clark is an author, speaker and activist focused on social justice and democracy. In 2017, Clark and her husband moved from California to Germany, where she served as the national Get Out the Vote (GOTV) coordinator for the Democrats Abroad Germany chapter from January 2019 to May 2020. Clark has several advanced degrees, with a focus on social work, women's history and labor relations. She lives in Berlin, where she is conducting research for her next book.
For more information, please visit https://www.claudiaclarkauthor.com.
Dorothea Lange, Annie Leibovitz, Vivian Maier, Eve Arnold… Learn the stories of the incredible women behind the camera.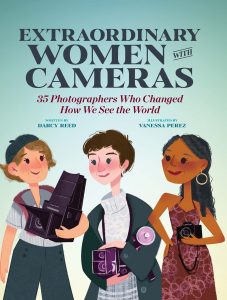 Introducing Extraordinary Women with Cameras: 35 Photographers Who Changed How We See the World by Darcy Reed and illustrated by Vanessa Perez [$16.95; Rocky Nook; Ages 8-12], a new children's book capturing the stories of iconic female photographers, including Dorothea Lange's haunting portraits of American history, Margaret Bourke-White's bravery as the first female war correspondent in WWII, Florestine Perrault Collins' influential images depicting Black life in the 1920s, and Anne Geddes' joyful and elaborately-staged portraits of adorable babies.
Ever since photography was invented almost 200 years ago, women all over the world have taken groundbreaking, inspiring photographs. Extraordinary Women with Cameras explores the stories of 35 of the most talented historical and contemporary shutterbugs. Some of their names may be familiar, and some may be totally new, but all of them contributed to the fascinating, beautiful field of photography.
Filled with colorful illustrations, this book also includes explanations of key photography terms, photo project ideas, and suggestions for other women photographers to study.
"If you've ever snapped a selfie or posed with your friends for a group shot, you're following in the footsteps of these truly extraordinary women," says author Darcy Reed. "We hope this book inspires you to pick up your own camera and start snapping interesting photos. Who knows? Maybe your work will be featured in a museum or book one day!"
About the Author
Darcy Reed is a writer, editor, and actor. Her books include: The College Bucket List, Disney: Ninety Years of Mickey Mouse, Wonder Woman Trivia Deck, The Photography Trivia Deck, Captain Marvel: The Tiny Book of Earth's Mightiest Hero, Extraordinary Women With Cameras, and Shakespeare: Famous Last Words. In her free time she enjoys cooking, playing with her twin nieces, and following Pearl Jam on tour. She lives in Sonoma County, CA.
About the Illustrator
From a young age, Vanessa Perez knew she had a connection with art and telling stories through drawings. This love for creating led her to pursue a career in illustration. Since graduating with a Bachelor of Fine Arts in Illustration from California State University, Long Beach, Vanessa has been working as a freelance illustrator, creating drawings for individuals and small businesses. She primarily works digitally and occasionally with gouache paint. Vanessa is a Southern California native and loves exploring new food creations, roller skating at the beach, and spending time with friends and family. Find her work online at vanessaperezart.com and follow her on Instagram (@nessycreates). Extraordinary Women with Cameras is her first book.
Dad Spelled Backward: A Journey Through the Maze of Love, Marriage, and Adoption
This charming and witty new book chronicles the often-heartbreaking process of becoming a parent.
Can you die from having too much sex? That's the question Dr. Michael King, a well-respected dentist in New York, asks in Dad Spelled Backward: A Journey Through the Maze of Love, Marriage, and Adoption.
Mike had never thought much about getting married and becoming a father, but all that changed when, in his fifties, he met Gabriella, his lovely (and much younger) French wife. Together they decide to try to become parents, and they do all they can to make a baby—to the point where Mike wonders if one can die from too much sex.
This candid account by a husband and father is insightful, moving, fiercely funny—and ultimately a testament to unconditional love. Mike tells his story of how, wanting to make his wife happy after realizing that they couldn't successfully conceive a child, he reluctantly agrees to move on to the next phase of potential parenthood—adoption.
Unfortunately, domestic adoption is often a long, costly process that takes couples on a roller-coaster ride from hope to despair and back again. Mike recounts how he and Gabriella were connected with one pregnant woman after another until they were finally given a baby, only to have to give the infant back when the birth mom changed her mind. This left them so emotionally drained that they had to decide whether the price of becoming parents was too high and whether it was time to give up.
Such heartbreak might have driven other couples apart, but Gabriella and Mike only became closer; their love for one another grew even stronger, and they did at last get to be parents.
"I hope this book inspires people who want to, or are considering whether to, become parents," Mike says. "We all face obstacles in life, but if love prevails, it's worth the struggle."
Dr. Mike King, comedian and pediatric dentist, has built his practice in an unusual way: to relax the kids, he incorporates comedy and magic tricks into his treatment. He has written two children's books, Flossopher and the Brushing Trees and Enamel the Camel. Mike appears regularly at Broadway Comedy Club, New York Comedy Club, and Gotham Comedy Club. Mike's greatest joy is spending time with his wife and their daughter. They live in New York City.
For more information, visit www.MikeKingWrites.com.