BOOKS
Among our most important vices – breakfast, chocolate, coffee – are books.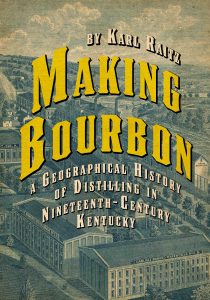 Making Bourbon: A Geographical History of Distilling in Nineteenth-Century Kentucky
Karl Raitz
While other industries chase after the new and improved, bourbon makers celebrate traditions that hearken back to an authentic frontier craft. Distillers enshrine local history in their branding and time-tested recipes, and rightfully so. Kentucky's unique geography shaped the whiskeys its settlers produced, and for more than two centuries, distilling bourbon fundamentally altered every aspect of Kentucky's landscape and culture.
Making Bourbon: A Geographical History of Distilling in Nineteenth-Century Kentucky illuminates how the specific geography, culture, and ecology of the Bluegrass converged and gave birth to Kentucky's favorite barrel-aged whiskey. Expanding on his fall 2019 release Bourbon's Backroads, Karl Raitz delivers a more nuanced discussion of bourbon's evolution by contrasting the fates of two distilleries in Scott and Nelson Counties. In the nineteenth century, distilling changed from an artisanal craft practiced by farmers and millers to a large-scale mechanized industry. The resulting infrastructure—farms, mills, turnpikes, railroads, steamboats, lumberyards, and cooperage shops—left its permanent mark on the land and traditions of the commonwealth. Today, multinational brands emphasize and even construct this local heritage. This unique interdisciplinary study uncovers the complex history poured into every glass of bourbon.
About the Author
Karl Raitz is professor emeritus of geography at the University of Kentucky and author of Bourbon's Backroads: A Journey through Kentucky's Distilling Landscape. He is coeditor of The Great Valley Road of Virginia: Shenandoah Landscapes from Prehistory to the Present and coauthor of Rock Fences of the Bluegrass.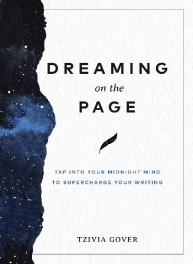 DREAMING ON THE PAGE: Tap into your midnight mind to supercharge your writing
By Tzivia Gover
Dreams have been an undervalued yet ever-present wellspring of inspiration and creativity for writers through the ages. Author Tzivia Gover, a leading voice in the field of dreamwork, has published a new book, Dreaming on the Page: Tap into your midnight mind to supercharge your writing, which offers readers a unique method for accessing our naturally generous and creative dreaming mind, whether we remember our dreams or not.
"Dreams serve the writer, and when we write them down, we give new life to the dreams that have been living inside of us—eager to guide and inspire us—all along," Tzivia says. "In my new book, I make these connections explicit and show readers what I have intuitively known for years: that dreams and writing are perfect bedfellows, and that by honoring both, we can live more fully connected and harmonious lives."
Dreaming on the Page also offers an effective outlet for anyone suffering from stress and anxiety to transform these troubling emotions through creativity using dreams as the catalyst. "I started writing this book before the pandemic, but with each churn of the news cycle, and each crisis we faced collectively during lockdown, I believed more and more that we need effective ways to engage with our stories. Personally, and in community, dreams and writing can help us make meaning from the lives we are living. Dreaming on the Page offers a way to do just that," says Tzivia.
The book offers readers prompts, journaling tips, and exercises based on the psychology, science, and spirituality of dreaming to make the inner muse accessible to everyone who has a story to tell or a poem to write. Tzivia divides the book into three parts.
Part One provides an overview of dreams, how to capture them on paper, and how to create a Dreaming on the Page daily practice that includes creating rituals for sleep, dreams, and journaling.
Part Two, The Generative Dream, provides exercises to jump-start your writing, and is packed with exercises and prompts inspired by dreams to get your writing started.
Part Three discusses getting published and creating community and connections through dreamwork and writing.
About the Author
Tzivia is the author of several books including Joy in Every Moment and The Mindful Way to a Good Night's Sleep. She is a certified dreamwork professional, a member of the International Association for the Study of Dreams, and has served as the education director for the Institute for Dream Studies. She has her MFA in writing from Columbia University, and is a certified Proprioceptive Writing instructor and Reiki Master. She lives in Western Massachusetts. For more information visit her website www.TziviaGover.com.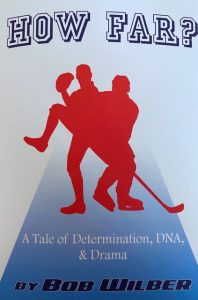 Determination, DNA and Drama Push Two Athletes to Their Limits in How Far?
As the son of a major league baseball player and a former baseball player himself, author Bob Wilber has lived the athlete life, and in his new book, How Far?, Wilber weaves the compelling story of two disparate athletes who meet and form an unlikely bond. His creative use of first-person writing, having his fictional protagonists appear to write the book themselves in their distinct voices, immerses readers in every thought and word of the two characters.
Brooks Bennett is a gifted baseball player (and the son of artist hippies) from Southern California, and Eric Olson is an undersized hockey player from Roseau, Minnesota — where hockey is king. The two men come from vastly different worlds and couldn't be more dissimilar. And in one spontaneous moment, their paths cross, and their lives change forever.
How Far? follows their serendipitous meeting and what happens as they each experience the emotional and physical highs and lows of their careers. Wilber takes readers on deep dives into the worlds of amateur and professional sports, down to the richest and most evocative details. On the ice, on the field, in the locker rooms and while facing life's many personal challenges, the two characters tell the tale as it really is.
When asked if it's a sports book, Wilber says, "It's a life book, told through a sports lens."
About the Author
Bob Wilber is no stranger to the world of sports. The son of Major League player Del Wilber, Bob Wilber grew up playing baseball. He graduated from Southern Illinois University-Edwardsville with a bachelor's degree in Broadcast Journalism, then went on to play several seasons of minor league baseball for the Detroit Tigers and the Oakland A's. When his playing days were over, Wilber spent time as a regional scouting supervisor for the Toronto Blue Jays. Wilber published his autobiography Bats, Balls, & Burnouts in 2017. How Far? is his first work of fiction.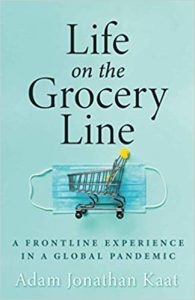 Life on the Grocery Line: A Frontline Experience in a Global Pandemic
By Adam Jonathan Kaat
On his first day as a cashier at Dream Grocers, Daniel imagines that the worst he'll have to deal with on the job are the occasional grumpy customers and long days on his feet. But in just one week's time, reality changes entirely as the COVID-19 pandemic creates a frenzied panic throughout Daniel's home state of Colorado. Now, he's suddenly being called a hero just for showing up at his job, and he isn't sure how to feel about that. As the uncertainty and paranoia around the virus spread rapidly, Daniel tries to stay afloat and not let the irate hordes of customers bring him down. He learns more than he ever expected to about humanity's response to fear, observing most prominently the way that some people look down on the very workers they deem "essential."
About the Author
Adam began working as a cashier at a high-end grocery store in an affluent neighborhood at the beginning of 2020. By March his view of the world was falling apart from the Coronavirus Pandemic. He started "Life On The Grocery Line" as a way to deal with the turmoil that unfolded before him, as the structures of American and Global society broke down.