BOOKS
Right on time for the holidays …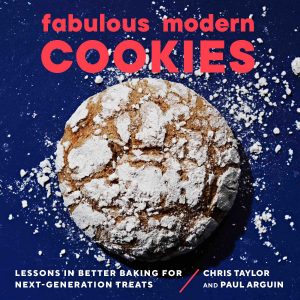 FABULOUS MODERN COOKIES: Lessons in Better Baking for Next Generation Treats By Chris Taylor and Paul Arguin
Fabulous Modern Cookies elevates the comfort-food-cookie to creative and untraditional heights, perfect for holiday entertaining or any time.
We all have fond, cookie-shaped memories—whether it be the smell of chocolate chip cookies in the oven, lunchtime oatmeal raisins, holiday gingerbread, or tangy summer lemon bars. Authors Chris Taylor and Paul Arguin pay homage to the cookie in all its forms in their tasty new book, Fabulous Modern Cookies: Lessons in Better Baking for Next Generation Treats. Their recipes introduce creative taste sensations, textures, and designs that will be the hit of any party or gathering. Their previous best-selling book, The New Pie: Modern Techniques for the Classic American Dessert, showcased their inventive recipes and techniques.
With bold and fearless suggestions, Taylor and Arguin, scientists turned bakers, explore the deep-in-our-heart love of cookies as well as the philosophy behind them. Does a cookie always have to be round, sweet, or soft? Breaking down the essential rules, ingredients, and equipment needed, Fabulous Modern Cookies demystifies the cookie and provides home bakers with fun and unique cookie recipes.
"We are always asked 'why a book on cookies?' For one, we love cookies— but that's not the only reason. To us, cookies are the most approachable of all desserts," Chris and Paul state. "For this book we took the vast universe of cookies and tried to expand it even further. We brought a scientific approach using innovative techniques to ensure success in baking regardless of whether you are new to baking or have been elbow-deep in cookie dough for decades. The cookies will still seem familiar (brownies, bars, drop cookies, cookie- cutter cookies, and the like) but with new and exciting flavors."
Filled with 100 recipes, Chris and Paul also provide "Cookie Bytes" – short tips, tricks, helpful techniques, and explanations to demystify the science of baking. The recipes are grouped in chapters like Bar Cookies; Drop Cookies; Rolled Cookies; Filled, Stuffed and Sandwiched Cookies; Savory Cookies and Slice-and-Bake Cookies. Some of the recipes in the book include: Portland Pie Squares, Thai Coconut Macaroon Bars, Whiskey-Lemon Sweet Potato Squares, Salted Caramel Sugar Cookies / Chewy Malted Vanilla Variation, Escapes (The Pina Colada Oatmeal Cookies, Teatime Stamped Shortbread, Pumpkin Snickercrinkles, Peanut Butter Cup Cut-Out Cookies, Stollen Glances, Grapefruit and Pistachio Stained-Glass Slices, Elderflower Dainties, Cucumber Cheesecake Everything Bagel Bars, Mai Tai Cremes, Jam-on-Toast Thumbprints, Fried Green Tomato Sandwiches.
"Cookies are so amazingly diverse and amazingly adaptable—simple doughs can be augmented with fun flavors and textures, elevating them to new heights. Our goal with Fabulous Modern Cookies is to entice and teach fellow cookie lovers and bakers of all stripes to make delicious, foolproof cookies and introduce new flavors that bakers can use to share with friends, wow at parties, and create new memories with their families."
Mocksies
MAKES 22 (11 / 2-INCH) COOKIES
At one time, boxes of Ritz crackers always had a recipe card on the back for mock apple pie. The recipe's claim was that you could boil(!) some buttery crackers in water and add cream of tartar and a few spices to create a faux apple pie that was nearly as good as the original. As devoted (and award-winning) pie bakers, that claim seemed absurd to us. Could this possibly be true? How could a pile of wet crackers create the illusion of apple pie? The secret is in the cream of tartar. We keep that white powder in our pantries for adding just a pinch to our stiff- peaked egg whites. Turns out that when used in larger quantities, it is not only a convenient source of acid but a flavoring agent that is close enough to the taste of a tart apple to provide an ideal basis for the deception. With the addition of some nuts and a sprinkling of fall spices, the mirage is . . . close flavor-wise, but should never actually fool anyone who is remotely familiar with an actual apple pie. Here we used this surprisingly effective deception to make mock apple pie cookies. With a satisfying crunch, we've transformed this back- of- the box sorcery into a 21st- century delight.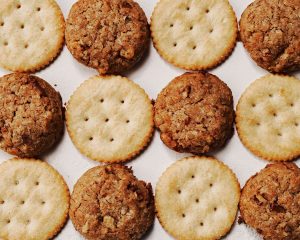 INGREDIENTS
40 crackers (133g) 3⁄4 cup (71g)
1⁄2 cup (100g)
1⁄2 teaspoon
Ritz crackers
Pecan halves, toasted and cooled (see Note) Light brown sugar Packed
Cream of tartar
Ground cinnamon
Ground nutmeg
Egg white
Lemon juice, freshly squeezed
1⁄4 teaspoon
1⁄4 teaspoon
1 large (35g)
1 tablespoon
4 tablespoons (57g) Unsalted butter, melted and cooled but still pourable
1. Position two racks to divide the oven into thirds and preheat to 350°F. Line two 18- by- 13- inch baking
sheets with parchment paper or silicone baking mats.
2. Place the crackers in the bowl of a food processor and pulse until they
are small crumbs. Transfer the crumbs to a bowl. Add the pecans to the
food processor and coarsely grind them as well. Add the ground nuts to the bowl with the cracker crumbs. (Alternatively, the crackers can be crushed by hand directly in the bowl and the pecans can be chopped by hand.)
3. Add the brown sugar, cream of tartar, cinnamon, and nutmeg to the bowl. Mix these dry ingredients together by hand, using a silicone spatula. Add the egg white, lemon juice, and melted butter and mix until the dry ingredients have all been moistened and the mixture has formed into a cohesive clump. Let the mixture rest for 15 minutes before scooping.
4. Portion 1 tablespoon (18 grams) of dough, using a #60 scoop, roll into balls, and evenly arrange 13 portions on the first baking sheet. Flatten the balls slightly with your fingertips. Repeat with the remaining dough and arrange on the second baking sheet.
5. Bake until cookie edges are set and just beginning to brown, 13 to 17 minutes. Halfway through baking, rotate the pans from front to back and top to bottom. Remove from the oven and let cool for 5 minutes on the baking sheets before transferring to a wire rack to cool completely. After cooling, the cookies can be stored in an airtight container at room temperature for several days.
NOTE: For most of the recipes in this book, we call for using toasted nuts. Toasting brings out more of the delightful nutty flavor. The nuts have to be toasted and cooled before adding to the cookie dough or batter, or the nuts will lack flavor in the finished cookie. Be mindful that roasted nuts (like most of the canned nuts sold in the supermarket) are not the same as toasted nuts. Commercially roasted nuts often have additional salt and oil added as part of the roasting process. Toasted nuts are raw nuts that are toasted to a light golden brown. To toast nuts, spread raw nuts in an even layer on a baking sheet. Bake at 350°F until the nuts are fragrant and light brown, about 7 minutes. Nuts can also be toasted in a skillet on the stovetop over medium heat.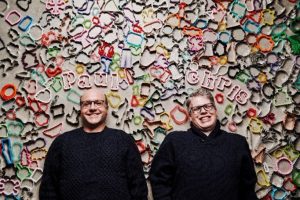 About the Authors
Chris Taylor (right) is a full-time epidemiologist but is also a pie master and talented pastry decorator. His Peanut Butter Checkerboard pie won Best of Show in the 2017 amateur division of the National Pie Championships. Paul Arguin (left) is a double-board certified MD. Both are self-taught bakers with a passion for pies, cookies, and competitive baking, and run a boutique baking business, Flour Sugar Butter, LLC. Their previous baking book is The New Pie: Modern Techniques for the Classic American Dessert. They live in Atlanta, Georgia and can be found on social media @floursugarbutter.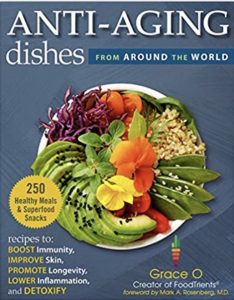 New Cookbook Delivers Recipes from Around the World for Better Aging
Award-winning cookbook author and chef, Grace O, provides unique recipes that boost immunity,improve skin, promote longevity, lower inflammation, and detoxify the body.
Chef and author Grace O has traveled the world in search of delicious, good-for-you foods. Her passion for discovering food treasures from the Blue Zones and elsewhere, where people live longer, healthier lives, is the driving force behind her new cookbook, Anti-Aging Dishes from Around the World. In her third cookbook, Grace O, founder of the ground-breaking healthy food website, FoodTrients.com, delivers all the hallmarks of her two previous award-winning cookbooks, and more.
In addition to 250 easy-to-make recipes using everyday favorites, exotic ingredients, and superfoods from around the world, Anti-Aging Dishes from Around the World includes healthy resources, guides, and tips for improving your lifespan and health-span. Grace's global approach to her age-fighting recipes is to ramp up the flavor profiles of each dish to entice food lovers everywhere.
"My life has been devoted to my two passions – great food and wellness," Grace says. "I have traveled the world in search of foods that can help us age better, and I love discovering food treasures from the Blue Zones and places beyond, where people live longer, healthier lives. This is the driving force behind FoodTrients.com and this new cookbook."
In Anti-Aging Dishes from Around the World, Grace takes classic recipes and gives them international twists with a few simple steps, creating very interesting meals. Grace uses superfoods and spice profiles from all over the world, including Africa, Asia, South America, the South Pacific, Europe, the Middle East, and the U.S. Recipes range from Appetizers; Soups; Side Dishes; Vegetarian; Noodles and Sauces; Salads; to Meat; Seafood; Poultry; Flatbreads; Drinks; and Desserts.
Some of the delicious anti-aging recipes found in the cookbook include: Vietnamese Shrimp & Noodle Salad with Dipping Sauce, California Hemp Seed Salad with Strawberries & Kale, Greek Lemon Chicken Soup, Peruvian Fresh Fish Ceviche, Blue Zone Apple-Sage Cauliflower, American Steakhouse Potatoes with Caramelized Onions, Israeli Roasted Sweet Potatoes with Figs, Polynesian Pot Roast, Belizean Chicken Stew, Lebanese Braised Lamb Shanks, Hawaiian Avocado Chiffon Pie, Turkish Apricot-Almond Cake, California Persimmon Cookies, Chinese Monk Fruit Spice Cookies.
The book also features invaluable guides to Herbs and Spices from Around the Globe; Top 50 Foods for Longevity; Alternative Flours and Grains; The Healthiest Cooking Oils; Better- for-You Sweeteners; The Best Anti-Aging Teas; and the "New" Ancient Grains. Grace also includes her signature FoodTrients chart that tracks the health benefits of each recipe.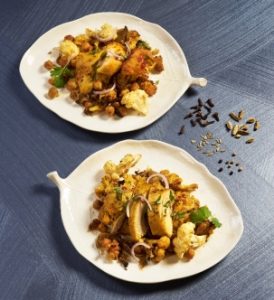 Indian Sheet Pan Chicken with Chickpeas
Gluten-Free
Serves 4
The spices in this dish are inspired by Indian cuisine. The acid in the yogurt marinade helps tenderize the chicken. The sugar helps brown the chicken skin and caramelize it as it roasts. Be sure to toss the chickpeas (garbanzo beans) and cauliflower florets occasionally, coating them in the chicken fat as it renders.
Benefits
Chickpeas contain fiber which aids digestion, increases satiety, and helps lower blood cholesterol. The iron in chickpeas helps transport oxygen properly throughout the body. The zinc they contain may play a role in reducing your risk of macular degeneration. It also maintains collagen and elastin for beautiful skin.
Ingredients
3 – 31⁄2 lbs. bone-in, skin-on chicken parts (breasts, thighs, legs) Kosher salt and freshly ground black pepper to taste
11⁄2 cups low-fat Greek yogurt, divided
5 Tbs. fresh lemon juice, divided
2 tsp. ground turmeric, divided
2 Tbs. water
2 cans (14-15-oz. each) chickpeas, drained and rinsed 1 Tbs. fennel seeds
2 tsp. ground cumin
1 tsp. ground cardamom
1⁄2 tsp. ground cayenne
1 cup cauliflower florets
1 large red onion, thinly sliced, divided
2 Tbs. olive oil
1⁄2 cup fresh mint or cilantro leaves, torn
Directions
1. Season chicken with salt and pepper to taste.
2. In a large bowl, combine 3⁄4 cup yogurt, 2 Tbs. lemon juice, 1 tsp. turmeric and 2 Tbs. water. Add the chicken and toss, coating evenly. Let sit for at least 30 minutes at room temperature, or overnight in the refrigerator, before cooking.
3. Place oven rack on the top third of the oven and heat to 425 degrees F.
4. On a sheet pan, combine the chickpeas, fennel seeds, cumin, cardamom, cayenne, remaining turmeric, cauliflower, and half the onion slices. Drizzle with the olive oil, season with salt and pepper, and toss well to coat.
5. Move the vegetables to both sides of the sheet pan. Scrape any excess marinade off the chicken parts and place them in the center, skin-side up. Place in the oven and bake, tossing the veggies occasionally, for 45 to 50 minutes or until the skin of the chicken is evenly browned, and the chickpeas are golden and starting to crisp.
6. Meanwhile, toss the remaining onion slices with 2 Tbs. lemon juice and season with salt and pepper, and set aside.
7. Combine the remaining yogurt with the remaining lemon juice, salt, and pepper and set aside.
8. Scatter the chicken with lemony onions and mint or cilantro. Serve with seasoned yogurt alongside as a sauce.
All proceeds from sales of this book will be donated to the Grace O Foundation, which supports educating the public about nutrition, working with other food-based non-profits, and participating in research that explores food and the diseases of aging.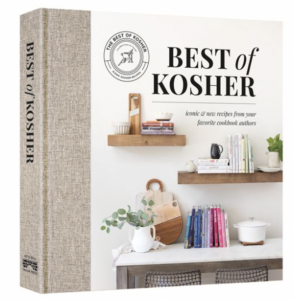 BEST OF KOSHER: Iconic and New Recipes from Your Favorite Cookbook Authors
Photographed by Esti Waldman
The World's Top Kosher Cookbook Authors Come Together to Create the Greatest Collection of Kosher Recipes in One Book.
Best of Kosher is a new cookbook
that features some of the most popular kosher recipes from over 15 of your favorite kosher cookbook authors. You know their names and have been cooking from their books for years, but now they have pooled their talents to create a collection of the best of kosher cooking. Authors participating include:
Chanie Apfelbaum, Between Carpools, Miriam (Pascal) Cohen, Victoria Dwek, Susie Fishbein, Rivky Kleiman, Sina Mizrahi, Renee Muller, Naomi Nachman, Danielle Renov, Daniella Silver, Leah Schapira,
and
Rorie Weisberg.
The book also provides background on the authors, their behind-the-scenes stories, and fun facts you didn't know about them.
Best of Kosher features 130 recipes, including 45 brand-new ones, each beautifully photographed. Among the recipes are:
Honey-Lime Nut Salad by Rivky Kleiman

Crock-Pot Onion and Flanken Soup by Naomi Nachman

Yemenite Beef Soup by Susie Fishbein

Crispy Salmon Poppers by Danielle Renov

Sea Bass with Corn Cream by Victoria Dwek

Everything Bagel Tuna Patties by Chanie Apfelbaum

Crock-Pot Brown Sugar Beer Chicken by Miriam Pascal Cohen

Sweet Chili Chicken Sandwiches by Leah Schapira

Smoked Short Rib Tacos by Leah Schapira and Victoria Dwek

Skirt Steak with Tahini Herb Sauce by Daniella Silver

Maple Bourbon Brisket by Sina Mizrahi

One Pot No-Cream Fettuccine Alfredo by Between Carpools

Babka Straws by Chanie Apfelbaum

Irresistible Chocolate Pecan Bars by Renee Muller

Decadent Choco-Superfood Squares by Rorie Weisberg
"On behalf of all authors of this book we want to thank you, the readers, for inviting us in your homes over the years. You trusted us when it came time to feed and nurture your families," says Leah Schapira, spokesperson for the book. "You helped bring along this new era of kosher cooking by being willing to open our cookbooks and try something new."
From finding the perfect recipe for a Shabbat dinner to holiday celebrations, Best of Kosher provides recipes for any occasion or holiday.
This fall, try this easy and delicious recipe: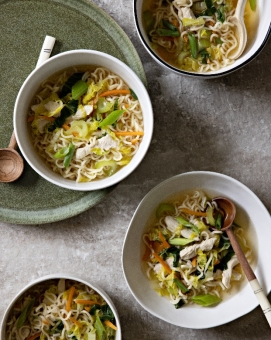 Asian Big Bowl
By Susie Fishbein from Kosher by Design Short on Time
Yield: 6 servings
I always had leftover chicken soup from Shabbos that no one would eat at any other time. By adding in fresh vegetables and the fun of ramen noodles, I suddenly had a fresh, new, weeknight meal in a bowl. And people loved this idea! They'll either make extra chicken soup with the intention of having leftovers for an Asian Big Bowl, or they make the Asian Big Bowl on its own with purchased stock. It's the type of dish that makes it onto a weekly repertoire, often on mine, too.
Ingredients
 ½ small head Napa cabbage, about ¾ pound
 1 very small head bok choy
 8 cups chicken stock
 2 boneless, skinless chicken breast halves, sliced into very thin strips
 ¼ cup grated or shredded carrot
 1 (2.8-oz) pkg ramen noodles (discard seasoning packet)
 1 Tbsp mirin
 2 Tbsp soy sauce
 3 scallions, sliced very thin on the diagonal, for garnish
Directions
Thinly slice cabbage and bok choy. Set aside.
In a medium pot, bring chicken stock to a simmer over medium heat. Add chicken, carrots, cabbage, and bok choy. Simmer for 5 minutes.
Add ramen noodles; cook for 2 minutes. Remove from heat; stir in mirin and soy sauce.
Ladle into bowls. Garnish each bowl with a small handful of sliced scallions.
Make Ahead: If you need to prepare this dish in advance, don't add the ramen noodles until 2 minutes before actual serving time; they will become mushy and the starch will cloud the soup.
Co-Author Tip: Chanie Apfelbaum prepares a version of this big bowl, swapping out the Napa cabbage and bok choy for green cabbage, canned Chinese vegetables, mushrooms, and snow peas.