BOOKS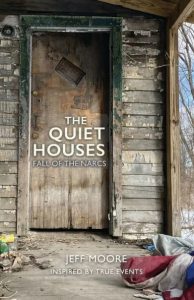 DEA Agent Plunges Readers Into Seedy World of Trap Houses and Police Corruption in New Book
Detroit, MI — Based on real events, The Quiet Houses: Fall of the Narcs traces the remarkable career of DEA Special Agent Jeff Moore, who captured the world's oldest and most successful drug cartel mule, Leo Sharp — the story of which became the inspiration for Clint Eastwood's blockbuster movie, The Mule.
The Quiet Houses follows Jeff's employment journey from redundant graphics designer to patrol officer to undercover detective in a corrupt, Kansas City, Missouri, narcotics unit led by Sgt. Ryan Shale, who has aligned himself with a large-scale drug trafficker in a symbiotic relationship of profit and police protection.
Embarrassed by Jeff's sub-par results on the streets, Ryan forces Jeff to work alongside an unmanageable but streetwise informant named Tamera Josephine Mack. The unlikely pair embarks on a surreal odyssey infiltrating as many drug houses as possible to conduct undercover street level drug buys of heroin and cocaine. They encounter lost souls and violent men during their journey.
Jeff's relationship with Tammy is exceedingly contentious yet entertaining.
"My experiences with Tamera Mack were almost too unreal to believe, which served to create an incredible story I wanted to tell," said Moore. "In my career, I have met some of the most interesting and nefarious people in the world."
Tammy opens Jeff's eyes to a world he has never seen. He is forced to redefine his purpose and accept his failures and fears. Through self-preservation, Tammy and Jeff look past stereotypes and social differences to form a deep friendship.
However, Ryan Shale's unrelenting corruption knows no limits, as he uses his criminal contacts to steal drug and money seizures off the streets, while eliminating adversaries. Eventually, Jeff and Tammy find themselves in Ryan's crosshairs. In a final battle of cat and mouse, a surprise ending unfolds with Tammy and Jeff fighting for their lives with all the players under one roof.
About the Author
DEA agent Jeff Moore's 2014 New York Times interview regarding his capture of the world's oldest and most successful drug cartel mule, Leo Sharp, became the basis for Clint Eastwood's movie, The Mule. In the movie, Eastwood portrayed Leo Sharp and actor Bradley Cooper portrayed agent Moore. Prior to working for DEA, Moore spent a year as an undercover narcotics police detective buying crack cocaine and heroin from drug houses throughout Kanas City, Missouri. Currently, DEA agent Jeff Moore works in Detroit, Michigan.
THE JOURNEY TO REINVENTION: How to Build a Life Aligned with Your Values, Passion and Purpose
 By Roger Osorio
Ever since the Pandemic we have been reevaluating our career and life choices.  Many found themselves without a job and had to adjust to new ways of looking at life and career decisions.  That is what happened to Roger Osorio.
 Roger believes that reinventing ourselves is not something to be afraid of.  It's something to learn from and value.  In fact, Roger has reinvented himself many times.  He has been a middle school teacher, a consultant, an entrepreneur, corporate executive, a teacher at a major university and college, a speaker, and a reinvention coach.
Why now may be the best time for your next reinvention
Identifying areas of your life that don't align with your values, passion, and purpose
How to persevere with your reinvention in the face of obstacles
Strategies for successfully launching large and small reinventions
Lessons from Leonardo da Vinci's successful reinvention at 30 years old
"When I first embarked on reinventing myself, I didn't have many stories, insights, and lessons from the journey to reinvention. I often felt alone or like the crazy one that lost his way." Roger says.  "However, that doesn't have to be the case for you. Reinvention is challenging enough on its own, we don't need to feel alone or like we have lost our way. Reinvention has nothing to do with becoming someone else and everything to do with becoming who you really are. My book will help you learn from my experiences and those I have had the opportunity to learn from."
New Degree Press / September 2022 – Softcover/$19.99 – Ebook/$4.99
Bestselling Author Brad Thor Releases New Thriller, Hints at Future Film/TV Series Deal
WASHINGTON, DC—Readers who like fast-paced political thrillers should buy a copy of Brad Thor's Rising Tiger. The #1 New York Times and #1 Wall Street Journal bestselling author recently sat down to discuss his new book on the latest episode of the Coffee with Closers podcast. here]. In Rising Tiger, Thor sends his protagonist, ex-Navy SEAL and America's top spy, Scot Harvath to India. There, he is tasked with investigating the death of U.S. diplomat Eli Ritter who was assassinated during the country's annual Diwali "Festival of Lights." For Harvath, danger and intrigue greet him in a new and unfamiliar place where he must race against time and operate in an environment where "it is nearly impossible to tell predator from prey."   Thor explained that his inspiration for the book came from a deadly 2020 clash between Chinese and Indian soldiers high in the Himalayas that lasted some six hours.   "I was riveted just reading the real life story of what happened. And so it made me look into India a little bit more. I said, why are we not hearing more about this part of the world? And it is fascinating because we are the world's oldest democracy but India is the world's largest. And, so we have a collective foe together vis-à-vis China."  For Thor, while he normally travels to the locations he writes about for detail and color, he was not able to do so for this one due to COVID-19 and medical care concerns in India. However, he was able to enlist the help of his children's godfather, who was stationed at the U.S. Embassy in New Delhi.  Thor brings to his writing extensive knowledge of intelligence and special operations as he was a member of the Department of Homeland Security's "Red Cell" Program. Created in the aftermath of the 9/11 terrorist attacks, the program brought elite writers and artists together to brainstorm terrorist scenarios for the U.S. government. As for future plans for either a movie or television series based on his work, Thor says he has lined up a studio that he's "thrilled" with as well as an "absolutely amazing" director and great producers. And, while the timing and nature of the announcement is up to the studio, the final product "may be a limited edition series, then a feature length film, and then more episodes. It's something that we're discussing now that really has not been done before, doing both TV and film," said Thor. Rising Tiger is the 21st book in Thor's Scot Harvath series and Thor always points out that his books are written to stand alone so readers new to his work can start with any book.   For more information, visit: www.bradthor.com.
The episode can be watched [