By Anthony Brancaleone
On this day, photographer J.L. Cappella and I were scouting locations for this issue's fashion editorial. We were hungry, and suddenly found ourselves on Detroit's east side alongside Rose's Fine Food. Fortunately, we hit that rare time of day when the diner was not too busy.
We took a two-top, and were greeted soon enough by a friendly server. We ordered coffee and hot tea, and our server returned with both in vintage coffee and tea service. The reclaimed wooden tables, with vintage inspired interior, is something I never tire from at Rose's. In fact, the space seems to be getting better after a few years of authentic use.
My father was born and raised in a house his grandfather built just down the street on Meldrum. I like to imagine him walking to this diner for coffee and a piece of pie. No doubt, Owners Molly Mitchell & Lucy Carnaghi, who named Rose's after their grandmother, a woman responsible for teaching the cousins how to cook and garden, had this sense of neighborhood in mind when they developed the diner. And, it shows. We sensed deep pride and commitment in the work of the entire crew.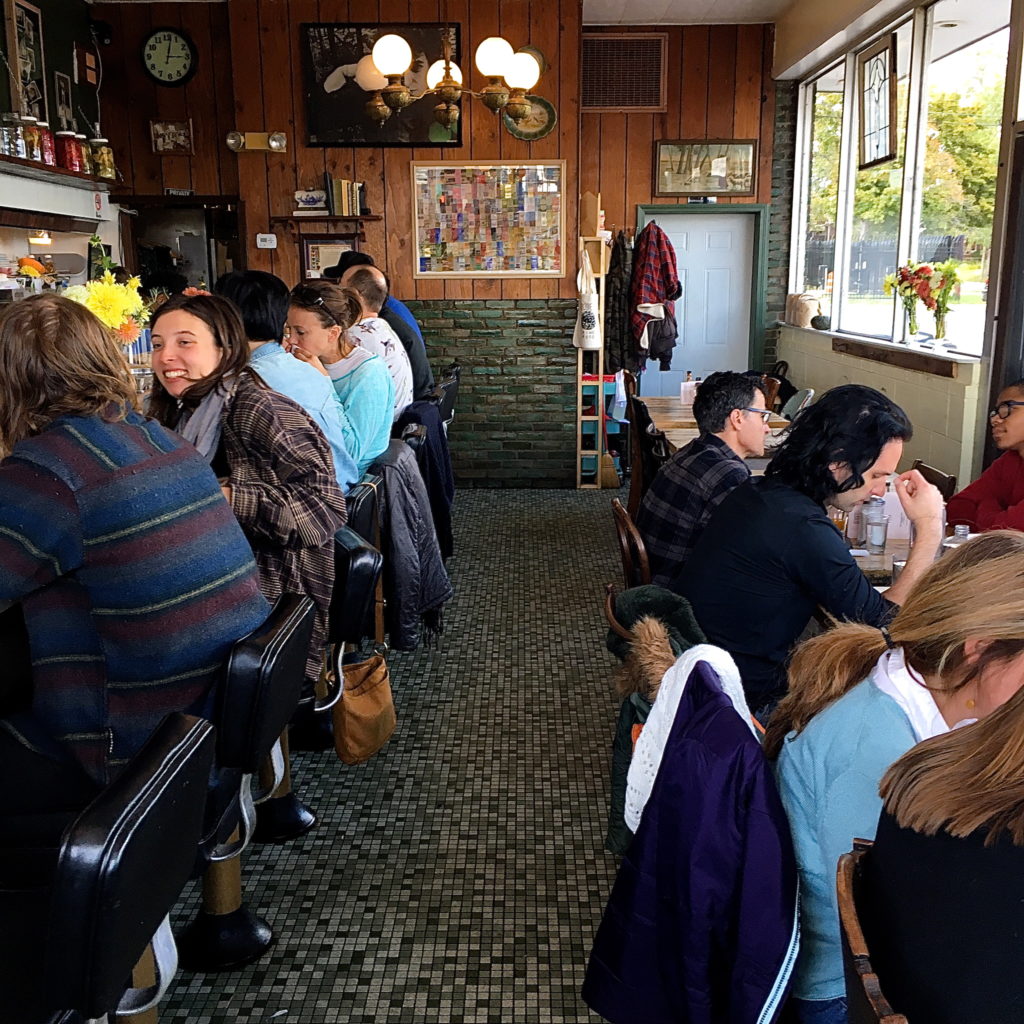 Ms. Cappella ordered the Poodle Platter; 2 poached eggs over garlicky greens, with spiced potatoes, and slice of toast luxuriously dressed with house ricotta and jam ($11). I had a short stack of Grandpa Richard's Pancakes ($3.75), served with real Michigan Maple Syrup, and a side of Applewood Smoked Bacon ($3.75). Apparently, grandpa Richard not only knew how to make pancakes, thin, crispy, buttery, with the right amount of "fluff", but was also a Detroit police officer.
While my meal was exactly what I was looking for, I must say that my companion felt her breakfast fell a little short. Something about the meal not being cohesive, with each element standing on its own, though not necessarily complimenting each other. Also, her food arrived luke warm. That said, I can attest to the fact that my companion was a member of the clean plate club, having left nothing behind.
While these things sometimes happen, it has been my personal experience that Rose's Fine Food consistently delivers a flavorful, and satisfying meal. The restaurant's ambitious menu and neighborhood feel are reason enough for those who have not done so to give Rose's their business.
A word on tipping: Rose's policy has changed since it first opened its doors. Offering their staff a "livable wage", Rose's once asked diners to refrain from tipping wait staff. They now, however, "happily accept gratuities for great service and food", evenly distributing it between the front and back of the house. This change in policy has caused confusion among those I have spoken with. My suggestion is to visit Rose's website and read the policy for yourself. It is also printed on the menu. Interpretation is yours.
10551 East Jefferson Ave Detroit MI | 313. 309. 7947 | www.rosesfinefood.com