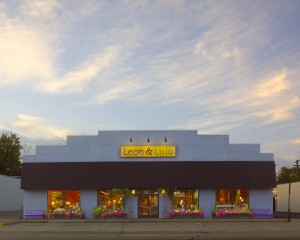 Business
'QUEEN OF QUITE A LOT'
By Gay Paris
Recognition for Leon & Lulu's support of local nonprofits was deemed worthy of a special award at the 59th Annual Retailer Excellence Awards in New York City.
Mary Liz Curtin, co-owner of Leon & Lulu, a home furnishings, gift and accessories boutique was present to accept a Special Award for Service to the Community, a surprise category created especially to recognize Leon & Lulu's achievement of hosting 65 in-store events in 2009, the majority of which supported local nonprofits.
Hosted by Caroline Kennedy, Editor-in-Chief of Gifts & Decorative Accessories, at The Lighthouse at Chelsea Piers, the event attracted hundreds of industry leaders from around the country, who were in town to attend the New York International Gift Fair.
During the ceremony, Caroline Kennedy announced, "as an additional, surprise category, the judges voted unanimously to honor Leon & Lulu for an achievement that surpasses the type of community outreach attempted by most retailers." Kennedy added, in a bow to Mary Liz' personality and approach to business, "the judges also decided to crown Mary Liz "Queen of Quite a Lot".
"I encourage other retailers to support local charities any way they can. It makes you feel great, broadens your reach and every charity needs as many friends in the business community as possible." Explained Mary Liz, after accepting the award.
As a shopkeeper, Mary Liz Curtin has focused on the entrepreneurial work of being an independent retailer and small-business owner. Curtin's approach is to "maintain a sense of humor at all times" – good economy or bad – but she is "seriously serious" about business.
Mary Liz and her husband refurbished an historic roller rink in Clawson, Mi., 2006, and opened Leon & Lulu, a 15,000 square foot home furnishings and gift destination. The business was profitable in its fourth month and has been profitable every year since.
Born in Chicago, to an interior designer mom – and owner of two accessory stores,  Mary Liz claims, "I learned how to walk at the Merchandise Mart".  Her parents moved the family to Santa Barbara when she was eight and her first retail job arrived at the age of 16, working for Judy Patterson, "an extremely talented merchant" and someone to whom Mary Liz would dedicate her first book, "A Shopkeeper's Manual".
A 35-year, retail-industry expert, and four-year ebay consultant, Mary Liz travels around the world, leading workshops and seminars, speaking on being a creative and profitable small-business owner.  She is also a columnist of the popular "Penny Pinching Retailer" and author, with a forthcoming follow-up to her successful debut.
Gay Paris is on assignment in the Big Apple, covering all things fashionable, before returning home to Detroit in time for the theatre season.