"The first aspect is the taste, ingredient quality, technique and presentation of the food in a fun, new and memorable way. All these elements must be present before creating a new dish, the creative workshop proposes the dishes under my guidance and direction. I challenge my team and together we create. Then I curate the dishes that produce emotion via our five senses, and an optimal result are integrated into the menu. It is about using global trends but grounded in the local, always with creativity and innovation in the use of ingredients.
Chef Juan Manuel Barrientos original Elcielo restaurants are in Medellín and Bogotá, Colombia. In 2015, however, Chef Barrientos opened Elcielo in Miami, FL. – a city he felt was special, with a true blend of all Hispanic and Latin cultures he believed would appreciate his innovative twist on Colombian cuisine.
Five years later, Chef Barrientos opened in the Union Market District of Washington D.C., where he was soon awarded his first Michelin star. The first, in fact, for a Colombian restaurant abroad. Barrientos has been repeatedly awarded the Michelin star for his D.C location and now is the first in Florida to receive that honor.
Combining a variety of sensory experiences with one-of-a-kind flavors and textures, Barrientos, affectionately known as 'Juanma', has revolutionized traditional Colombian cuisine by combining avant-garde cooking techniques with his passion for neurosciences. Having trained under world-renowned chefs including Spain's Juan Mari Arzak, Juanma employs classical training with modern techniques.
"Aside from Arzark's incredible cooking techniques, I learned how I can be the owner and operator of a fine dining restaurant," says Juanma. "I now understand how all aspects of a restaurant run from the most simple to the most important. I realized that I too can open my own fine dining restaurant that offers modern Colombian cuisine with an avant-garde elevated twist– this was my biggest dream."
Juanma's biggest dream now overlooks the Miami River at the confluence of downtown Miami and a rapidly expanding Brickell district, creating a unique dining atmosphere. A stunning open kitchen greets diners as they enter Elcielo (translated from Spanish as 'Heaven'); offering a chance to see an international team creating Barrientos' culinary vision. Passing through to the main dining room, a fully stocked wine cellar complements the illuminated bar, from which signature cocktails are created to accompany each menu that changes every season with innovative new dishes that are a tribute to Colombian cuisine.
Chef Juanma and the restaurant's hospitality team have designed a distinct and carefully crafted journey that taps into all five senses, with the desire of delivering food and ambiance that transports their guests to the beautiful beaches of Cartagena and the mysterious corners of the Amazon jungle – The Experience, a 21-course artful menu boasts surprising sensory moments throughout the course of an evening.
At the time of this writing the menu includes magnificent pieces of edible art; ceviche con frutos Colimbianos, Blood Sausage Macaron, Cherry Blossom, the mysterious Tree of Life, and the playful Lobster Hot Dog.
"We don't serve simple food…" ~ Chef Barrientos
While it is certainly the chef's approach to food that has earned his reputation, Juanma is careful to cite that a large part of his restaurant's success is attributed to the relationship between the back and front of the house.
"We try that the BOH and the FOH teams work hand in hand," says Juanma. "This is because we don't serve simple food; we offer elevated and innovative experiences to our guests, so we need to always implement integral service from the moment they make the booking until they finish their dinner."
Designed by Chef and his family, the intimate 45-seat dining room combines elements that represent the Colombian soul – the same essence present in the Elcielo restaurants of Washington DC, Bogotá and Medellín – along with tropical elements of coastal Miami.
Bathed in a variety of textures, the dining room features handmade furniture crafted from imported Colombian wood and leather, as well as decor that recalls the various travels through which Barrientos has honed his craft.
Elcielo has always been a family first business, with the chef's parents and sisters holding directive positions. And, after years of working together in the industry Juanma has come to discover the most important elements in running successful restaurants.
"Commitment, discipline and patience in financial administration. Passion, creativity and dedication in the creation of what we offer," says the chef. "I went bankrupt three times, and in hindsight I can see that despite the difficult times today, we learned from our mistakes and now have put the Colombian cuisine at the top of gastronomy worldwide." 
As a child, Juanma's favorite dish was his grandmother's carrot soup. He holds many fond memories of that dish, which gave him such pleasure. Once he became a chef, Juanma incorporated his grandmother's soup into Elcielo's menu, but with a few additions.
"I added guava, cardamom, curry and other flavors and smells that reminded me of my childhood," he says. "I named it 'grandmother's soup', and people still remember it and order it at all of my restaurants."
Recognized three consecutive times as the youngest chef in "Latin America's 50 Best", Juanma also made "The World's Best Chef" in 2016. It has been a great deal of work, fueled by his desire to produce food at the highest level. But, there must be more to it than natural ability and hard work. Many talented chefs do not reach these heights. Is there a secret ingredient?
"Love, passion and excellence," Juanma says. "Verification is the key to success, I learned it from my father, and I always apply it."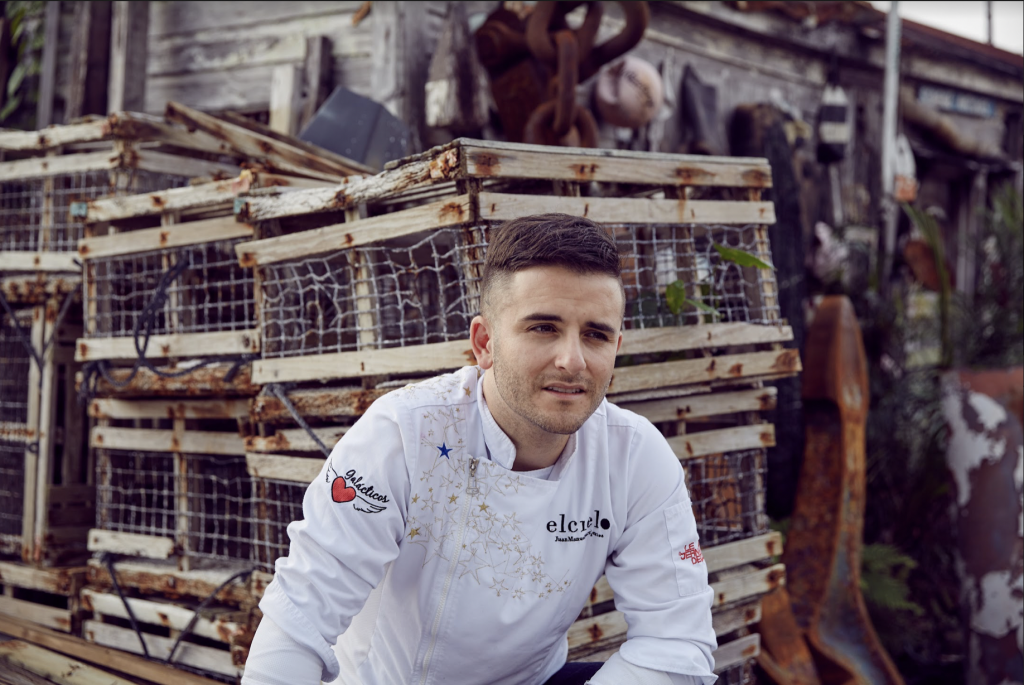 What does a chef do on his day off?
"Family is most important," says Juanma. When he is not working he enjoys sharing with family and friends, cooking as a family. He loves to travel, he really likes the sea, sailing and sports. But, Juanma  also enjoys an afternoon of Netflix, "chilling" with his girlfriend or with his daughter, Azul. "I really never stop working, that's the good thing about working as a family; that when we rest, they don't stop my creativity or moments of inspiration."
As mentioned earlier, Miami is a special town, where the chef also "loves a good outing with friends". He cites Bodega's Tacos among his favorite local street foods and he enjoys an evening of cocktails at The Broken Shaker. Then, there is "Wine Night" and live music at Lagniappe . But, the chef most strongly suggests the Cacio e Pepe pasta at Sappore di Mare in Coconut Grove.
So, as we can see, Juanma is living the Chef life to its fullest.
Miami is a hot town, a sexy town, filled with bikinis and latin rythyms, poolside cocktails and yachts, and now it's also a global culinary destination. As Michelin typically reviews cities like Paris, New York and Singapore, which are renowned for their culinary scene, Miami's recognition as an important food town only adds to its fiery mystique.