RONIN 
This intimate candlelit Asian restaurant, located in Downtown Royal Oak, took a huge chance on a difficult corner, transforming its space into a posh locale for lovers of sushi, sashimi, and sake. Dark and mysterious, with sophisticated mien, Ronin offers yellow tail, salmon row, tuna tartar and an abundance of rolls. Kitchen menu includes #1 Ahi Tuna Sliders, Diver Scallop w/ Black Rice Risotto and playful sides; waffle fries and wasabi whipped potatoes. Martinis, Sakitinis, and flamboyant cocktails – Lychee Fizz, Stingray, Ronin Mojito – are served to properly attired patrons in the cozy main floor bar, while insiders steal away for second floor rendezvous' hidden behind velvet rope.
326 West Fourth Street, Royal Oak, Mi. 248.546.0888 
Slows Bar-B-Q
Make no mistake about it; Slows Bar-B-Q is Detroit, inside and out. The owners spared no expense refurbishing the building – utilizing gorgeous woods, restored brick, coppers, tiles, with warm amber hues – and in doing so became the first in reclaiming a neighborhood lost to time. Offering BBQ from several regions, Slows is a meat lovers dream; Two kinds of ribs, brisket, chicken and pork, with all the classic sides, and an array of wet sauce to please even the most mercurial. The bar is wonderfully stocked with top shelf Bourbons and whiskey, exotic brews and ales, and is tended by area artists and musicians, who genuinely care about their city. For authentic Detroit character, hit Slows.
2138 Michigan Ave. Detroit Mi. 313. 962. 9828
COMO'S RESTAURANT
Located on the corner of Woodward and nine, Como's is the perfect place for cocktails with friends or business associates. Always the most festive during the holidays – with a fabulous display of interior and exterior lighting, Christmas trees and decorations – this very hip establishment has been doing it since 1961, and is a favourite among those plugged into the Woodward corridor. Two main dining rooms service families, couples and groups interested in full entrées – or some seriously good pizza – while the happy hour crowd, and after hour set, step in for lively conversation and top shelf cocktails, along Como's beautifully back lit marble bar. Service can't be beat and owner, Sicilia, is everyone's fav. Gay and lesbian friendly, private parties, Monday night football, it's almost impossible to have something for everyone, but Como's tastefully succeeds.
22812 Woodward Ave., Ferndale, Mi. 248.548.5005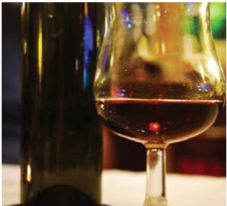 Mario's Restaurant
Since 1948, Mario's has provided traditional Italian fare in an elegant atmosphere, remaining one of the last true supper clubs in the area. Unpretentious and old school, in a birth of the cool, just like in the movies, kind of way, Mario's isn't so much 'retro' as it is 'real'. Tableside cooking, good service and an extensive wine list are what Mario's is known for. Try the Steak Diane, flamed in cognac, simmered in brown sauce w/ Dijon or Tournedos Royal, medallions of beef tenderloin, sautéed w/ capers, anchovy and sherry, then flamed in cognac. Close to the theatre district, Mario's is a great place to dine before or after a show. Ballroom dancing on weekends, valet parking and shuttles offered to select locations. Entrees from $18-$30.
4222 Second Avenue Detroit Mi. 48201 (313). 832. 1616