A Glimpse into Detroit's More Interesting Drinking Establishments
By Anthony Brancaleone
THE TOWN PUMP TAVERN | Detroit
It's just past noon, top of the week, and the city feels filled with opportunity. Inside its buildings, Detroit is fast at work reinventing its way to new heights. The streets are humming with activity, construction teams building, refurbishing, tearing down, pushing forward, working indiscriminately against its past.
What will and will not be in five years is anyone's guess.
Architect, Albert Kahn designed the Park Avenue House, which began as an upscale, boutique hotel in 1923, and now houses transplants from parts unknown. Detroit is their city, too. The historic structure is also home to the Town Pump Tavern, established 1996, when things in the area were not as promising.
I park in front and step inside. Owner, Sean Harrington sits at the far side of the oak bar, simultaneously chatting with a customer, the bartender, and wrapping some business with a deliveryman. He sees me, and waves me over. For the next three hours we sip Grand Marnier, telling tales of battles lost, and those yet to be won.
100 W. Montcalm, Detroit | 313. 961. 1929 www.thetownpumptavern.com
Happy Hour
VALENTINE TASTING ROOM | Ferndale
Happy 2 Hours (In Fact)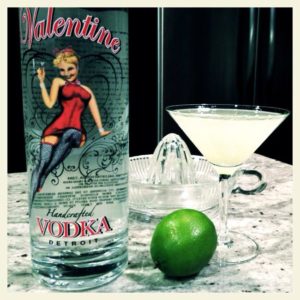 Full Disclosure: Valentine Distilling Company is a sponsor and friend of The Metropolitan. But, that doesn't mean I can't drink there. Actually, it means I drink there more often than I should. Usually, I find myself meeting clients, or writers, or photographers, or designers for Happy Hour. What makes Valentine special is that their Happy Hour is actually two Happy Hours long.
That's right: between 4:30pm – 6:30pm, Tuesday through Friday, Valentine offers Standard Handcraft Cocktails – Gin & Tonic, Vodka & Tonic, White Blossom & Fresh Juice etc – for $4. Step up to Liberator Gin, or Old Tom Bourbon Barrel Aged Gin, for $5. And, fans of Valentine Whiskey, like me, can enjoy one of the world's smoothest spirits for $6.
Even with all the new bars and restaurants popping up, Valentine is still among the finer rooms. Great atmosphere, with an interesting clientele, I find it difficult to not stop in whenever I'm passing through town.
Is that so wrong?
161 Vester Ave, Ferndale | (248). 629. 9951