By Anthony Brancaleone
WRIGHT & COMPANY | DETROIT
Although, its website states Wright & Company is a "gathering place" that serves small plates, contemporary American cocktails, and international beer and wine, I prefer to enter this downtown establishment, located in the Wright-Kay Building, 1891, all by my lonesome. While there are many tables to choose from during the appointed hour, I usually select a stool at the bar. Once seated, I am quickly greeted by one of the city's more professional bartenders.
"Good afternoon," he might say. "What will it be?"
Usually, I am in the mood for Bourbon, while I sit and look deep into the painting that hangs just above the bar, a tempestuous canvas of an 18th century sailing vessel, holding its own against stormy seas, by artist Michelle Tanguay.
"Pemberton's Old Fashioned," I might reply; or, the "Wright Manhattan," if I am so inclined. "In the mood to make a Sidecar?" I might also ask.
Moments later, and I am presented with an ephemeral piece of art. I take a sip, feel the slight sting of adulthood, and swallow. Voices around me discuss their days in the office; loans that were made, deals that were struck. But, I just stare into the depths of that ship, fighting its way through the storm.
Wright & Company | 1500 Woodward Avenue, Floor 2, Detroit | (313). 962. 7711
---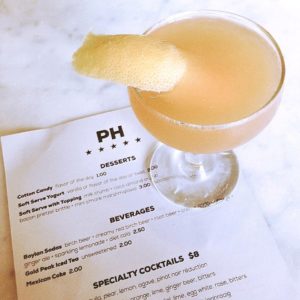 PUBLIC HOUSE | FERNDALE
Stop in here fairly regularly to take afternoon meetings, or to meet with friends for Happy Hour, or last call. More often than not, I order the Old Fashioned. It's clearly a "thing" in Detroit, but I've been drinking them forever, and I'm probably older than you, so I remember a day when they were hard to find.
Drink 'em if you got 'em.
Co-owners, Perry LaVoisne & Jeff King also remember a day when specialty cocktails were not prerequisite for those about to drink, which is one reason Public House stands with the elite drinking establishments in metropolitan Detroit. Another would be their crew of proficient bartenders, impeccable interior design, and an endless selection of classic vinyl spinning on vintage turntable.
On my last visit, our party listened to side one of David Bowie-Aladdin Sane, followed by side two of Violent Femmes self-titled album, followed by side two of Pixies – Surfer Rosa. I've also sat one on one with friend, dj Todd Modes, at the bar discussing film and music, with Queen's Sheer Heart Attack, and Iggy and the Stooges inspiring our conversation. I swear if my woman ever leaves me I'm bringing Sinatra's, In The Wee Small Hours, and closing that place down.
241 W. Nine Mile Rd | (248). 850. 7420 or find PH on FB