By Joe Neussendorfer, Aff.M.ASCE, ESD
Architects give the affects of "shadow" great consideration in their art of designing buildings. There are other shadows not associated with light and dark that cast immense impressions in the built environment. In Detroit, one such significant shadow that is observed every day in his great works and is not commonly known by denizens and visitors is the prolific Italian-American architectural sculptor, Corrado Giuseppe Parducci.
His handiwork is part of our city's major, historical buildings in the form of stone, bronze, marble, terra cotta and other sculptural art media. For more than fifty years he made the models for the architectural ornamentation on the Motor City's office buildings, homes, banks, churches, and other structures, and worked with many of the leaders of the Detroit architectural profession. He accomplished commissioned work for Smith Hinchman & Grylls, Albert Kahn, Diehl & Diehl, Donaldson & Meier, George D. Mason and others.
Often referred to as "Joe" Parducci, he was born March 10, 1900 in Buti, Italy and immigrated to New York City in 1904. While in New York City, he was apprenticed to the studio of Anthony DiLorenzo, who did considerable work for Smith Hinchman & Grylls, and Albert Kahn in Detroit. The studio's work increased to the point where Mr. Parducci was dispatched to Detroit in 1924 to manage a branch of the DiLorenzo studio, however, ten months later he established his own studio. By 1927, Parducci's new studio was located at Tenth and Abbott Streets, Detroit. By 1948, he had outgrown his studio and built a new one at 141 Sibley (since demolished). These were the years of great industrial wealth in Detroit. The automobile and business barons were building elaborate estates. Parducci's talent was incorporated into such residences as the Fisher Brothers, Edsel Ford and Jams Couzens. One of his masterpieces is the molded plaster ceiling in the dining room of Meadowbrook Hall, the residence of Mr. and Mrs. Alfred G. Wilson (Matilda Dodge).
Constructing all of the model-making materials resulted in a vast accumulation of such in his studio. It is reported that when he moved to his studio on Sibley, he paid $600 to have the "junk models" hauled away as trash. Think about all of those historical artifacts ending up in a trash heap! The list of Detroit buildings containing Parducci's art is seemingly endless. Among the Detroit buildings with his "shadows" are Buhl Building (1925), The Players (1925), Penobscot Building (1928), David Stott Building (1929), Detroit Masonic Temple (1926), Fisher Building (1929), Guardian Building (1929), Detroit Historical Museum (1951), and Wilson Theater, now Music Hall (1926).
James P. Gallagher, the former historian of the old Smith Hinchman & Grylls architectural firm, said of Parducci, "He is philosophical, and not the least bitter, about the changes in art taste that have made abstraction almost completely dominant over realism, and about the changes in architectural design that has eliminated most applied decoration. He feels that all design is in a constant state of change and that perhaps fifty years from now, people will see more value in styles that are discarded today."
In recognition of his contributions to Detroit architecture, Mr. Parducci was made an Honorary Member of the Detroit Chapter of The American Institute of Architects (AIA) in 1958. He died on November 22, 1981 at the age of 81.
An oral account of his life and work exist in the Archives of American Art at the Smithsonian Institution in Washington, D.C. There is a link to a recording of his actual interview. Fortunately, his personal record has not been lost and we can hear his actual voice from out of the past.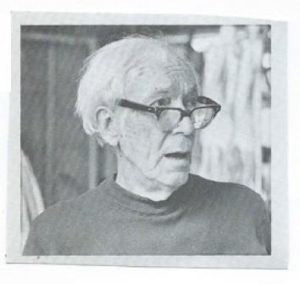 Author Joe Neussendorfer is an Affiliate Member of the American Society of Civil Engineers (ASCE), the Engineering Society of Detroit (ESD), and the Construction History Society of America. He has been writing about Michigan's engineeringarchitecture and construction history the past 40 years. His email is: joseph,[email protected]