– UNTITLED, ART, the international, curated art fair is pleased to announce its list of exhibitors for the eighth edition of UNTITLED, ART Miami Beach, taking place December 4–8, 2019.
A collection of 126 international galleries and nonprofit spaces from 28 countries and 57 cities make up the 2019 roster, carefully selected by Artistic Director and Curator Omar López-Chahoud.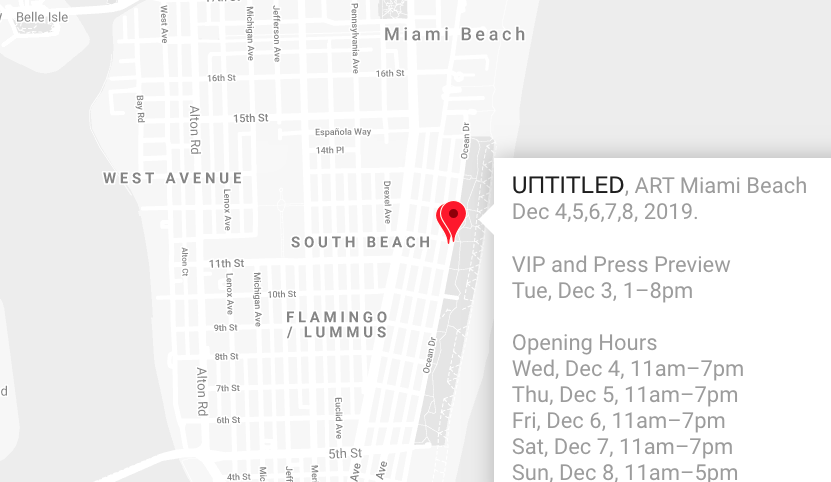 For the eighth Miami Beach outing, UNTITLED, ART will also launch a new Writer in Residence program and announce the latest guest curator. San Francisco-based, independent curator Jordan Stein will select and install a special section within the fair and New York-based art writer Osman Can Yerebakan will inaugurate the Writer in Residence program. With an expanded range of participants, UNTITLED, ART is proud to welcome a growing list of outstanding international exhibitors.
First-time participants include Addis Fine Art (Ethiopia), MAKASIINI CONTEMPORARY (Finland), Patrick Heide Contemporary Art (London), Pintô International (Philippines) and ZidounBossuyt Gallery (Luxembourg).
Selected highlights include Primo Marella Gallery, Milan, presenting Joel Andrianomearisoa, who represented Madagascar at this year's Venice Biennale, and Benrubi Gallery, New York, presenting hundreds of never-before-seen portraits by Tom Bianchi from 1975-1983. Herlizka + Faria, Buenos Aires, will present a selection of conceptual works by Latin American artists including Marta Minujin, who currently has an exhibition at the New Museum.
Yancey Richardson Gallery, New York, will exhibit a group presentation focusing on "the evolution and perception of gender roles and sexual identification," including works by Mickalene Thomas who will have a concurrent solo exhibition at the Bass Museum of Art. The Chicago-based creative group Blackpuffin will collaborate with the collective For Freedoms on "Looks of Freedom," an exhibition and performative visual essay offering a stage to "unpack and repack notions of blackness, brownness, queerness and belonging."
About UNTITLED, ART
UNTITED, ART is an international, curated art fair founded in 2012 that focuses on balance and integrity across all disciplines of contemporary art. UNTITLED, ART innovates the standard fair model by selecting a curatorial team to identify, and curate a selection of galleries, artist-run exhibition spaces, and nonprofit institutions and organizations, in discussion with a site-specific, architecturally designed venue. The eighth edition of UNTITLED, ART Miami Beach will take place December 4–8, 2019 on the beach at Ocean Drive and 12th Street in Miami Beach. The fourth edition of UNTITLED, ART San Francisco will take place January 17–19, 2020 at Pier 35 in San Francisco.