By Alissa Demos
THE PEACOCK ROOM | Midtown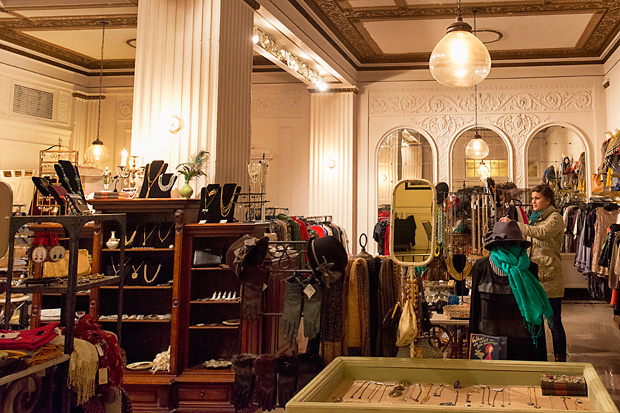 The Peacock Room is an alluring women's boutique located inside the Park Shelton in Midtown. Rachel Lutz, the store's owner, has lived in the city since the late 90's, and worked in luxury sales for 11 years before opening the boutique.
"We are more into the tactile, sensual experience of shopping that used to exist in places like Hudson's and Jacobson's, where people used to really give you attentive service and put an emphasis on dressing a woman, and not just selling something off of a rack," said Lutz.
The Peacock Room carries clothing that cannot be found elsewhere in Michigan. From vintage dresses to jewelry, Lutz seeks out each and every item herself, making one's shopping experience truly one of a kind.
"We've been told by visitors all over the world, including France and Italy, that it's like no place they had ever been. I think the original 1920's setting is a unique context, and I hand pick everything. I see and I feel everything in person before I bring it into the shop," she exclaimed.
Though shoppers abroad visit The Peacock Room, Lutz attracts mostly Detroit clientele, which she describes as her most devoted and appreciative customers. She wants more businesses to realize that Detroit is a wonderful place to open up shop, for she has "the best customers in the world."
"Detroiters really have a strong identity and a strong sense of self, and I think that's why we have such an interesting fashion scene here. The retail community needs to respond to it more," she said.
Lutz says she loves her city and the people in it. She hopes to continue to find women that really want to have a positive shopping experience.
"We want to give Detroiters a high-end experience without high-end prices. We are very fortunate to have some wonderful high-end shops opening, but I really want to see more stores open with accessible price points for everyone, and that's how I modeled my stores," she proclaimed.
In addition, Lutz also owns Frida, a boutique located just two doors down from The Peacock Room. If you are in Midtown looking for an affordable yet delightful shopping experience, support your local shop owner and go check out these incredible boutiques!
15 E. Kirby St. (inside the Park Shelton) | Detroit, MI | (313) 559-5500
---
LEAH'S CLOSET | Royal Oak

Leah's Closet is a dazzling, high-end, museum-like vintage boutique for women located in downtown Royal Oak. The store is owned by Leah Damiani, a former hair stylist with a life-long passion for clothes. While styling hair for many years, Damiani's clients constantly raved about her clothing, encouraging her to go into fashion. And that's just what she did.
"I've always been a big fan of fashion and vintage clothing, and I like styling people," Damiani stated.
Leah's Closet is adorned with chandeliers and clothing displays with some of the most exquisite vintage items one can find. Damiani hand picks every item in her boutique, making it a truly unique shopping experience for fellow fashionistas. She wants people to realize and embrace how much love, time, hard-work, and effort goes into operating an independent store such as Leah's Closet.
"I know there's a lot of thrift stores out there, but I try to separate myself by having more special items than can be found anywhere else," she said.
Damiani offers one-on-one appointments for clients seeking to amp up their wardrobe and receive styling tips. She is more than happy to assist new and returning customers.
Leah's Closet | 722 W. 11 Mile Rd. | Royal Oak, MI | (248) 629-9659