On January 23, Community residents from Macomb, Oakland and Wayne Counties gathered at the tri-county intersection to stand in solidarity against a number of incidents of environmental injustice.
Prompted by a number of environmental incidents including a cocktail of dangerous chemicals spilling onto I-696 in Oakland County, the collapse of a heavily-contaminated site into the Detroit River in Wayne County, and a recent petroleum spill in the Clinton river, residents from all three communities are calling out what they describe as a  systemic problem facing the State of Michigan.
"There are thousands of contaminated sites throughout our state that have yet to be cleaned up," said Lauren Schandevel, Macomb County resident and organizer with We the People of Michigan. "This truly is a systemic problem in our state and our communities are coming together today to demand that our elected officials take immediate action."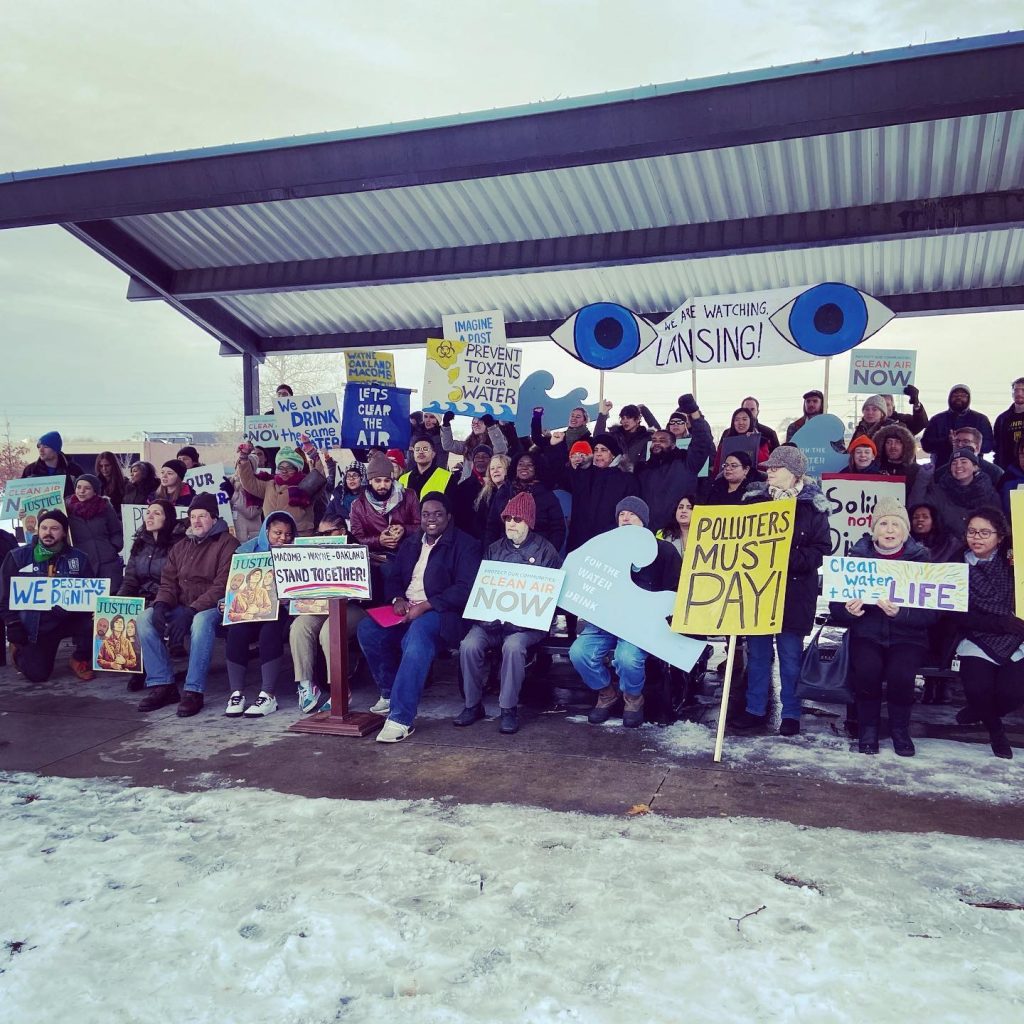 Attendees at the solidarity event took time to build the relationships that they deem essential to fighting what they describe as a crisis.
"This is just the start. For far too long we've been pitted against each other," said Justin Onwenu, Detroit resident and environmental justice organizer with the Sierra Club. "Detroit, Macomb, Oakland, we all have so much more in common than what many choose to acknowledge. We all deserve to live in a healthy environment. We've gathered today to make that a reality."
In Macomb, following the concerns of "green ooze" contamination in Macomb County drainage systems, residents are expressing their frustration.
"A lot of my neighbors in Macomb are shocked with just how serious these environmental incidents are" said Bridget Quinn, a Macomb County resident. "Far too many people think these events don't impact us in Macomb, but they do. I hope that this event allows Macomb County residents to continue to stand with neighbors in Detroit and Oakland to fight for a clean environment for everyone."
In addition to working to build cross county bonds, attendees also called for lawmakers to pass polluter pay legislation that would hold corporate actors responsible for the damage they cause.
"As taxpayers, none of us deserve to get stuck with the bills for cleaning up contamination that we're not responsible for," says Sean Mcberearty, Michigan Legislative and Political Director of Clean Water Action. "The irresponsible actors putting our Great Lakes, families and public health at risk need to pay. Michigan needs strong polluter pay legislation now."
Jamesa Johnson-Greer, Policy Specialist for the Michigan Environmental Justice Coalition also expressed the need for urgent action stating, "From Flint to PFAS to these recent incidents, it's clear Michigan needs to take active steps to protect our communities and the Great Lakes, that starts with polluter pay legislation and corporate polluter accountability."
Residents are confident that this event will spark continued collaboration and dialogue between Macomb, Oakland and Wayne counties. They are hopeful that these relationships and show of solidarity will build enough public pressure for Michigan elected officials to take much needed action.
photographs | Sara Faraj and Justin Onwenu