THEATRE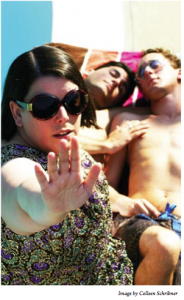 Gay Paris
A contemporary comedy that moves at the speed of lightning, The Little Dog Laughed takes us inside the Hollywood closet as Mitchell Green, an up-and-coming movie star is about to get a break that will catapult him into the stratosphere. His ruthless agent, Diane, would feel a lot better about her client were it not for his persistent case of homosexuality and the fact that he seems to have fallen for Alex, a hunky hustler (who, himself, has a girlfriend!). Pulling out all of the stops, the devilish Diane does everything in her power to keep Mitchell away from Alex and firmly in the closet. Will love prevail before the final credits roll?
Douglas Carter Beane was nominated for a Tony award for writing The Little Dog Laughed and for writing the book for Xanadu The Musical. His other plays include As Bees in Honey Drown and Mr. and Mrs. Fitch. He also wrote the screenplay for To Wong Foo, Thanks for Everything, Julie Newmar.
The Little Dog Laughed features Suzan M. Jacokes (Ferndale) as Diane, Vince Kelley (Roseville) as Mitchell, Matthew Turner Shelton (Grosse Pointe) as Alex, and Crystal Rhoney (Macomb Township) as Ellen. Joe Bailey (Ferndale) will direct.
Tickets for The Little Dog Laughed are $20.00 on Saturday 8PM, $15.00 for Sunday matinees at 3PM. Monday 8PM performances are HALF OFF normal ticket price at $10.00 a ticket. Reservations may be made by phone at 248-545-5545 or online at www.WhoWantsCakeTheatre.com. The box office opens 45 minutes before performances.
There will be NO performance on Saturday, August 21st due to the Dream Cruise. Please note The Little Dog Laughed contains nudity and adult situations.