Emails to the Editor
Fluffy Scrambled eggs
There I was, innocently having breakfast at the Detroit Airport as I waited to go to Philadelphia, when I spied an interesting little newspaper I had never seen before. I devoured it, along with my fluffy scrambled eggs and coffee! Hey! How come it's not at my Westin Hotel in Southfield?! After all, Southfield IS The Center of it All!!!
I look forward to reading more issues of THE METROPOLITAN DETROIT.
Best, Euni Rose
Southfield
_____________________________________________________________________________________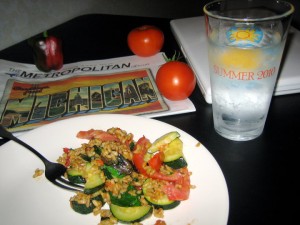 FaceBook Wall Post
Fresh tomatoes and my favorite local publication; the best way to spend a summer evening 🙂
Colleen Badgero
Ferndale, Mi.
______________________________________________________________________________
Isn't Life rich and Grand?
I really liked the feature "Allies in Architecture, the " Pop Up Detroit" slice of life and actually anything about the visual and performing arts. The restaurant features are appreciated. Dirk loved the" River Runs Beneath It" and liked the analogy of the Lions and Ford Motor company. Keep up the good work!!!!
In regards to what is happening in the city, itself – I personally wish there was more contemporary dance and accessible, affordable theatre other than the classics typically featured at the Hilberry. But I know this can be cost prohibitive to produce. What a difference excellent coffee and serving fresh preserves could make!! Isn't life rich and grand?? It's a challenge enjoying it on a shoestring budget, but we try!!!
Cheers!!
Dirk and Marci
Troy, Mi.
______________________________________________________________________________________
Our Crossing Of The Delaware
The shivering men, many of them dressed in rags, kicked snow on the flickering campfires. It was time to cross the Delaware again and to do or die.
The gaunt tall man on his horse knew the risk. It was now or never with his half frozen, hungry men going against elite Hessian troops. He needed more troops. He told Congress that unless he had them; "I think the game will be pretty well up!" Still, he was not willing to give up.
So on they marched, many of them without boots, feet wrapped in rags, leaving bloody footprints in the snow. Instead of the sound of a cheerful crackling fire in the fireplace on this Christmas night, they listened to the howling wind. They leaned into it, snowflakes melting on their faces. They were hoping that the tall man on the horse, the man they loved so much, knew what he was doing. Short of that, they were hoping for a miracle and a miracle they received!
They surprised the Hessians at Trenton who scorned them as "country clowns." They captured 1,918 of them while they lost only two men who froze to death during their march. Suddenly, they could see Liberty's rays in the distance. Fighting went on for nearly five more years, but the torch of victory was lit on that stormy Christmas night.
Their suffering, their blood gave us Liberty. The haunting question is; will we defend it anew? Will we leave our flat-screen televisions, our comfortable living rooms this November and cross our Delaware to meet our own "Hessians?" Will we win the first battle in a long war to regain our Liberty? Will we be willing to reclaim our country? That is the question!
Istvan
St. Ignace, mi.
_____________________________________________________________________________________