In honor of the 2022 Winter Olympics, JARS Cannabis, Michigan's leading lifestyle retailer of affordable and accessible cannabis products, welcomes the first-ever Olympic gold medalist snowboarder and internationally renowned cannabis enthusiast, Ross Rebagliati, to guest judge 40+ skiers and snowboarders at its first annual JARS Rail Jam competition on Saturday, Feb. 26.
Celebrating the intersection of cannabis with extreme sports, the JARS Rail Jam is open to the public with free admission and welcomes all participants and spectators aged 18 years and older to attend.
"JARS Cannabis is all about creating experiential moments and events that touch upon consumer passion points," says JARS Cannabis Marketing Director, Stefanie Michels, who is a former sports marketing specialist from Red Bull. "Cannabis and snowboarding have always been linked. They were both born from the counterculture, and today, both have gone mainstream. That's what our JARS Rail Jam is about – celebrating cultural progress and human achievement."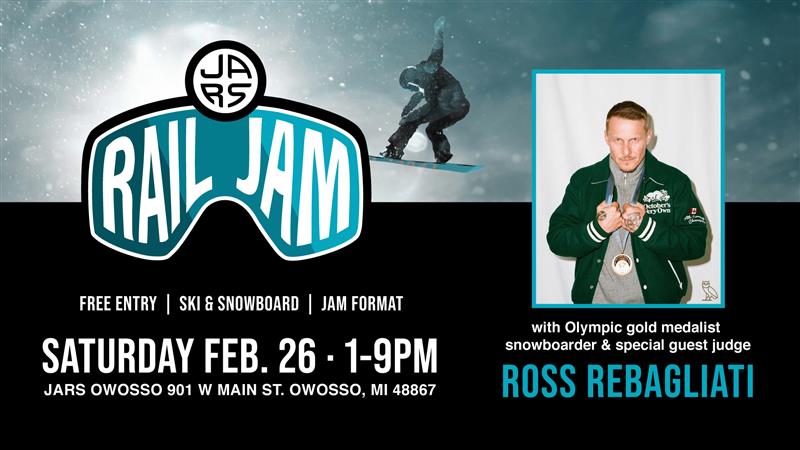 When snowboarding debuted on the Olympic stage in 1998, it was rocked with controversy when the first gold medalist in the sport, Ross Rebagliati, tested positive for cannabis. While he was able to ultimately keep his medal, Rebagliati suffered becoming the bud of late-night talk show joke, earned a front row seat on the international no-fly list, and lost lucrative opportunities to secure corporate sponsorships.
"While I'm a victim of the failed war on drugs, I'm no longer the outlaw on the mountain.  I'm finally reclaiming my sports and cannabis legacy," explains Olympic snowboarder and outspoken cannabis advocate, Ross Rebagliati. "I really applaud JARS for being one of the first cannabis companies to openly embrace the relationship between sports and cannabis. Far from being a "performance enhancer" in the traditional sense of the phrase, cannabis helps athletes with performance anxiety, muscle recovery, and focus, among other things. It's beautiful to see companies like JARS acknowledge that. Together, we're slowly changing the course of history."
In addition to enjoying the day's competition, customers 21+ years of age with valid ID will have the opportunity to purchase products inside the adjacent JARS Owosso retail store as well as consume within Michigan's first private and licensed cannabis "consumption lounge on wheels," CannaBus Detroit.
Giveaways and brand sponsor promotions will be offered in-store at JARS Owosso on the day of the event. In collaboration with the Olympic gold medalist snowboarder, Ross Rebagliati, JARS Cannabis is proud to announce that it will be donating metal course rails along with a cash donation to Owosso's local skate park, Grove Holman Park, following the event.
WHEN
Saturday, February 26, 2022         1– 9 PM
Registration & Open Ride 1 – 3 PM
Competition                         3 – 7 PM
Awards Ceremony               7 – 9 PM
WHERE
JARS Cannabis Owosso
901 W Main St. Owosso, MI 48867
WHO
JARS Cannabis
JARS Cannabis is a multi-state operating cannabis brand and retailer spearheading the medical and recreational cannabis markets in Michigan and Arizona. Establishing operations in 2020, JARS Cannabis is headquartered in Troy, Michigan, and has grown to collectively operate 14 storefronts across the US. Community-focused, JARS Cannabis is committed to providing the highest quality of products, with the widest variety of options, at prices people can afford, ensuring the integration of cannabis into any lifestyle is both easy and accessible. For more information, visit www.jarscannabis.com.
Special Guests
Ross Rebagliati
Ross Rebagliati is a Canadian Olympian who won the first ever gold medal in snowboarding at the 1998 Nagano Olympics in Japan. After testing positive for trace amounts of cannabis in his system, the International Olympic Committee (IOC) attempted to take his medal away, citing that it was "a performance enhancing drug," only to have it returned 3 days later, on the basis that cannabis was not on the list of banned substances. Since then, Ross has been an outspoken advocate for the use of cannabis, educating the public on why cannabis can be part of a healthy lifestyle. Over the years, Ross has been involved in several real-estate projects, he is an author, and was nominated as Liberal Candidate for the Okanagan/Coquihalla riding in 2009. In 2013, Ross launched his cannabis brand, Ross'Gold. Most recently, Ross has partnered with Apex Mountain, coaching freestyle camps for both skiing and snowboarding. Ross is a sports and Wellness enthusiast, family man, coffee connoisseur, and animal lover. He now lives in Naramata, BC with his wife and kids.
Rick Wershe Jr., (aka "White Boy Rick")
After serving over thirty-two years for non-violent drug offenses allegedly committed while he was a minor, Rick Wershe Jr., aka "White Boy Rick," is the longest-serving nonviolent juvenile offender in Michigan history. Upon his release in July of 2020, Mr. Wershe partnered with Pleasantrees Cannabis Company to launch his official cannabis brand, "The 8th."
CannaBus Detroit
Operated by co-founders Renette Jackson and Shannon Patterson, the CannaBus Detroit encourages you to join the crowd and take The High Road. Also known as Michigan's first private and licensed cannabis consumption lounge on wheels, the CannaBus Detroit will take your brand to a new HIGH.
Local vendors
Owosso Cookie Company
Co-founded by Alicia and Paul Kleeman, Owosso Cookie Company is a dessert and bakery shop located in the heart of downtown Owosso. Offering sweet treats that range from edible cookie dough to frozen yogurt, and cookies of all kinds, Owosso Cookie Company is sure to satisfy any JARS Rail Jam athlete or attendee's sweet tooth.
Bastianelli Italian Mercato
Operated by co-owners Zach Bastianelli and LaRissia Byrd, Bastianelli Italian Mercato serves fresh, authentic Italian food across Genesee County on a renovated food bus that is brightly painted in green, white, and red colors. Offering meatball and Italian subs, lasagna, homemade spaghetti with meatballs, and Italian-inspired desserts, the Bastianelli Italian Mercato food bus is dedicated to sourcing all its food products and ingredients used from Michigan-based businesses.
DJ Chewy
DJ Chewy is an award-winning wedding DJ, entertainment, and event production company based in Owosso, Michigan. Casey Lambert started mixing records more than 10 years ago and quickly developed a passion for music. DJ Chewy blends a mix of styles ranging from country and oldies to pop and top 40 hits that results in a fun soundtrack designed to keep everyone on the dance floor.
Brand sponsors:
HYMAN 
Where luxury and lifestyle collide with craft cannabis like never. The name had originated from a place of high elevation with even higher expectations. By integrating culture and diversity into cannabis, we are empowering patients by providing the knowledge and experience that cultivates the opportunity to integrate craft cannabis products into their lives. Extraordinary smoke, destined to inspire.
Chill Medicated
Chill Medicated is dedicated to Creating Better Days! Our topicals & syrup tinctures are made with care and created with purpose. Our focus is strictly centered around providing the world with exceptional products, at an affordable price. We tirelessly strive to bridge the gap of inconsistency and availability within the cannabis industry, as you deserve the best.  
Covert Cups
At Covert Cups, our team believes in crafting quality products that exceed the industry standard by sourcing premium ingredients in Michigan. Our chocolate cups are sensibly sized, purposefully potent and crafted with care. We aim to create an unparalleled experience as Covert Cups are made to not only taste great, but to do so while creating a unique, enjoyable, and safe user experience unlike any other on the edible market – the Covert way. 
Rove
ROVE is now LIVE in Michigan with our Black Box cartridges and new Premier cartridge line – a step into the future of genetics. We hand pick exotics from all around the world, creating limited strain runs and extract the freshest of terpenes at harvest, giving you tomorrow's cannabis today. 
The 8th
The 8th is a cannabis brand partnership between Rick Wershe Jr., (a.k.a. "White Boy Rick") and Pleasantrees Cannabis Company, referencing the 8th Amendment of the U.S. Constitution, which prohibits the "cruel and unusual" punishment of criminal defendants.  The purpose of the brand is to raise awareness and encourage citizens to advocate for their rights; accordingly, Mr. Wershe and Pleasantrees will dedicate a substantial portion of sales proceeds toward the release of wrongfully or excessively imprisoned drug offenders.
Element 
Element brand Cartridges, Concentrates, and Infused Pre-Rolls are created from Premium Flower with an unrelenting focus on delivering the full-spectrum experience, just as nature intended. At Element, it really is all about the Terps – Fire In, Fire Out.
True North Collective
Find your True North with our collective of premium craft products. True North has become experts in cultivating quality craft cannabis products and good vibes since 2019. From concentrates to edibles, flower, pre-rolls, and cartridges our family is honored to have the opportunity to serve your family with the thoughtfully crafted, quality products they deserve. #From Michigan, For Michigan.
Select
It all started with a better cartridge. The story of Select started with a cough, which led to a thought, which led to a better cartridge. Since day one our focus has been on product safety, and we've risen above because of our commitment to setting standards around pesticide, hardware, and oil testing.
CYP
CYP delivers the highest quality pharmaceutical grade nano in Michigan. Get a better high, faster, for less.