FILM
CINEMA DETROIT | Midtown
Blue Velvet
30th Anniversary Restoration
Friday, May 13
Park Circus Films and MGM Studios have stunningly restored David Lynch's sensual mystery thriller about strange happenings in a small all-American town.
College student (Kyle MacLachlan) stumbles across a bizarre mystery and wants to know more, perhaps too much more. The oblique world he's found lurking beneath his hometown's picture-postcard veneer is about to become violently stranger. Also starring Isabella Rossellini, Laura Dern, Dean Stockwell, and the inimitable Dennis Hopper.
Dying of the Light
Friday, May 20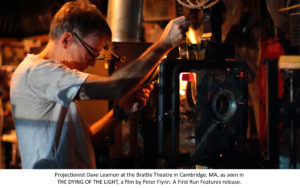 Dying of the Light explores the history and craft of motion picture presentation through the lives and stories of the last generation of career projectionists. By turns humorous and melancholic, their candid reflections on life in the booth reveal a world that has largely gone unnoticed and is now at an end. The result is a loving tribute to the art and romance of the movies—and to the unseen people who brought the light to our screens.
Trip Metal Fest
Saturday, May 28 – Two shows only – 7:00 and 9:00 p.m.
"Trip metal aims to capitalize on confusion as a means of connection, rather than a threat to authenticity. It is not really any one idea — it is every idea at once. This concept is similar to noise. Noise is every frequency at once, and by filtering, you can in theory make any sound possible. Trip metal can be used as carrier signal that modulates and decodes life in the same [way] a ring modulator multiplies two signals and typically creates a bell tone."
Cinema Detroit | 4126 Third Street, Detroit 48201 • www.cinemadetroit.com
MAIN ART THEATRE | Royal Oak
Thurs May 26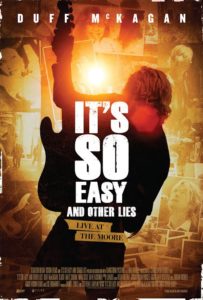 It's So Easy and Other Lies is the authorized documentary that takes the audience on an incredible cinematic journey from a driven Seattle teenager's meager beginnings to the Rock and Roll Hall of Fame. The man is Michael McKagan, better known to the world as "Duff." The band is Guns N' Roses. The band became the ultimate icons of sex, drugs and rock and roll, causing pandemonium in their wake, but the lifestyle caught up with Duff, leaving him close to death. Duff provides a voice that is as honest as it is indelibly his own as he takes viewers on his harrowing journey through the dark heart of one of the most notorious bands in rock and roll history and out the other side.