"As far back as I can remember…", I've always been into mob crime history (Cue 'Rags to Riches' by Romeo Santos and Tony Bennett). Not quite sure when my criminal world fascination started, but certainly seeing Brian De Palma's Scarface (1983) – at thirteen years old – along with the proliferation of true crime novels by writers like Nicholas Pileggi (Goodfellas, Casino) and TV journalism shows of the late 80s/90s, such as cable stalwart Bill Kurtis' exposés and CBS' 48 Hours, had something to do with it.
The release of films Goodfellas (1990), State of Grace (1990), and noted true crime books and docs, provided historical timelines and information of familiar Mafia families in New York, as well as their ties to other crime families and American cities – Philadelphia, New Jersey, Los Angeles, Chicago, Detroit – that helped to form my foundation on Mob history and lore.
Part of the fascination is that my world feels so far removed from these criminal elements. Yet, the subculture is ever present within our everyday working-class society, an underworld percolating just beneath the surface. Which, brings us to Fear City: New York vs The Mafia. – a 3 episode Netflix original docuseries (Released July 22, 2020) that should be of interest, if not a 'must-see', for any true crime/Mob aficionado.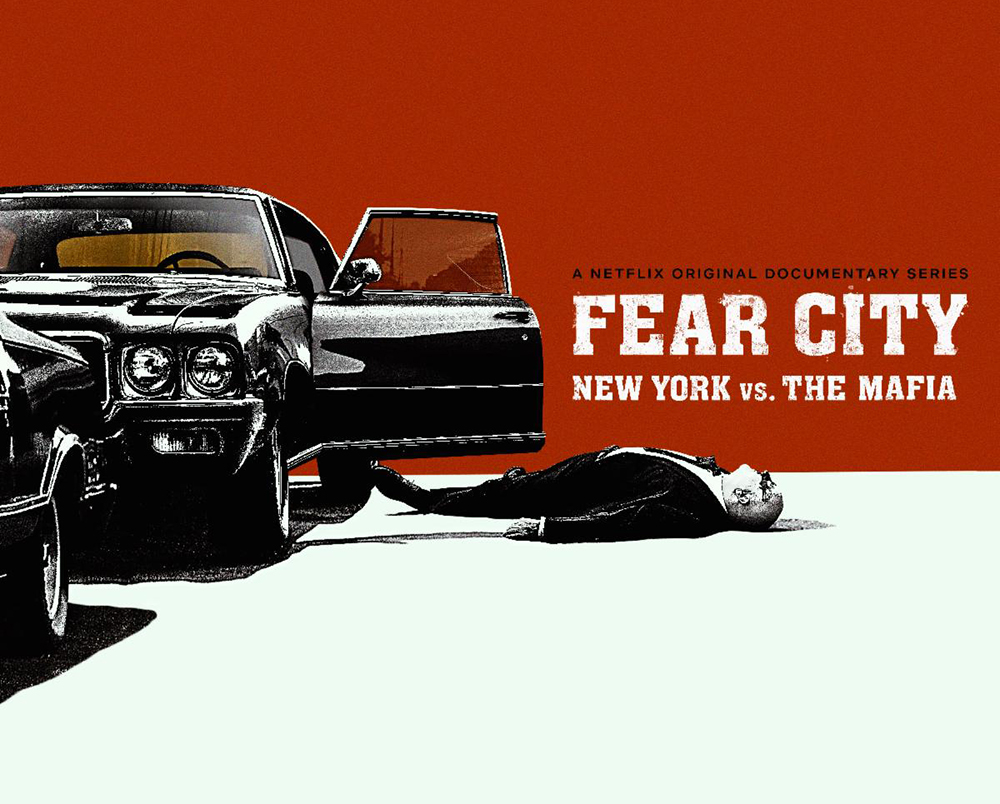 "I never heard so many creative uses of the F-word used in my life."
Fear City reveals how through the 1970s, 80s, and 90s, the Mafia infiltrated and aligned its criminal underworld with legitimate business entities such as labor unions, construction companies, bars/restaurants, garment manufacturing, waste disposal services, and the cement industry  – though, these worlds were often intertwined to some degree throughout the 20th century.
Straight forward and easy-to-follow, Fear City is primarily driven by two components: information gleaned by law enforcement through the bugging and wiretapping of key New York mafia figures, and their discovery and use of The Racketeer Influenced and Corrupt Organizations Act, or RICO Act, created by Robert Blakey in 1970, to bring down the heads of the five families, collectively known as the "Commission".
Primarily using archival footage and interviews of several key participants, Fear City offers the dual perspective of past and present that documentaries often exhibit. The analog audio, wire-gathered tapes are effectively brought together using simple and direct methods.
Amidst the degrading world of these crime scions we discover humorous anecdotes and descriptions of the times from law and legal enforcement teams – Federal agents and the Office of the Southern District of New York – charged with prosecuting and gathering usable evidence – a Herculean effort in their attempt to methodically and judiciously destroy all five heads of the NY crime families at the height of their financial power.
Most compelling is the insight into "the Commission" – an insiders look, or more specifically, a direct listen into Mob culture, via bugs and taps placed in restaurants, cars, social clubs, and eventually the home cable TV system of "Big Paulie" Castellano, head of the Gambino crime family.
The style opposites of "Old-School" Dons like Anthony "Fat Tony" Salerno vs. older in age, though newer in approach, Don "Big Paulie" Castellano come to life through undercover still frames and FBI listening devices. And, interviews from members on both sides of the law help to illustrate the thin line that separates the players in the game of good vs. bad. 
Having recently screened Martin Scorsese's The Irishman (2019), it was also interesting to see some of the crime figures from that film appear in real life in the docuseries. An entertaining double feature, perhaps, for those with nearly 8 hours to kill (no pun intended).
The series is lacking in some areas, however (though not enough to deter viewers). Director Sam Hobkinson could have been more emphatic in illustrating how this underworld actually turned "Fun City" into "Fear City". What was the fear for everyday citizens in Gotham, for example. Or, those working-class and "normal" law-abiding persons ensnared in its criminal web? Even with noticeable flaws and sometimes a limited scope, and with several moments leaving us contextually or visually uninformed, Fear City still is a significant piece of the Mafia genre puzzle, able to deliver occasional flourishes of heightened storytelling.
A philosopher with a camera, a Mont Blanc, and a laptop. Taught by the likes of Godard, Eisenstein, Welles, Scorsese and Lee, Julian Boyance is a filmmaker/blogger/film instructor hailing from Metro Detroit, whose cinematic journey traverses both academia, production, and beyond. Facebook administrator for the Nicolas Winding Refn Appreciation Society fan page, his social media footprint can be found here: Twitter/Instagram: @godardfan Youtube: Godardfan Tumblr: Godardfanforever