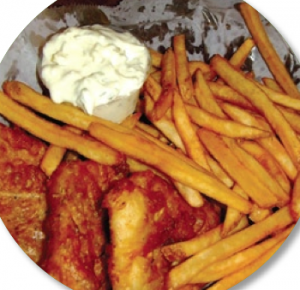 1. A Salt and Battery, Manhattan, NY
A "Chippy" is a location that specializes in fish and chips, and if the always-packed steel countertop at A Salt and Battery is any indication of quality then you have nothing to worry about here. The fish is as fresh as it comes; most of it caught that day by local fishermen, properly prepared with a crisp batter, clean fish taste and meaty texture. And, while the chip shop has switched from Cod to Pollack – as has most of the UK – both the taste and texture are nearly identical (though that doesn't explain the continued use of the saying, "In Cod We Trust"). The chips are thick and golden, as they should be, and served simply alongside the fish. Wash it down with an English ale or soda, take a stroll along Greenwich Ave., past the Tea shops, and you'll feel like you're on mini holiday in England. A No Trans Fat Zone.
4/5 stars   -AB & NK
112 Greenwich Avenue (12th & 13th streets) – 212. 691.2713
2. The Atlantic Chip Shop, Brooklyn, NY
An awesome punk rock pub with a Brit pop edge; Think early Who meets Sex Pistols, with a spot of Young Ones all round. Sit at the bar and enjoy football and rugby on the tele. With sixteen different British and American craft ales on tap, a wide selection of British bottles and unusual single malt Scotch/Irish whiskeys, this is the place to enjoy the company of friends. But, we were here for fish-n-chips and according to our server, the Haddock is the most authentic way to go, so we went. The portion is so large it nearly hangs off the plate, and while Atlantic is not a quantity over quality kind of place, the chips shop doesn't skimp in either department. The fish is crisp on the outside, seasoned to perfection, and the chips are so flavorful you simply can't get enough. The best fish & chips Nette ever had.
5/5 stars    -AB & NK
129 Atlantic Avenue, Brooklyn, NY 11201 – 718. 855. 7775     
3. Penny Lane Pub, Richmond, Virgina
Served with a side of mushy peas, the Fish & Chips at Penny Lane Pub are done in true Liver-pudlian style; Whiting, deep-fried in the Pub's own Homemade batter, alongside fresh chips. The menu includes bangers and mash, cottage pie, steak and Guiness pie and beans & toast. The pub extends into different rooms filled with Beatles posters, album covers and a variety of British pop culture images. No disappointments here.
3.5/5 stars        -AB & NK
421 East Franklin Street, Richmond, VA 23219 – 804. 780. 1682
4. The Cock and Bull English Pub, Covington, Kentucky
A very different form of Fish-n-Chips here, The Cock and Bull deep-fries theirs in a cornflake batter, creating a distinctive 'crunch' and taste. The fish had little grease and was quite filling, though the fries are not as memorable. Located just off I-75, in the hip little town of Covington Kentucky (near the Cincinnati Airport), this pub is a little gem. Dark wood interior, with outdoor café seating available, The Cock and Bull offers a wide variety of ales and beer on tap and is a fantastic find for road-trippers, day-trippers or those forever fishing for something unique in the world of fish-n-chips.
3/5 stars  -AB & NK
601 Main Street, MainStrasse Village, Covington, KY 41011 – 859. 581. 4253 
5. Red Coat Tavern, Royal Oak, Mi
Red Coat Tavern has been doing it right for over 30 years and is consistently mentioned in any debate regarding the areas best burger – which is probably the reason we don't hear quite as much about the Fish & Chips. So let The Metropolitan be among the first to officially declare the Fish & Chips at the Red Coat Tavern – Tops! That's right, Fishmongers, you heard me – let the games begin. Always crispy, with meaty fish inside, and flavor that's beyond delicious, Redcoat serves theirs with thin, shoe string chips – a source of contention with firestarters, I'm sure – and a side of slaw (or, small salad upon request – best with homemade blue cheese dressing). Red coat is a true tavern, dimly lit, with red tufted booths, brick walls, dark wood, fireplace and stuffed Tory to greet you at the door.  With a line every night, this is where locals eat and where you'll find servers from every other restaurant dining after their shift. We're truly blessed to have Red Coat in our own backyard. A Metro-Detroit must.
5/5 stars   -AB & NK
31542 Woodward Avenue, Royal Oak, Mi 48073 – 248. 549. 0300
6. The Old Shillelagh, Detroit
This Irish pub has great fish & chips. Hand battered and full of flavor, the recipe is a secret, though the cook gave us a little hint; he uses a combination of Guinness, Sam Adams Cherry Wheat Ale or Strong Bow Cider – depending on his mood – in the batter. Notes of black pepper appeared in the dish, which was quite a tasty surprise. The Old Shillelagh skillfully makes its own tartar sauce, though the batter is so well seasoned there's really no need of dipping the fish in anything. Our server, Mandy, suggests either Jamesons or Harp Ale to pair nicely with the fish, and the chips were handled with all the love and care one would expect from the Irish. At $9 a plate it can't be beat.
3.5/5 stars  -AB & NK
349 Monroe Detroit, MI. 48266 – 313. 964. 0007
7. Scotty Simpsons Fish and Chips, Detroit
A family restaurant, and Detroit landmark, since 1950, Scotty Simpson's Fish and Chips has a long history of serving some of the finest fish and chips in the area. The restaurant has a down home Michigan feel – or, as we locals tend to call it, an "up north" feel. The fish is fresh, thick and meaty, full of flavor, served with classic cut chips and a delicious little side of coleslaw.  Scenesters beware: Quality served here –
4/5 stars  -AB & NK  w/ special guest JM
22200 Fenkell Street, Detroit Mi. 48223 – 313. 533. 0950
Anthony Brancaleone, Nette Kovacs and Josh Millar each consider themselves a connisseur of fish-n-chips