French Heritage Society (FHS) is pleased to announce the winning book and authors of its fourth annual book award, A Bite-Sized History of France: Gastronomic Tales of Revolution, War, and Enlightenment by Stéphane Hénaut and Jeni Mitchell.
This year, the award ceremony will take place virtually on Thursday, April 22, 2021. The afternoon program will commence at 1pm and include remarks from members of the Book Award Committee and jury. The winning author will receive a $5,000 cash prize in addition to an award goblet designed by Thomas Jefferson while he served as Minister to France. During the event, the winner will be interviewed by Laura Auricchio, followed by an audience Q&A session. Auricchio is the Dean of Fordham College at Lincoln Center.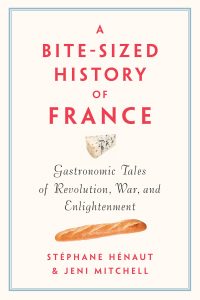 The French Heritage Society Book Award was launched in 2017 in celebration of the organization's 35th Anniversary. The Book Award recognizes and honors a work of distinction that illuminates for the general public either an important element of French cultural or historical patrimony (especially but not solely in the domains of architecture, décor, couture, gardening and the arts) or the considerable and noteworthy influence France, its citizens, and its culture have had in shaping American history, thought and culture. Recognized works address their topic and themes with originality and exemplary style. This work must be written in, or translated into, English and have been published in America in the three years preceding the annual awarding of the prize. Past recipients include Proust's Duchess by Caroline Weber, Finding Fontainebleau: An American Boy in France by Thad Carhart and The Other Paris by Luc Sante.
The Book Award's esteemed jury is comprised of Cheryl Hurley, immediate past president of the Library of America, Anne Poulet, Director Emerita of The Frick Collection, and Bruno Racine, author and former director of the Pompidou Center and of the National Library of France.
The five shortlisted books for the Fourth Annual French Heritage Society Book Award:
France in the World: A New Global History by Patrick Boucheron (Editor)
Dior and His Decorators: Victor Grandpierre, Georges Geffroy and the New Look by Maureen Footer
A Bite-Sized History of France: Gastronomic Tales of Revolution, War, and Enlightenment by Stéphane Hénaut and Jeni Mitchell
The Seine: The River That Made Paris by Elaine Sciolino
Catherine & Diderot: The Empress, the Philosopher, and the Fate of the Enlightenment by Robert Zaretsky
_______________________________________________
Featured image: Stéphane Hénaut and Jeni Mitchell, Berlin. Photo by Steffen Roth