Celebrating its 60th anniversary, the Rome Cavalieri, previously a Hilton property, is now the first hotel in Europe rebranded as a Waldorf Astoria. Known as "The Rooftop of Rome", Rome Cavalieri is a respite from the city, boasting 360-degree unobstructed views, which include the Vatican and St. Peter's Basilica, as well as many other national monuments in the Eternal City.
Situated in a posh residential neighborhood atop Monte Mario, in a private 15-acre Mediterranean park, the hotel offers a luxurious haven for guests, complete with three outdoor pools and an indoor pool that lights up after dark.
Hosting 1,100 original pieces of artwork, including 4 giant tapestries, furnishings, sculptures and historical paintings, the hotel's museum-worthy art collection allows visitors to get up close and personal, without waiting in the snake-like lines of museums and tourist attractions.
The property has 370 rooms and 25 suites (all with a private balcony and terrace), with an imperial floor where guests enjoy access to the club area, which offers light bites and refreshments – including, a full tea service, with scones, and sandwiches. For those looking to bathe in luxury, consider the Penthouse Suite, equipped with Karl Lagerfeld's living room furniture and original artwork by Andy Warhol.
Guests and Event Coordinators are invited to host private dinner or rooftop parties in one of Rome's most breathtaking settings. After stepping upwards through a winding staircase, that lead partygoers to a private space covered by retractable translucent roof, your guest list will experience panoramic views that will stay with them a lifetime. And, the bathroom is the size of a traditional apartment, dripping in Acqua di Parma amenities, and walk-in closet.
If you are looking to unwind, the award-winning expansive spa selection includes ten treatment rooms, with La Prairie and Natura Bissé products. Choose from sand therapy in the desert room or green nature in the forest room.
I dined at Uliveto, overlooking the landscaped park and outdoor pool, offering Mediterranean and eclectic global dishes served by Executive Chef Fabio Boschero. I selected a tuna dish as well as wild Canadian rice served with seaweed salad and algae chips, with a sweet finish of cheesecake, sorbet and gelato – perfetta!  
Rome Cavalieri offers guests the opportunity to experience the Eternal City from a different point of view.  It's a chance to see the city from a perspective that really gives one an understanding of the space and the size of the city. Of course, we toured the sights of Rome and were happy to discover we were only 10 minutes away from the Vatican and 15 minutes from the historic city center by private shuttle from our hotel.
______________________________________________________________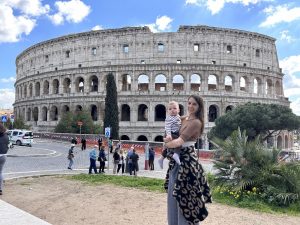 Katherine Fleischman is a traveler, publicist and journalist. Of Peruvian descent, Kat Lives between Miami and Italy aiming to empower people to travel, as she believes it is through exploring the world that we will bridge cultural gaps.